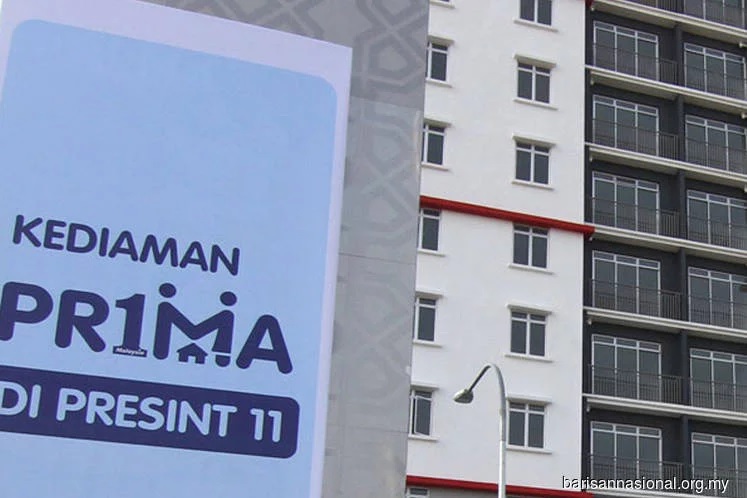 KUALA LUMPUR (May 2): The future of the 1Malaysia People's Housing (PR1MA) depends on the outcome of its due diligence and turnaround plan, said chairman Tan Sri Eddy Chen.
"We are working on a turnaround plan. Whether PR1MA will move forward or not, much depends on this turnaround plan," he told press at an event organised by Rehda Institute here.
"The turnaround plan is to ensure we can recover money that we paid to contractors, as much as possible, in order for us to meet all our obligations and liabilities, Chen added.
Late last month, the Housing and Local Government Minister Zuraida Kamaruddin was reported as saying that PR1MA was "cleaning up" its present "mess" — including debts and outstanding stocks — and that a due diligence report was expected to be completed within two months.
She also said that PR1MA would not be tasked with the construction of any new housing project.
PR1MA's main problem is its substantial number of unsold units, most of which are located at less desirable areas. Chen said it has been very challenging for PR1MA, as its business model is numbers driven.
"It was given a big number to build and very little land to work with. So, a lot of them were built in locations that are questionable. The business model was wrong, in the sense that it was [based on] a master en bloc purchase agreement, which means that when we sign a contract with another party, we buy the land and we sign a contract agreement with them, but we have to pay for the whole contract, irrespective of the sales [achieved]," Chen said.
He added that PR1MA practiced a build-then-sell concept, which would further exarcebate unsold properties issues, especially in the locations that are "less demanding", in particular because market conditions turned subdued, after the project was completed.
"If you look at the amount of overhang properties, very substantial amounts come from PR1MA's unsold units. This has become a challenge for PRIMA and we are in the process of sorting this out (overhang issue)," Chen added.
"It is a big challenge for PR1MA to meet these contracts (obligations), and we want to do our best to not default on these contracts.
"We'd like to have PR1MA successfully turn around, but it's challenging. The turnaround plan is in place, but much depends on the take up rate for its projects," Chen added.
To-date, PR1MA recorded 10,000 booked housing units, which is equivalent to a value of about RM2.3 billion.
Chen however noted that the sale of these booked units depend on the success of applicants' loan approvals. He added that securing loan approvals for the Bottom 40 and Middle 40 income groups continue to be the biggest challenge, amid the current soft market condition. — theedgemarkets.com