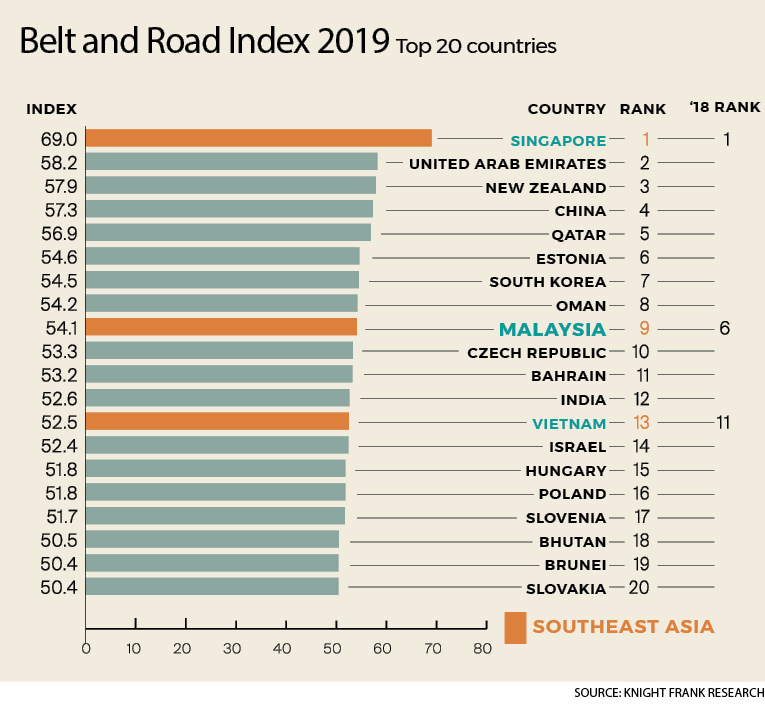 Would you believe that of all the countries in Southeast Asia, Malaysia has received the largest amount of investments from China over the past 10 years?
The Belt and Road Initiative (BRI), or One Belt One Road as it was formerly called when it was first launched in 2013, is China's platform for multilateral cooperation which will create new economic links and improve its business networks across the globe. This will ultimately lift infrastructure in Southeast Asia through new ports, railroads and highways. The question is, how will it benefit Malaysia?
According to global real estate consultancy Knight Frank in its latest research report titled "New Frontiers: Prospects for Real Estate Along the Belt and Road Initiative", Malaysia is the only other Southeast Asian country to make it to the top 10 of the Knight Frank Belt and Road Index (BARI).
The BARI ranks 66 BRI-related countries by their economic potential, demographic advantage, infrastructure development, institutional effectiveness, market accessibility and resilience to natural disasters.
"Although Malaysia's position has dropped to ninth place from sixth last year, it is not a reflection of the changes that happened in Malaysia but more in recognition of the three countries which have moved up – Oman, South Korea and Estonia. Malaysia has been a major beneficiary of Chinese capital with investments totalling US$43.8 billion (RM181.61 billion) over the past 10 years," Knight Frank Asia Pacific head of research Nicholas Holt tells EdgeProp.my.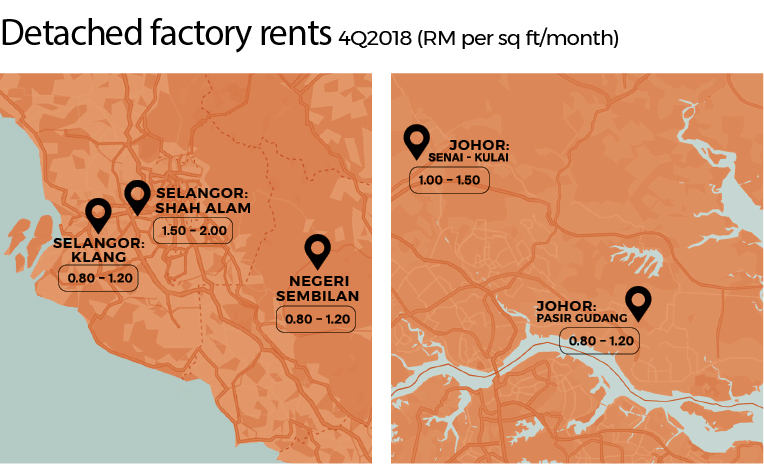 Among the recent major Southeast Asian BRI deals in Malaysia are:
• the US$1.3 billion undersea tunnel to link Penang island to the mainland whereby the new mainland link will benefit the real estate markets in George Town and Butterworth where tunnel entrances are located;
• the US$1.9 billion deep sea port which forms part of the Melaka Gateway project which is expected to result in increased trading activities from the new port which in turn will stimulate warehousing and logistics facilities demand;
• and the US$2.1 billion railway project which forms part of the East Coast Rail Link set to contribute to economic opportunities in east coast states and likely to benefit the overall real estate sector.
Holt explains that the BRI's immediate impact will be seen in the industrial and logistics market in Malaysia as new ports such as the Melaka Gateway will see immediate demand for the land surrounding the ports, pushing prices up as supply stays the same.
"We expect developers to develop the surrounding area and what we believe is that pricing will tend to head upwards. Not only that, it will benefit other tertiary industries as you will need office workers to support the economy around the shipping [industry] which will then lead to further demand for office space, residential, retail and so forth.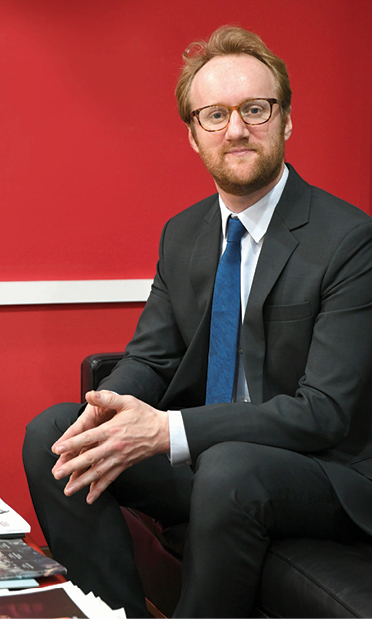 According to Knight Frank Malaysia executive director of capital markets Allan Sim, following the change of government in May 2018, a number of Chinese investments and projects, especially mega infrastructure projects have been deferred.
"However, the presence of Prime Minister Tun Dr Mahathir and Malaysian business delegates at the recently concluded second Belt and Road Initiative Forum for International Cooperation in China, coupled with his intention to expedite the setting up of a one-stop centre (OSC) to ease foreign investment-related approvals, have given some assurance and confidence to Chinese firms to reconsider investing in Malaysia.
"Furthermore, with new agreements set for the revival of the ECRL and the mega Bandar Malaysia development in Kuala Lumpur, Chinese firms will certainly be looking more seriously at Malaysia again and the industrial segment will benefit the most," Sim adds.
Knight Frank, he says, expects more high-tech manufacturers from China to operate in Malaysia, taking advantage of the country's adequate supply of raw materials, coupled with relatively low operating costs.
"Moreover, Chinese firms can utilise Malaysia as a manufacturing hub as products manufactured in this nation are insulated from tariffs from most major economies, such as the likes of the US, Latin America and European Union," he offers.
Ultimately, Holt says the BRI will not only benefit the Chinese but will change the shipping dynamics of Malaysia, bringing it a notch higher.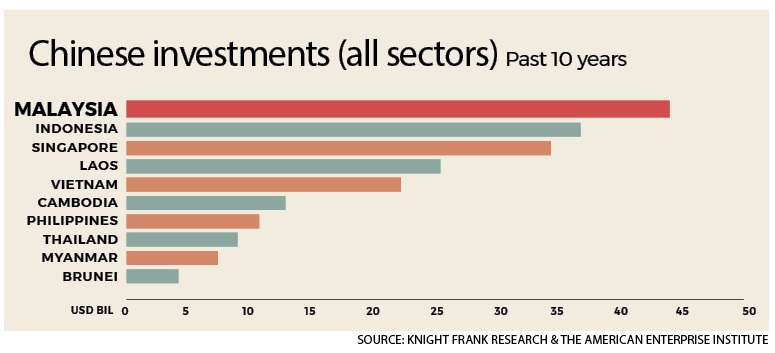 "If you look at the shipping statistics, Malaysia is bypassed at the moment but with Melaka having the deep sea port, you will definitely see the logistics business growing from there. When you have strong connectivity, companies will tend to gravitate towards [you] as you are tapping into the right supply chain," he says, citing Johor as example where improved infrastructure coupled with planned upgrade of port facilities, the industrial and logistic sector is now attracting high level of interest among investors.
The report states that the current market rents for factories / warehouses within Johor ranges from RM0.80 to RM1.50 psf per month, which is on par with the major industrial zones in Selangor.
Knight Frank Johor branch head Debbie Choy says the good air and maritime connectivity in Johor, established infrastructure namely the Senai International Airport as well as the Johor Port and the Port of Tanjung Pelepas, have supported the state's vibrant logistics industry.
"Johor has always been an attractive destination among Chinese investors. In fact, China is among the largest investors in Iskandar Malaysia since its inception in 2006, especially in the manufacturing sector. Moving forward, Johor is well positioned to capitalise on the continuing strong bilateral relations between China and Malaysia," says Choy.
This story first appeared in the EdgeProp.my pullout on May 10, 2019. You can access back issues here.