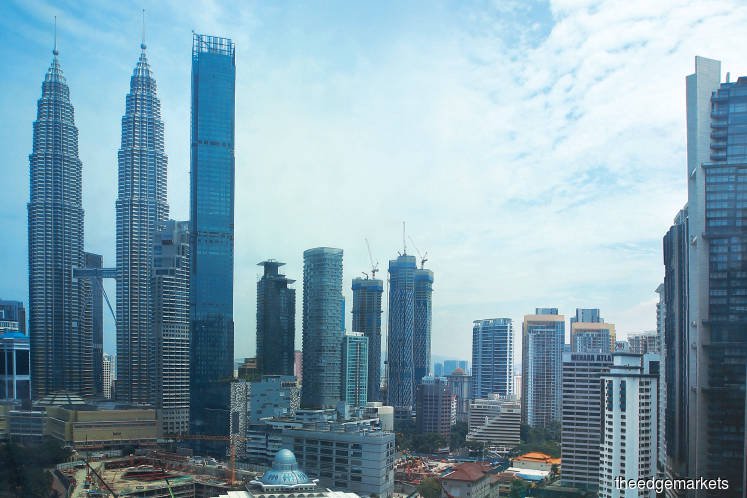 KUALA LUMPUR (May 16): Malaysia's economy grew 4.5% in the first quarter of 2019 (1Q19), down from 5.3% a year earlier.
In a statement today, chief statistician Datuk Seri Dr Mohd Uzir Mahidin said all sectors in the economy posted a positive growth except the mining and quarrying sector.
"Services, manufacturing and agriculture sectors anchored Malaysia's economy in this quarter.
"Private final consumption expenditure continued to be the main driver on the expenditure side," he said.
Meanwhile, he said that during the period, gross domestic product (GDP) recorded a value of RM341.7 billion at constant prices and RM361.9 billion at current prices.
The Department of Statistics said the services sector with a share of 57% recorded a steady growth of 6.4% in 1Q19.
It said the growth of this sector was mainly led by wholesale and retail trade, which remained strong by registering 7.2% growth.
It explained that information and communication sustained a solid performance by posting a growth of 7.2%, supported by telecommunication, and computer and information service activities.
Meanwhile, food and beverages, and accommodation sub-sector expanded to 9.6% following a robust momentum in food and beverages activities.
It said the manufacturing sector continued its positive growth of 4.2%, contributed by export-oriented industries.
The electrical, electronic and optical products grew at 3.8% and petroleum, chemical, rubber and plastic products posted a growth of 3.1%.
Nevertheless, vegetable, animal oils and fats, and food processing rebounded to 5.2% after recording a negative growth of 0.1% last quarter.
Meanwhile, domestic industries were backed by transport equipment, other manufacturing and repair with a growth of 6.5%, supported by motor vehicles and transport equipment.
The agriculture sector rebounded with a sturdy growth of 5.6% after posting a negative growth for three consecutive quarters.