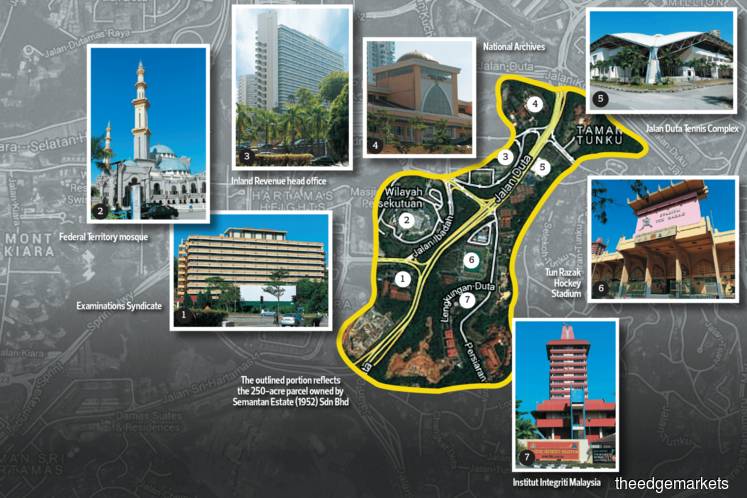 KUALA LUMPUR (May 30): High Court judge Datuk Indera Mohd Sofian Abd Razak has set Aug 19 for case management of a litigation over the title of the 106.7ha (263.67-acre) land along the former Jalan Duta (Jalan Tuanku Abdul Halim) here.
Filed in February 2017 by Semantan Estates (1952) Sdn Bhd against the Federal Territory Registrar of Titles, the civil suit sought for the plaintiff to be registered as the proprietor of the land free of encumbrances and liabilities.
The summons referred to a 2009 ruling by the High Court that Semantan Estates retained beneficial interests in the land, which was trespassed by the government as it took possession of it unlawfully.
Other claims sought in the 2017 summons are for the defendant to:
1 execute and cause to be executed all instruments of transfer necessary to effect the land transfer
2 issue and cause to be issued the issue document of the land title, and
3 bear the costs of the application.
The land, situated in Mukim Batu, has been the subject of a long legal battle beginning 1960 when Semantan Estates disputed the RM1.32 million compensation awarded by the federal government to take over ownership of the land.
According to a written submission made in March, the defence argued that while Semantan Estates retains beneficial interest in the property, the government is still entitled to possession of the land.
This was on grounds that as the 1960 dispute goes, Semantan Estates' objection was not on the acquisition, but merely on the sufficiency of the compensation, stated the written submission.
Concurrently, the Aug 19 case management is pending the outcome of a separate judicial review initiated by Semantan Estates Sdn Bhd against the Malaysian government and related parties on the merits of its claims to retain beneficial interests over the land, the hearing of which has been set on Aug 15.
On May 13 this year, Semantan Estates was granted leave by the High Court to initiate the judicial review, which was also filed in February 2017.
The prime land in question currently houses a number of government complexes and facilities, with an estimated value of RM4.6 billion, or an average gross selling price of RM500 psf just six years ago in 2013, said a property valuer.
The land was taken over by the Federal Lands Commissioner in 1956 for the proposed development of a diplomatic enclave at RM1.32 million — a move which was accepted by Semantan Estates under protest at the time.