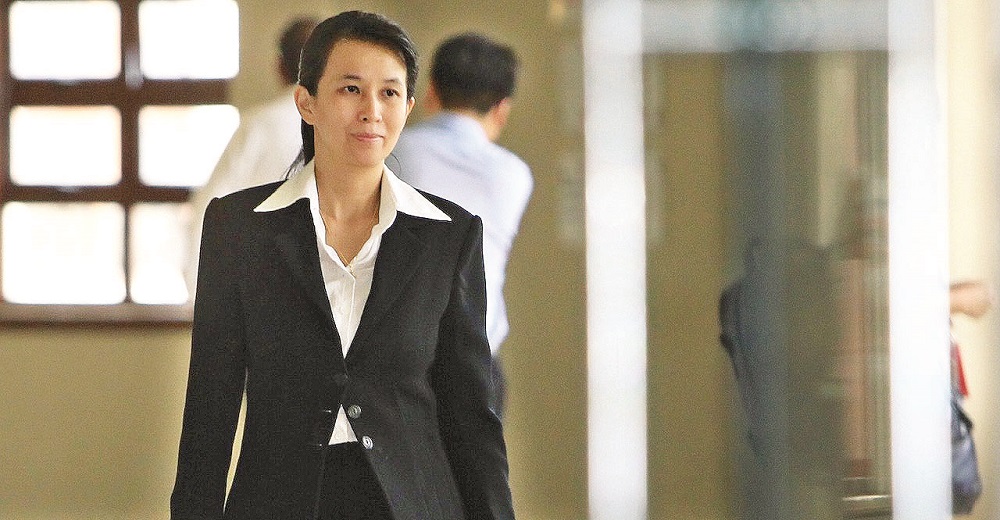 KUALA LUMPUR (July 24): High Court Judge Mohd Nazlan Mohd Ghazali was forced to break up a brewing argument between the defence and prosecution in the Najib-SRC trial as key witness, bank official Joanna Yu (pictured), was grilled for the second day yesterday.
Yesterday's proceedings took a dramatic turn when defence counsel Harvinderjit Singh became increasingly aggressive while questioning Yu, the AmBank relationship liaison manager, who is the 54th prosecution witness in the trial.
Appointed public prosecutor Datuk V Sithambaram objected to the lawyer's line and method of questioning, resulting in Harvinderjit calling him "fussy" and Sithambaram retorting that the lawyer was "pathetic".
At the heart of the cross-examination was the BlackBerry Messenger chat transcript obtained from Yu's phone that was seized by Bank Negara Malaysia in the July 2015 raid on AmBank Jalan Raja Chulan.
Yu has been grilled for the second day during cross-examination by defence counsel Harvinderjit, who suggested that the relationship manager received instructions from Jho Low and formalises it by asking for written instructions from former SRC managing director Nik Faisal Ariff Kamil, who has the mandate to manage Najib's accounts.
Harvinderjit: You asked Nik Faisal for written instructions. But Jho Low [Low Taek Jho] gave the instructions. Do you agree? Instructions came from Jho. They were formalised by Faisal.
Yu: The written instructions is what matters to the bank.
The conversations were between Yu and Jho Low, as well as between Yu and Ung Su Ling.
Yu agreed with Harvinderjit that at times, she and Ung referred to Low as 'our friend' in the chat, although the term could also refer to SRC former finance director Terence Geh, 'depending on the context' of the conversation.
At one point in time, the cross-examination heated up as both Harvinderjit and Yu cut each others' sentences.
Deputy public prosecutor Budiman Lutfi Mohamed stood up and asked for Harvinderjit to be "more gentle to the lady witness".
Harvinderjit responded that he "tried the easy way and now has to use the hard way", implying Yu was less cooperative than he had wanted her to be.
Judge Nazlan asks Yu to answer objective questions with yes or no answers, and reminded that she had time to explain her answers during cross-examination.
When the line of questions remained aggressive, Sithambaram stood up and asked Harvinderjit to use terms such as "to confirm" for clarity on whether the question was objective or open-ended.
"Pedantic," Harvinderjit said.
"You're pathetic," Sithambaram responded.
There was a short silence before Judge Nazlan asked the parties to avoid that kinds of descriptions.
Only Sithambaram apologised.
Yu's cross-examination is expected to continue today.
Najib is facing seven charges of corruption and money laundering at the High Court, over the alleged misappropriation of RM42 million belonging to SRC.