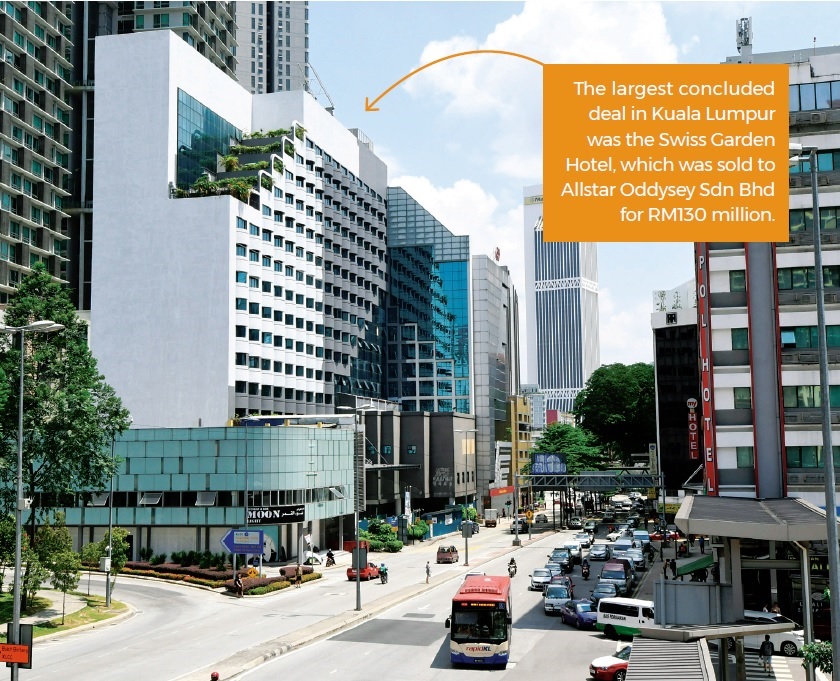 In 2018, Malaysia recorded 237 property transactions of above RM10 million from 13 states including the federal territories (Kuala Lumpur, Labuan and Putrajaya).
According to the National Property Information Centre's (Napic) "RM10 million Transacted Property Deals – Volume 14", all states have recorded deals over RM10 million except Terengganu and Kelantan.
The top three states with the highest number of property deals above RM10 million were Selangor (96 cases), Kuala Lumpur (43) and Melaka (30).
States that have seen more than 10 real estate deals exceeding RM10 million include Johor (29), Sabah (15), Penang (14) and Perak (12) while Kedah, Negeri Sembilan, Pahang and Sarawak each recorded four deals.
The federal territories of Labuan and Putrajaya each saw only one above RM10 million deal concluded last year.
Selangor
Selangor tops the list with 96 deals of which 45 were commercial lots and 30 were land deals. There were also 20 commercial properties and one agricultural land deal.
The deal with the highest value in the commercial segment was a 5,046 sq m leasehold office lot in Seksyen 13, Shah Alam with a price tag of RM61.3 million.
The second highest was a freehold vacant office lot of 9,652 sq m in Taman
Setia Impian, Hulu Langat, sold for RM47.26 million. This was followed by a freehold lot in Cyberjaya with a land area of 29,070 sq m that changed hands for RM47 million.
As for development land, the state has seen only one freehold commercial development site of 36,912 sq m in Subang Hi-Tech Industrial Park, Shah Alam sold for RM143 million.
There was also leasehold industrial development land measuring 38,043 sq m in Kota Damansara that was sold for RM92.13 million and leasehold commercial development land measuring 38,155 sq m located at PJS 9 in Bandar Sunway that was sold for RM92 million.
Interestingly, there was no residential property in Selangor that was sold for over RM10 million last year.

Kuala Lumpur
The capital city has seen 43 real estate transactions of over RM10 million in 2018. The largest concluded deal was the Swiss Garden Hotel in Kuala Lumpur, which was sold to Allstar Oddysey Sdn Bhd for RM130 million. The hotel is built on a 2,236 sq m freehold tract.
This was followed by a small freehold hotel building with a built-up of only 646 sq m in Jalan Bukit Bintang, which changed hands at RM95 million, and a freehold purpose-built office building with a built-up of 920 sq m located at Jalan Cheng Lock which was sold for RM43 million.
In the residential segment, there were 10 transacted properties tagged over RM10 million last year. The most valuable residential deal in KL last year was a three-storey freehold detached house in Country Heights Damansara with a land area size of 1,121 sq m which was sold for RM16.25 million.
Coming second was another three-storey freehold bungalow, this time in Damansara Heights with a land area of 1,982 sq m which transacted at RM13.8 million. There were also four freehold vacant residential lots in Damansara Heights with land area sizes from 2,263 to 2,265 sq m that were sold for over RM14 million each.
Of note in the residential segment is the enbloc sale of 1 Damai Residence in Kg Datuk Keramat, which was sold for RM12 million last year. This three-storey, low density development was built on a 1,209 sq m leasehold plot. It comprises eight two-storey units with built-ups ranging between 1,677 sq ft and 3,961 sq ft, private car parks, swimming pool and gymnasium on the ground floor.
Meanwhile, a freehold condominium unit at Serai at Bukit Bandaraya with a built-up size of 6,759 sq ft was sold with a price tag of RM11 million last year.
Melaka
Melaka had the third highest number of above RM10 million property deals last year with 30 transactions, of which 24 were development land while four were commercial properties, one residential lot and one agricultural land deal. All were leasehold properties.
The deal with the highest value was a residential development plot of 336,800 sq m in Bandar Jasin Bistari that sold for RM37.1 million.
The second most expensive deal was an 88,130 sq m residential development tract in Taman Bukit Serindit in Padang Semabok, Melaka Tengah, sold for RM24 million.
The next deal with the highest value in Melaka was a freehold commercial development plot of 24,056 sq m at Jalan Tengkera, Melaka Tengah, which changed hands at RM23.32 million.
Another vacant land in Jalan Klebang, Melaka Tengah with land area of 40,133 sq m was also sold for RM23.32 million while another measuring 32,440 sq m in the same area was sold for RM18.85 million.
A notable deal in the commercial segment was a hotel that was sold for RM13.69 million. The property is located at Jalan Parameswara, Melaka Tengah, which has a land area of 1,711 sq m.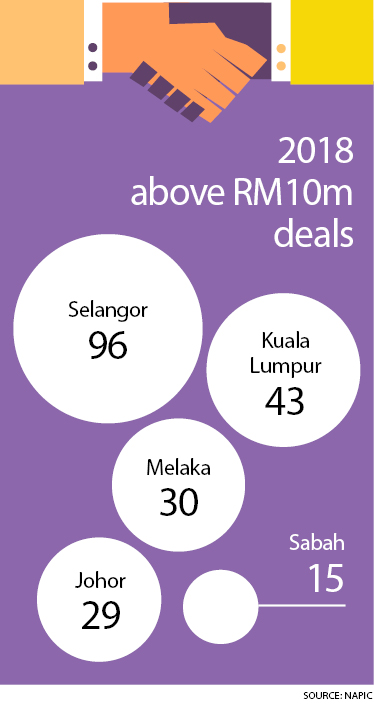 Johor
The southern state of Johor has seen 29 real estate deals of over RM10 million concluded last year. The commercial property segment took the lead with 10 transactions followed by industrial property and development land deals with seven deals each. There were also two residential land and three agricultural land deals.
Johor's highest priced deal in 2018 was for a development land worth RM310 million. This piece of freehold tract with a land area of 741,150 sq m is located at Jalan Sungai Danga in Pulai, Johor Bahru.
The next highest priced deal was for commercial property Menara Ansar. The 23-year-old freehold office building was sold for RM143.2 million. The 21-storey building in Johor Bahru city centre has a net lettable area of 240,991 sq ft.
Making up the top three in Johor was a freehold commercial property with a land area of 9,586 sq m in Taman Century, JB, which changed hands at RM73 million. According to the Napic report, the transacted property was a shop.
Sabah
In Sabah, a total of 15 deals worth over RM10 million each were recorded, mainly driven by oil palm land deals (seven) and commercial development land (four).
Last year, seven oil palm plantation tracts with land area sizes ranging between 80ha and 603ha changed hands, led by a 603ha leasehold tract in Labuk Sugut, Sandakan which were sold at RM41 million.
Coming in second and third respectively, were oil palm tracts in Kinabatangan,
Sandakan which transacted at RM27.92 million (364ha leasehold plot) and RM24.78 million (324ha leasehold land).
As for development land, the majority of the deals (three) involved commercial development land at Jalan Tuaran in Pantai Barat Selatan, Kota Kinabalu.
The deal with the highest value among them was for a leasehold 43,226 sq m site sold for RM13.5 million.
Meanwhile, the state's residential segment saw only one deal of above RM10 million — a leasehold vacant plot at Jalan Tuaran in Pantai Utara worth RM15 million.
This story first appeared in the EdgeProp.my pullout on July 26, 2019. You can access back issues here.