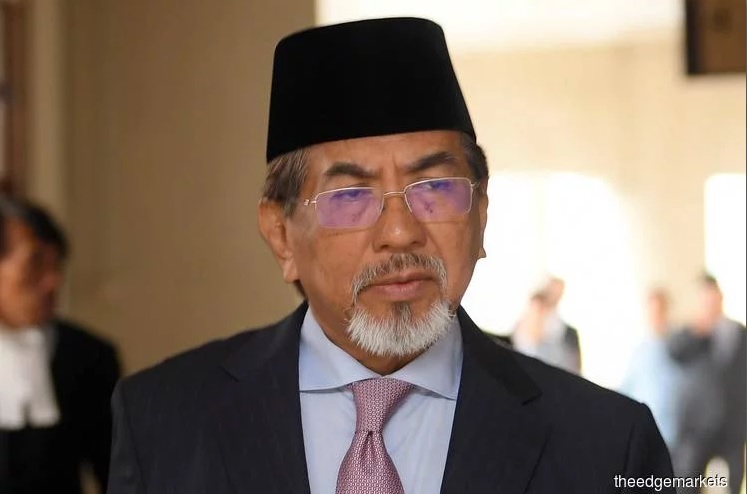 KUALA LUMPUR (Aug 1): Tan Sri Musa Aman (pictured) will be heading to London for a medical treatment for about a month starting Aug 7, as the High Court has returned former Sabah chief minister's passport.
Musa's lawyer Francis Ng Aik Guan has today updated High Court judge Collin Lawrence Sequerah with the Court of Appeal's decision to reinstate the Sessions Court's order that the defendant's passport be returned to him.
"Previously he was allowed to travel to Singapore and London for his treatment but in view of certain circumstances, the doctors in Singapore will be heading to London for the procedure," he said.
The defence said Musa will be departing on Aug 7, returning on Sept 5 and arriving in Malaysia on Sept 6.
As his passport has expired, the defence is seeking the release of his passport today or tomorrow to allow sufficient time for renewal, before he leaves on Aug 7.
The High Court has set Sept 25, 2019, as the next case management date for Musa's corruption and money laundering case.
Meanwhile, the prosecution, led by deputy public prosecutor (DPP) Datuk Umar Saifuddin Jaafar, may be amending some of the charges preferred against the defendant.
"We might amend quite a number of the charges. More than a few," said Umar during the proceedings earlier.
Asked about the amended charges, he said the prosecution has yet to finalise the amendments, which will be revealed in the upcoming case management.
"We are still finalising the amendments. The case was only recently transferred so we are currently tendering the documents that were previously already tendered," he told the press, adding that the prosecution is also awaiting new documents.
The Sessions Court had previously granted the passport to Musa for him to seek treatment overseas despite facing serious charges.
On Jan 16, High Court judge Justice Mohamad Zaini Mazlan had overturned the Sessions Court's decision to return the passport.
On July 23, the Court of Appeal had allowed the return of his passport, with the decision made by a three-member appeal court bench comprising Justices Datuk Abdul Rahman Sebli, Datuk Kamardin Hashim and Datuk Zabariah Mohd Yusof.
Under the money laundering allegations, Musa is charged for directing his proxy Richard Christopher Barnes, who is also his lawyer, to open a UBS AG Bank account (0/231,117/01,00) in Singapore on June 21, 2006 to allegedly receive the illegal money.
Alternatively, he is charged for asking Barnes to hide the fact that the bank account is owned by him to conceal the receipt of the illegal proceeds at the same place and time.
Besides this, Musa is also charged with 14 other counts of receiving illegal proceeds to the amount of US$37.8 million and S$2.5 million at the UBS AG branch in Hong Kong between June 21, 2006 and March 25, 2008.
He also faces a final charge for directing Barnes to transfer all assets and future inflow from Barnes' UBS account to his own UBS account (230-750692.01) in Zurich on May 14, 2008.
It was also reported that Justice Sequerah had fixed trial dates from June 8 next year up to June 25, then from July 6 to July 23, 2020.