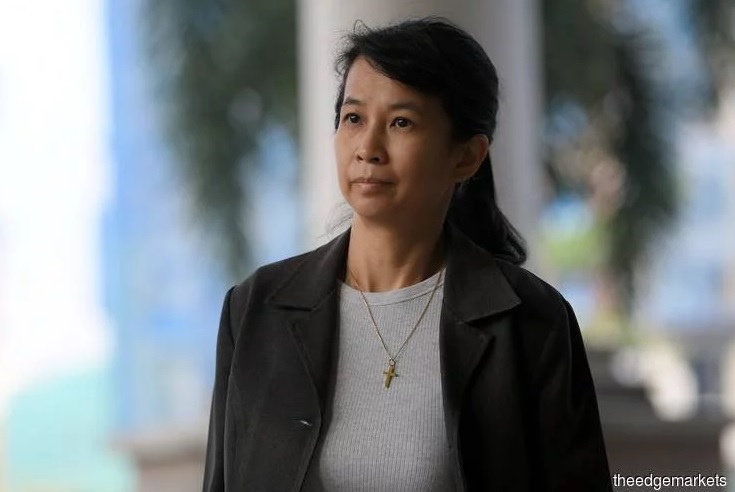 KUALA LUMPUR (Aug 1): There was an attempt to move RM139 million discreetly out of SRC International Sdn Bhd — the company central to the ongoing corruption trial involving former prime minister Datuk Seri Najib Razak — in July 2014, the High Court was told today.
The transactions were attempted via bank drafts instead of digital transfers to avoid revealing that the funds came from the Minister of Finance Inc company, according to chat transcripts from the phone belonging to former AmBank relationship manager Joanna Yu.
Yu, who managed AmBank accounts belonging to Najib, SRC and its subsidiaries in 2011-2015, is the 54th prosecution witness in the historic proceeding.
Defence counsel Harvinderjit Singh referred to July 2014 chats involving Yu, fugitive businessman Low Taek Jho and former 1Malaysia Development Bhd (1MDB) finance director Terrence Geh.
The lawyer has argued that Geh and others who transferred funds into Najib's accounts were following Low's instructions.
The High Court was told that Geh has facilitated the issuance of three bank drafts — RM36 million, RM76 million and RM27 million — from SRC's AmBank account to a recipient with a Public Bank account.
Yu concurred with Harvinderjit's suggestion that bank drafts were used to conceal the source of the funds from the counterparty, but said it "did not make sense".
She also disagreed with the lawyer's assertion that Low and Geh were planning to give AmBank and Public Bank differing explanations.
The bank drafts — marked as for "investment/acquisition" purposes — triggered an alert in Public Bank, prompting it to contact Geh, Yu and AmBank.
The witness said Public Bank wanted to know if there is any breach in the Anti-Money Laundering, Anti-Terrorism Financing and Proceeds of Unlawful Activities Act 2001 (AMLA), and how much AmBank knew about the client, SRC.
Low, who was very concerned about how much information Public Bank was seeking about the drafts, helped them to formulate responses to the bank.
The financier told Yu that it was "very very important" not to mention that the monies came from SRC and the Retirement Fund (Inc) (KWAP), which loaned the company RM4 billion.
Instead, he wanted to say that SRC was government-linked, which put it on the "low-risk" client list with AmBank, said Yu.
She then told Public Bank — without naming SRC — that the client issuing the drafts has been with AmBank since 2011, and that the bank believes the funds came from legitimate sources.
Geh, however, revealed to Public Bank that the monies came from SRC, instead of its subsidiary Gandingan Mentari Sdn Bhd as Low had scripted, prompting the fugitive financier to tell him off.
Low also told Yu to tell the same story, but she had never heard of the company before that.
"I guarantee you co sec [company secretary] will confirm [the money] is from SRC," said Low.
Additionally, Yu was also instructed to tell Public Bank that she knew then-SRC director Datuk Suboh Md Yasin, although she has never met Suboh.
"Were you comfortable?" asked Harvinderjit. Yu did not answer yes or no, but instead said SRC is a government-linked body.
Low eventually cancelled the bank drafts, although the identity of the counterparty and the real reason behind the transactions were not disclosed.
Najib is the first former prime minister to be criminally charged in court. He is currently facing seven counts of money laundering, abuse of power for alleged siphoning of RM42 million from SRC into his AmBank accounts in 2014-2015.