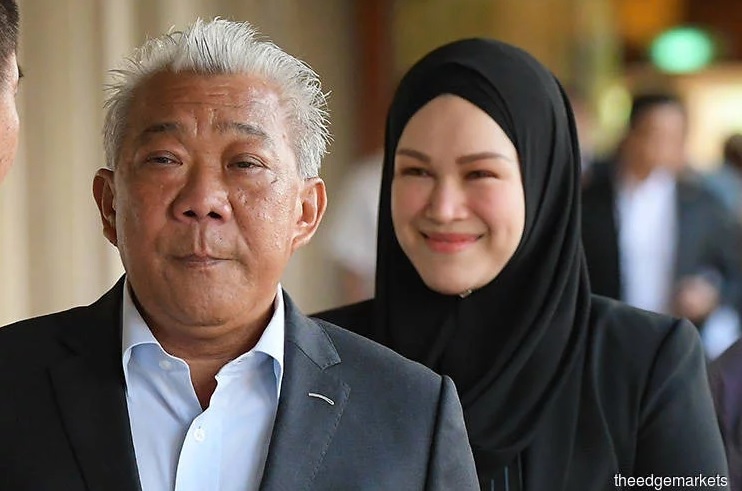 KUALA LUMPUR (Aug 9) The graft case against Kinabatangan MP, as well as former Felcra Bhd chairman Datuk Seri Bung Moktar Radin and his wife Datin Seri Zizie Izette A Samad, who are jointly charged with receiving RM2.8 million bribe, will remain at the Sessions Court.
This follows High Court Justice Mohd Nazlan Mohd Ghazali dismissing the prosecution's application made by Allan Suman Pillai to transfer the case to the High Court, which was also supported by the defence, led by lawyers Datuk K Kumaraendran and M Athimulan.
"The charges against the respondents do not involve any novelty issues of the law, which may arise in cases for such offences. Furthermore, the novelty point of law does not necessarily render such point of law to be unusually difficult.
"The accused is charged at the Sessions Court, and they have three specialised court handling corruption cases and is competent to try these cases. It is absolutely essential that confidence in the integrity of the administration of the criminal justice system be maintained.
"I therefore dismiss the application to transfer the case to the High Court and order that the trial be held at the Sessions Court," Justice Nazlan said in his oral judgment.
Bung Moktar, 60, claimed trial on May 3, with three counts of receiving the amount in three different transactions of RM2.2 million, RM262,500 and RM337,500 at Public Bank Taman Melawati, between June 12 and June 19, 2015.
This is for Bung Moktar to go against his principal task by getting approval from the Second Finance Minister for Felcra to invest RM150 million in Public Mutual trust.
Zizie Izette is charged for abetting with Bung.
If convicted, the duo stand to face a maximum 20 years jail term and a minimum fine of RM10,000 or five times the amount of graft received.
Later, both Bung and Zizie went to the Sessions Court to fix a mention date before Sessions judge Rozina Ayob.