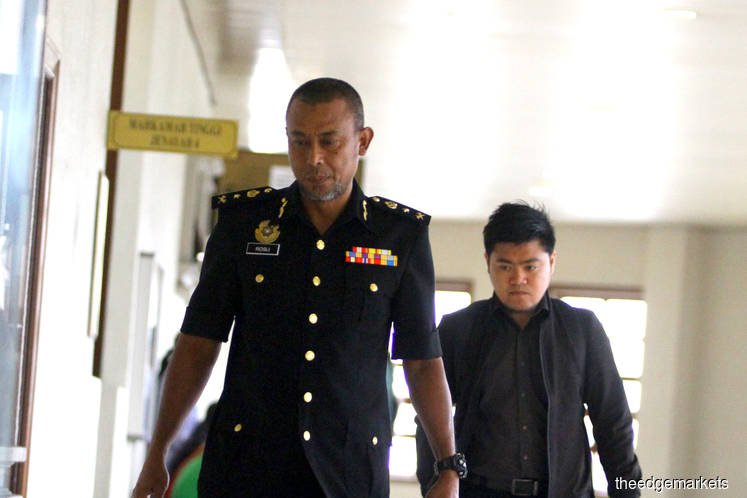 KUALA LUMPUR (Aug 27): The late deputy public prosecutor (DPP) Datuk Anthony Kevin Morais was not involved in investigations into the embezzlement of funds from former 1Malaysia Development Bhd (1MDB) subsidiary SRC International Sdn Bhd, the High Court was told today.
Malaysian Anti-Corruption Commission (MACC) investigating officer Rosli Hussain testified that while Morais did not participate in the investigation of SRC, he is not sure whether the slain civil servant was involved in the graft-buster's 1MDB probe.
Rosli was responding to questions posted by Tan Sri Muhammad Shafee Abdullah during his cross-examination in the SRC trial today.
Shafee, who represented former Prime Minister Datuk Seri Najib Razak, had asked the witness to verify if allegations that the late DPP was murdered due to his involvement in investigations into SRC and 1MDB were complete lies.
Fending off objections from appointed public prosecutor Datuk V Sithambaram over the questions, Shafee said it was important to dispel rumours linking his client to the death of Morais, who was found dead in a concrete-filled oil drum on Sept 16, 2015 in Subang Jaya, Selangor, almost a fortnight after he was last seen leaving his apartment at Menara Duta here.
Meanwhile, Rosli said the commission had also recorded statements from former Minister in the Prime Minister's Department Tan Sri Nor Mohamad Yakcop and ex-deputy prime minister Tan Sri Muhyiddin Yassin, besides Datuk Seri Ahmad Husni Hanadzlah, who was previously the Finance Minister II.
Sithambaram objected when Shafee asked the witness why the Attorney General's Chambers decided to press charges only against Najib when the MACC had recommended that others be charged in relation with SRC as well.
The appointed prosecutor said Rosli should not answer in detail questions about recommendations made from the investigations, as this would go against the Official Secrets Act.
However, the defence counsel said this is important to have a fair trial for Najib.
"There may be more people that MACC wants to charge, but they only charge my client. This involves the credibility of the witness," he argued.
Shafee then asked whether MACC had recommended to draft charges against SRC CEO Nik Faisal Ariff Kamil, Ihsan Perdana Sdn Bhd managing director Datuk Shamsul Anwar Sulaiman and its finance director Datuk Abdul Aziz Ismail, to which Rosli said yes.
When re-examining Rosli, DPP Datuk Suhaimi Ibrahim asked the witness to explain why MACC did not investigate the authenticity of signatures related to SRC's transactions.
Rosli replied that there were no complaints lodged about possible forgeries over signatures in SRC, hence why his team did not verify their authenticity.
The witness also dismissed the notion that signatures on documents related to SRC or its subsidiary Gandingan Mentari Sdn Bhd were forged, based on the defence's allegations that the signatures of SRC's former director Datuk Suboh Md Yassin and managing director Nik Faisal Ariff Kamil — who were signatories for SRC — could be fakes as they appeared too uniform on several documents.
Rosli also clarified his earlier testimony that while he was not so sure about runaway financier Low Taek Jho's involvement in the embezzlement of SRC's fund, he was certain of Nik Faisal's involvement.
The witness explained that this was because Nik Faisal was the one who moved RM170 million from SRC to Putra Perdana Construction Sdn Bhd without the knowledge of SRC's board of directors.
After Suhaimi was released as a witness, Attorney General Tommy Thomas formally wrapped up the prosecution for the SRC case. Justice Mohd Nazlan Mohd Ghazali fixed Oct 22 and 23 this year for oral submission, and will decide whether defence will be called on Nov 11 this year, during when Najib may testify from the witness stand where he could be subject to cross-examination by the prosecution, make an unsworn statement from the accused dock where he cannot be cross-examined, or keep quiet.