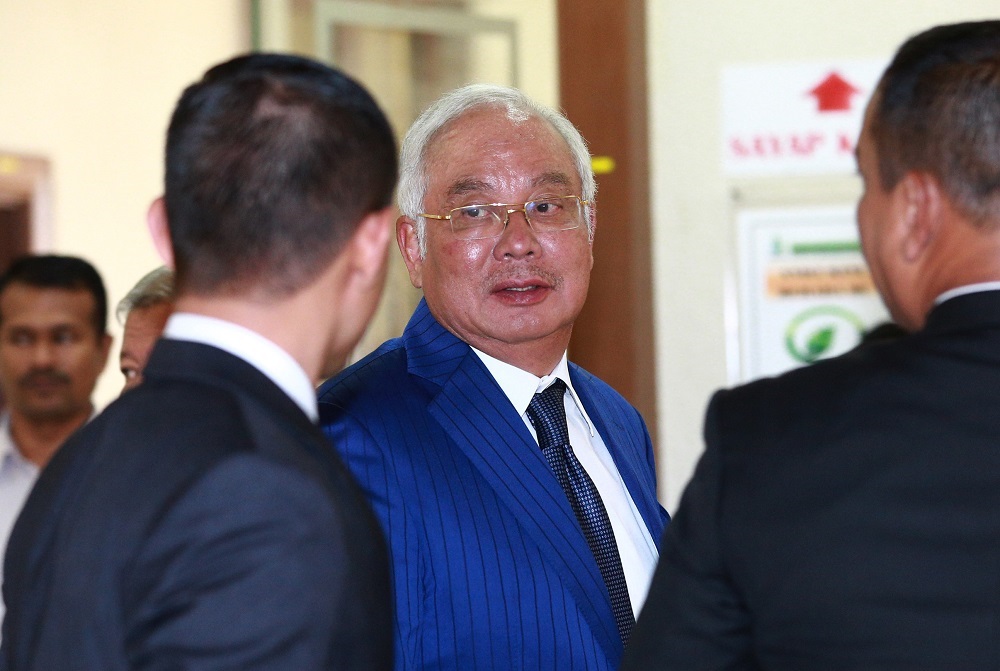 KUALA LUMPUR (Aug 29): Former Prime Minister Datuk Seri Najib Razak has made 'unprecedented' contributions to Chinese education and was a tolerant leader when it came to racial and religion matters, the High Court was told today.
This was the view of Najib's former political secretary Datuk Wong Nai Chee, 50, who was called as the fifth prosecution witness in the trial of the former premier's alleged involvement in money laundering and abuse of power in relation to funds from 1Malaysia Development Bhd (1MDB), otherwise known as the 1MDB-Tanore trial.
Among his 'unprecedented' acts to support Chinese education was to remove a clause in the Education Act 1961 which empowered the education minister to convert a vernacular school into a national school during his time as Education Minister in 1996.
Moreover, he had also provided substantial allocations to Chinese vernacular schools and played a role in approving Xiamen University's establishment in Malaysia, as well as upgrading the status of Hanjiang University College, New Era University College, Southern University College from colleges, said the witness.
"And so far, his insistence is that Chinese vernacular education should stay on because of the multicultural [nature of the country]. He gave so much allocation to non-governmental organisations on Chinese matters, through me," Wong recalled during cross-examination with lead defence counsel Tan Sri Muhammad Shafee Abdullah.
The lead defence counsel also suggested to Wong that Najib is a tolerant leader when it comes to racial and religious matters, to which the witness agreed.
Wong, a practising lawyer, said he was attached with the Prime Minister's Office beginning from Dec 1, 2011.
The witness said he had served Najib alongside two other political secretaries — one who covered Islamic affairs, and the other dealt with Umno and BN politics.
He affirmed that he was roped in to manage Chinese affairs and other non-Muslim matters.
In re-examination, appointed prosecutor Datuk Seri Gopal Sri Ram mentioned the 'unprecedented' move by Najib, and asked Wong whether he recalled the Prime Minister in office in 1996.
Wong said he remembers, and it was Tun Dr Mahathir Mohamad.
Earlier during his examination-in-chief by Sri Ram, Wong identified several cheques from Najib for back-to-back payment to Akademi Kewartawanan Dan Informasi Taima (AKIT) and AD Network, through Tan Sri Lim Soon Peng, who is the founder of property developer Titijaya Land Bhd.
Wong said payment to AKIT was meant for the publication of a Chinese newspaper named the Chinese Weekly, while the payment to AD Network was for its role as administrator of Ah Jib Gor Facebook account.
When he took the job, Wong recalled that he was introduced by Najib to Lim, who mobilised grassroots including old folks' homes and temples.
Through Lim's connections, Wong said then-government was able to communicate with Chinese guilds and community leaders.
"He (Lim) has 'cordial relationship' with Federation of Chinese Associations Malaysia (Hua Zhong), among others, as well as Chinese education groups," he told the court.
"Chinese education is at the forefront of the issues involving the Chinese community, including issues involving SJK(C)s.
"Tan Sri Lim has direct contact with Chinese NGOs in the most grassroots level. He does communication for us, even to old folks' homes and temples in the Klang Valley — for our Chinese New year activities and so on," he said.
The prosecution also called its sixth witness Datuk Mohd Noor Ahmad, 60, who has been acting division chief for Umno Batu Kawan since March 2013. He testified today that Najib also issued cheques to help the poor amongst the Malay community.
When Mohd Noor testified, the Umno politician also said the party's Batu Kawan division received funds directly from then President Najib for welfare purposes.
Mohd Noor said a cheque dated Aug 6, 2013, was produced for party purposes, which he recalled that it was him who requested funding from Najib personally at the Prime Minister's Office on the same date.
The cheque was worth RM100,000 and issued by Najib to Umno's Batu Kawan division's account.
"Previously, Umno headquarters gave RM10,000 per month to the division… I agree [that it is not sufficient to conduct party activities]," he said, referring to community service activities in Batu Kawan.
Mohd Noor said never before has the party president given funding directly to the divisions. "Usually it is through the Umno division," he said.