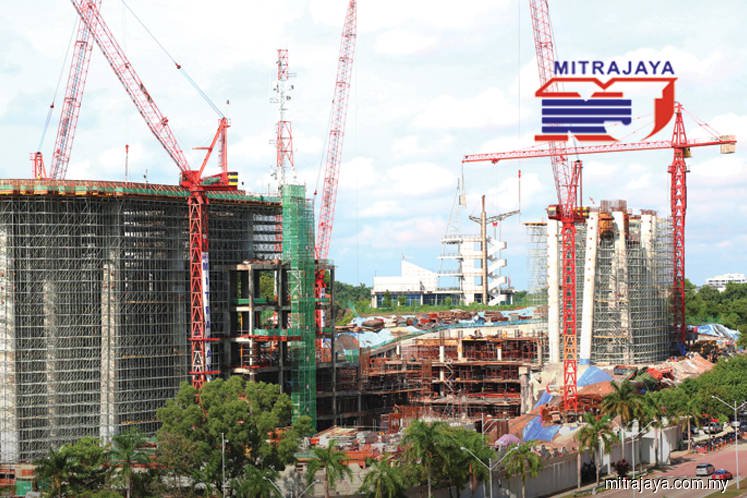 KUALA LUMPUR (Aug 30): Mitrajaya Holdings Bhd has reported its second straight quarterly loss as the group continued to be dragged down by the poor performance of its construction business.
The group posted a net loss of RM14.55 million for the second quarter ended June 30, 2019 compared to a net profit of RM10.33 million a year ago.
This resulted in a loss per share of 1.63 sen compared to an earnings per share of 1.15 sen previously.
Revenue for the quarter dropped 29.7% to RM145.3 million from RM206.75 million a year ago.
The poor quarterly performance also led to the group reporting a net loss of RM18.83 million for the six months ended June 30, 2019, compared to a net profit of RM29.51 million for the same period last year. Revenue declined 29.86% to RM330.93 million from RM471.82 million.
In a filing with Bursa Malaysia, Mitrajaya said its construction division's revenue fell 33.6% in the six months to RM267.62 million from RM402.92 million previously, resulting in a loss of RM30.67 million compared to a profit before tax of RM10.26 million previously.
The group blamed the loss mainly to the delay in payment collection and retention money from completed projects, depreciation charges for idle assets and lower finalised contract sum.
Meanwhile, its property development division also reported a lower first-half contribution of RM57.81 million compared with RM64.39 million previously, representing a drop of 10.22%. The division's profit before tax fell 50.38% to RM13.55 million from RM27.29 million.
The group said the construction division has been operating in a highly competitive and challenging business environment since the past one year.
Its current outstanding order book of RM815.81 million will sustain the division until 2021, the group said.
"The group has been working aggressively on various projects tender to replenish our construction order book. Concurrently, the review of current fixed overhead cost is carried out to ensure our construction division's cost structure is competitive and sustainable," it added.
As for the property division, the group said it is working on a development for 305 double-storey terrace houses in Bukit Sentosa, Rawang. Phase 1 consists of 67 units and will be launched by end-2019.
The group also said it is working on a mixed development project for serviced apartments and affordable serviced apartments in Kota Warisan, Sepang.