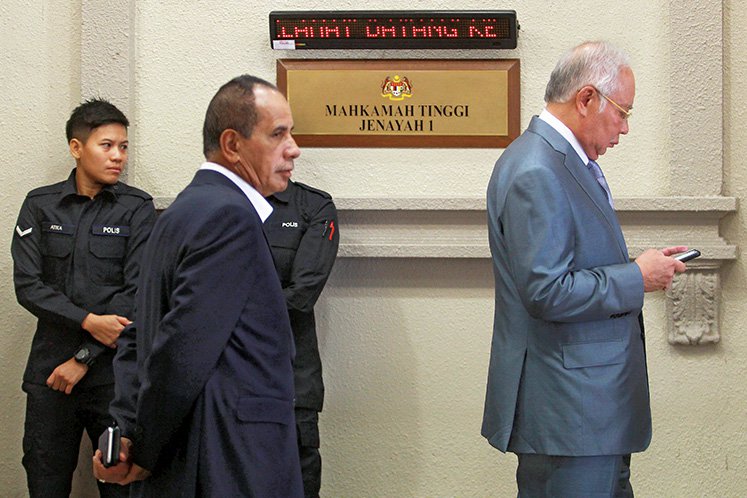 KUALA LUMPUR (Sept 5): In an attempt to extricate and salvage 1Malaysia Development Bhd (1MDB) from the mounting debts that financier Low Taek Jho or Jho Low and his cohorts had plunged the company into, former prime minister Datuk Seri Najib Razak assembled in astonishing quick time, a handful of mega infrastructure projects that Malaysia could offer to China's state-owned enterprises.
He then sent Jho Low — now in hiding — and his then special officer Datuk Amhari Efendi Nazaruddin to Beijing to cut infrastructure deals involving rail and gas pipelines with the Chinese.
A key witness in the 1MDB-Tanore trial and the prosecution's 8th witness, Amhari told the High Court yesterday the projects included a proposed Bangkok-Kuala Lumpur high-speed rail, a petroleum pipeline from Port Klang to Kuala Kedah, the East Coast Rail Link (ECRL), the Trans-Sabah Gas Pipeline, the Multi-Product Pipeline and the development of federal territory Labuan into an offshore banking and tourism hub.
Amhari disclosed that he was sent to China on a "secret mission" in 2016 by his then-boss to convince the country to help pay 1MDB's debts, in return for which Beijing's state-owned enterprises would be awarded several infrastructure projects.
He said in his capacity as Malaysia's prime minister, Najib appointed him his "diplomatic representative" to affirm the economic relations of both countries, and to verify investments to be made between Malaysian and Chinese companies.
But Amhari, who had worked closely with Najib's chief private secretary, the late Datuk Azlin Alias, said he had mixed feelings about his Chinese "mission" which Najib sent him on secretly after 1MDB's debt problems became public.
Not daring to disobey Najib's directive, he paid for a flight to China on June 28, 2016. Even though he did not make a claim for the airfare, Najib subsequenty reimbursed him the fare.
"Although I respected Najib's directive, this was the most difficult moment in my job. I was worried about being involved directly in Najib and Low Taek Jho's plan to cover up the loss of 1MDB funds and the repayment of International Petroleum Investment Co (IPIC) debts or the preparation of political funds," the 43-year-old testified for the second day.
Meeting with Chinese officials
According to Amhari, only Najib and Jho Low knew about Amhari's China trip. And it was only when he was already in China did he know that Jho Low would also be present during the discussions, which were centred on Chinese aid to bail out 1MDB. During the meeting, Jho Low spoke in Mandarin while Amhari spoke on the talking points given to him.
"Also, the talking points that were to be discussed were given to me by Jho Low, and it seems these terms had already been discussed beforehand.
"However, based on what Jho [Low] showed me through talking points and action plans, the deal and joint venture were [framed as] an investment to bail out 1MDB in that it provided 1MDB the funds to repay IPIC."
Essentially, Amhari also concluded that the discussions were to enlist the Chinese to purchase shares in certain projects so that some of the humongous debts of 1MDB and its subsidiary SRC International Sdn Bhd could be covered.
Subsequently, Amhari said 1MDB-related assets of which equities were sold included My City Ventures Sdn Bhd, 1MDB Energy Holdings Ltd and Brazen Sky Ltd. He believed that Najib knew about the bailout plan and gave Jho Low the mandate to work on it.
Amhari said Jho Low and Najib later requested 1MDB executive director of finance, Terence Geh Cho Heng, to attend a meeting with China's state-owned enterprises and to coordinate the 1MDB/SRC debt resolution programme.
Jho Low and Amhari's trip to China in June was to pave the way for Najib's visit to the mainland five months later.
In November, Najib visited Beijing to sign an agreement between China Communications Construction Company and ECRL Sdn Bhd, and another between China Petroleum Pipeline Engineering Ltd with Suria Strategic Energy Resources Sdn Bhd (SSER). Najib's visit was to secure two funding agreements: One between China EXIM and ECRL, and the second between China EXIM and SSER.
In addition, Najib was there to witness renminbi-bond underwriting agreements between China and ECRL, as well as between China and SSER.
This article first appeared in The Edge Financial Daily, on Sept 5, 2019.