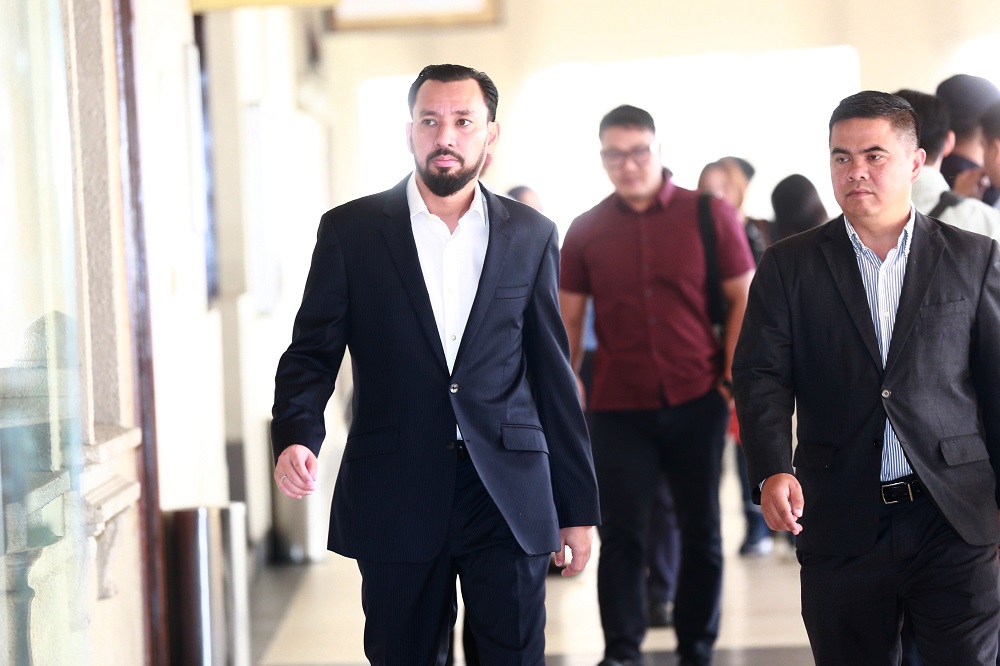 KUALA LUMPUR (Sept 18): Prosecution witness Datuk Amhari Efendi Nazaruddin (pictured) was accused of hiding the fact that fugitive businessman Low Taek Jho misrepresented himself as adviser of the Terengganu royalty.
Amhari is the eighth prosecution witness in the 1Malaysia Development Bhd-Tanore (1MDB-Tanore) trial, where former prime minister Datuk Seri Najib Razak is facing four charges for abusing his power as prime minister and 21 counts of money laundering involving 1MDB money.
Najib's lawyer Tan Sri Muhammad Shafee Abdullah, who cross-examined Amhari at the High Court today, accused Amhari of protecting Low, who is also known as Jho Low.
Muhammad Shafee said there was no record of Amhari informing his superior or Najib about Low's misrepresentation, after it was raised by the Terengganu royalty's representative at one of Terengganu Investment Authority's (TIA) meetings in June 2009. 1MDB was formerly known as TIA.
Amhari, who attended the TIA meetings as the sole representative of Prime Minister's Office (PMO), confirmed he did not respond at the meetings to the issue of Low's misrepresentation.
This drew flak from Muhammad Shafee, who claimed Amhari failed in his role — as the PMO's representative and to accurately relay information from the meetings, so that the PMO could take the right follow-up actions.
Muhammad Shafee: Did you contribute to this discussion? You knew Jho Low since 2008.
Amhari: During these meetings, I was still a junior officer and my presence (at the TIA meetings) was so that the deputy prime minister or prime minister (Najib) is in the know. I was called in to show respect to [Najib's] office, since I have attended the previous meetings.
My interaction at the meeting was minimal. So that was why (Najib's former principal private secretary, the late) Datuk Azlin Alias took over. I was very junior and you may say that I was not qualified (to play a big role in the discussions).
Muhammad Shafee: [Jho Low's misrepresentation] was never discussed [during the meetings]. That was not recorded. [According to the minutes of the meetings], they only raised who is this character. Is there a prohibition against [you] speaking [at the meetings]?
Amhari: There isn't. I think civil servants understand that at times, you just don't talk, just observe and come back for further instructions. I think it is a normal culture.
Muhammad Shafee: This is not normal. How can you represent the PMO, you found the fact that Jho Low misrepresenting, and you did not [address the issue]? By keeping quiet, you perpetuated this misrepresentation.
Amhari: I disagree.
Muhammad Shafee: You were close to Jho Low, and that's why you kept quiet. You were benefiting from it.
On Sept 5 this year, theedgemarkets.com reported that Amhari admitted at the High Court here during the 1MDB-Tanore trial that he had in 2010, obtained a US$200,000 (about RM837,000) loan from Low to buy a RM1.85 million property in Kota Damansara, Selangor.
Amhari was quoted as saying during the trial that he had yet to repay the loan.
Today, Muhammad Shafee suggested Low had given the money to Amhari for favours done in the past.
Referring to the "normal culture" in civil service, Muhammad Shafee then asked Amhari if it is wrong to put the matter on Low's misrepresentation in writing.
Amhari said it is not wrong.
Muhammad Shafee said to Amhari: "I am putting to you, you did not do this. You did not report it verbally or in writing, because you were protecting Jho Low."
Amhari however persistently raised the fact that his lack of action was due to his junior role.
At this point, Muhammad Shafee responded: "Don't go into too junior, senior. May be that is the start of the rot because you did not speak your mind."
Meanwhile, Muhammad Shafee also highlighted a letter from former 1MDB chief executive officer (CEO) Datuk Shahrol Azral Ibrahim Halmi to Najib in July 2009, to elaborate on TIA matters. Shahrol was the CEO of TIA then.
Today, Amhari agreed that Shahrol did not touch on the issue of Low's misrepresentation, despite the letter being issued after the matter was raised.
Muhammad Shafee said: "This was a golden opportunity for [Shahrol] to say there was representative of the [Terengganu] palace who disputed Jho Low's role."
"It's not just you (Amhari). There were several others in TIA, in PMO, who were in favour of working with Jho Low. This is why nobody raised anything bad about Jho Low to the prime minister (Najib)," Muhammad Shafee said.
The trial continues.