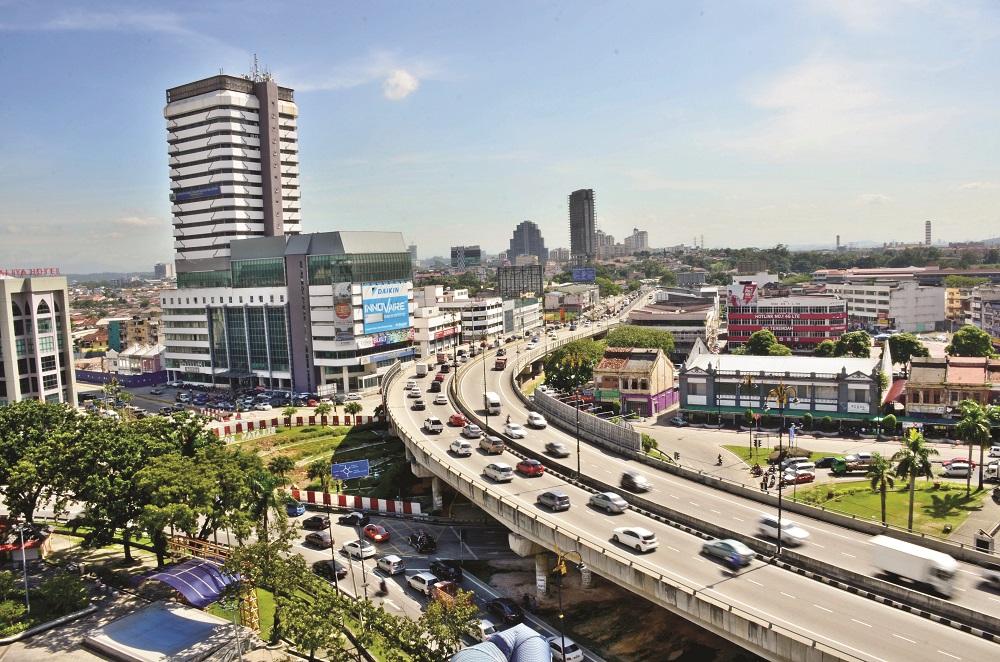 From mouth-watering bak kut teh (herbal pork soup), crispy and flaky layered roti canai, the flavourful nasi lemak and kopi-kaw to refreshing yoyo ice (ice-blended fruit juice), as well as delicious layer cakes, Klang in Selangor is a food haven and is one of the most popular day-trip destinations for foodies from Kuala Lumpur (KL) and Petaling Jaya (PJ).
However, ask anyone who currently does not work or stay in Klang to buy and set up home here and they will probably tell you "No".
Property consultancy PA International head of research and project marketing consultant Evelyn Khoo says the mature and self-sustaining port city that lies southwest of the Klang Valley is usually not on a homebuyer's list when they go property-hunting.
"An old rundown distant place with a lack of entertainment activities is how most Klang Valley folks perceive the town," she tells EdgeProp.my.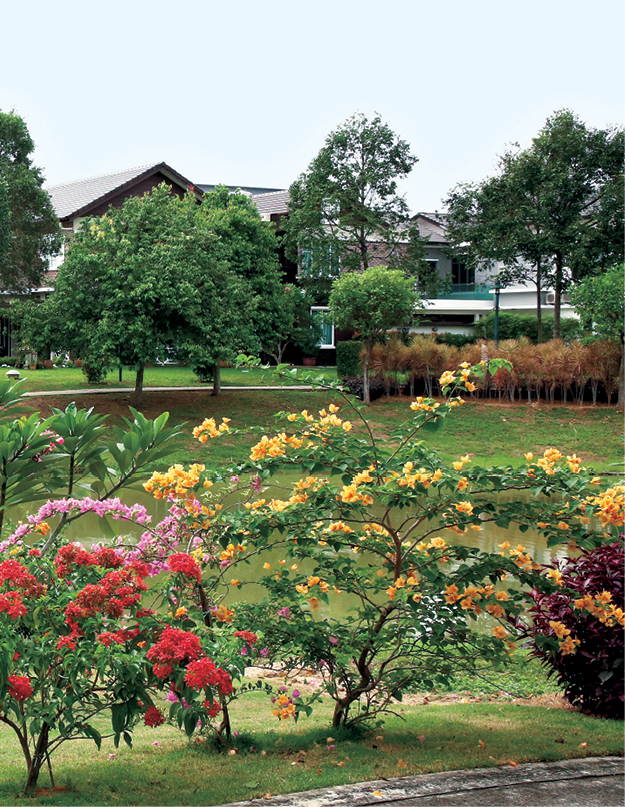 A look at recent property transaction data however, tells a more positive story of the hidden value of Selangor's Royal Town, for property investors and homebuyers.
According to the National Property Information Centre (Napic), Klang saw a total of 3,666 residential property transactions in 2018. Of these, more than 85% or 3,127 concluded deals were residential properties, about 70.5% or 2,567 were terraced houses, 500 were high-rise residential, 178 were semidees and 90 were detached houses.
The number of transactions were higher than those recorded in more popular property hot spots such as Cheras in Kuala Lumpur (308 transactions), Subang (508) and Puchong/Kinrara in Selangor (1,855).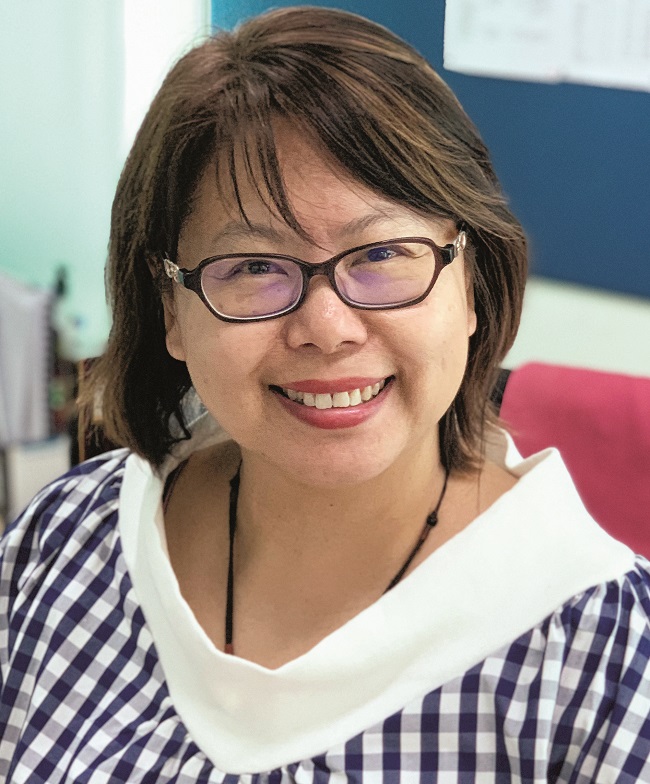 Although many people may not consider moving to Klang, Khoo has observed that the town's housing demand is strong as it is supported by local Klangites who want to continue living there.
Many who have lived there all their lives or for most of their lives, would still prefer to buy and live within Klang although they often choose newer projects or areas. A majority of new homebuyers are family starters, those who purchase for their children or upgraders, Khoo adds.
"For people who do not live in Klang, they may visit it for the authentic food it offers and the nostalgic feel it exudes, especially in Klang old town. But there's still something lacking when it comes to persuading them to purchase a property here," she elaborates.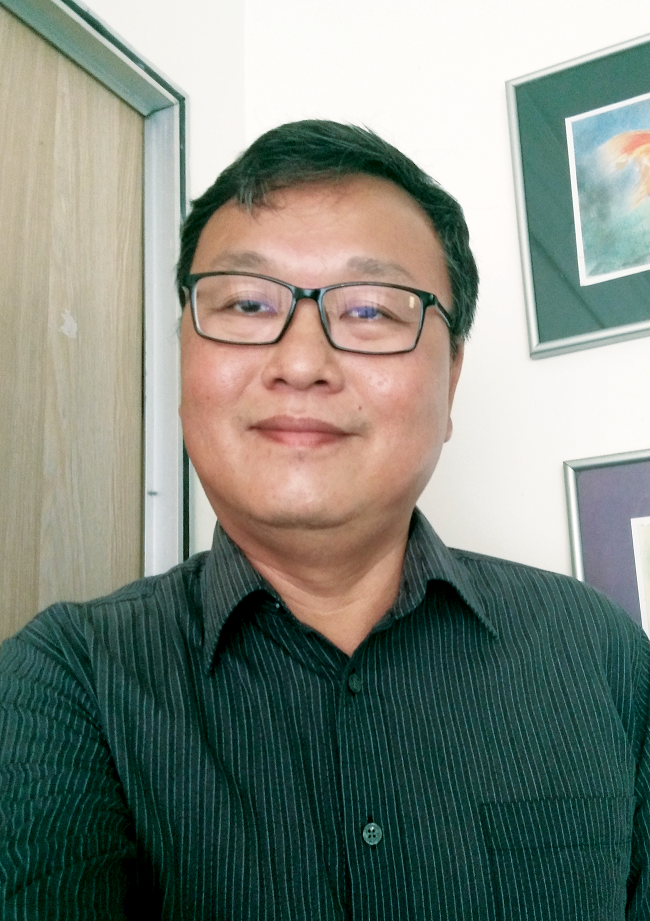 Compared with the previous year, the number of residential property transactions in Klang in 2018 has declined, although housing prices continued to rise. This, Khoo says, is a sign of the market's stability.
Metro Rec Sdn Bhd senior real estate negotiator Alan Wong concurs that demand is supported by the local population who are involved in the robust commercial and industrial activities in Klang.
"Owners [in Klang] have strong holding power and are not too inclined to lower their asking prices. Hence, housing values are likely to be stable in the short and medium terms," he says.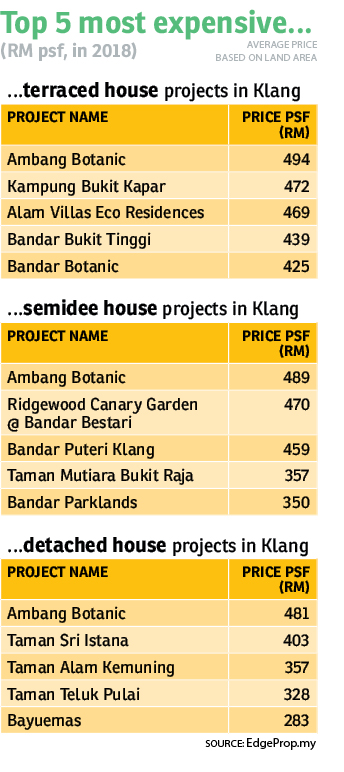 In terms of affordability, Klang has a slight price advantage over neighbouring areas such as Subang Jaya and Shah Alam, especially for buyers who are looking for large, landed houses.
EdgeProp.my data revealed that the average transacted price of terraced houses in Klang as at 1H2019 was around RM441,776 or RM283.50 psf based on land size.
In the first half of this year, a total of 26 semidees were sold at an average transacted price of RM1.13 million or RM364.50 psf. As many as seven bungalows changed hands at the average price of RM2.45 million or RM391 psf.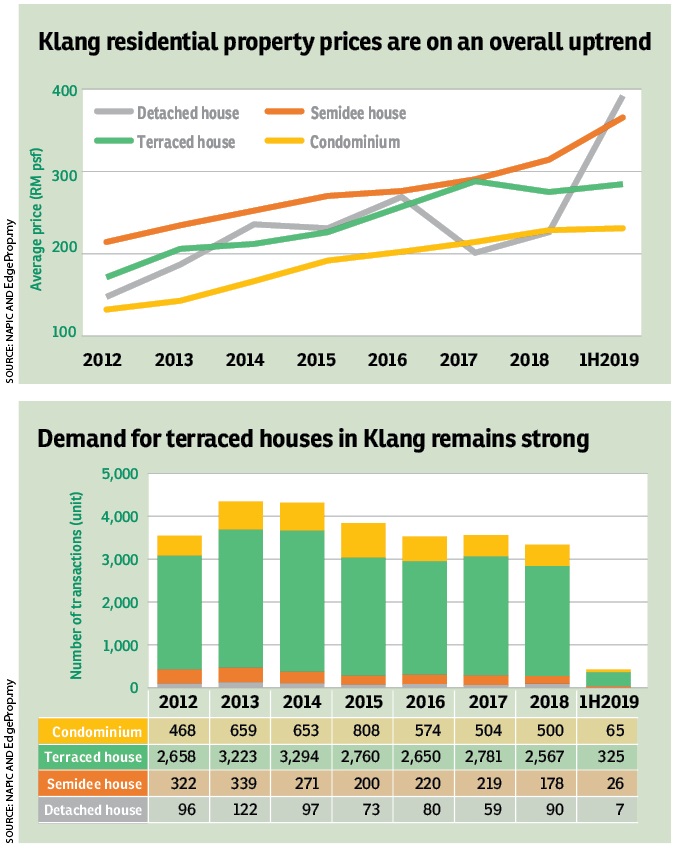 Preference for landed homes
Klang area specialist Emily Lim, who is also The Roof Realty Sdn Bhd probationary estate agent, says Klang has bucked the trend whilst the overall Malaysian property market has slowed since 2015.
"In more established areas like Kuala Lumpur, Petaling Jaya and Subang, we see more properties put up for auction in the current slow market, but Klang auction properties are fewer in comparison," she notes.
Klang folks are conservative property investors who tend to choose landed and freehold properties that offer stable long-term capital appreciation. And 90% of the properties in Klang are freehold, says Lim.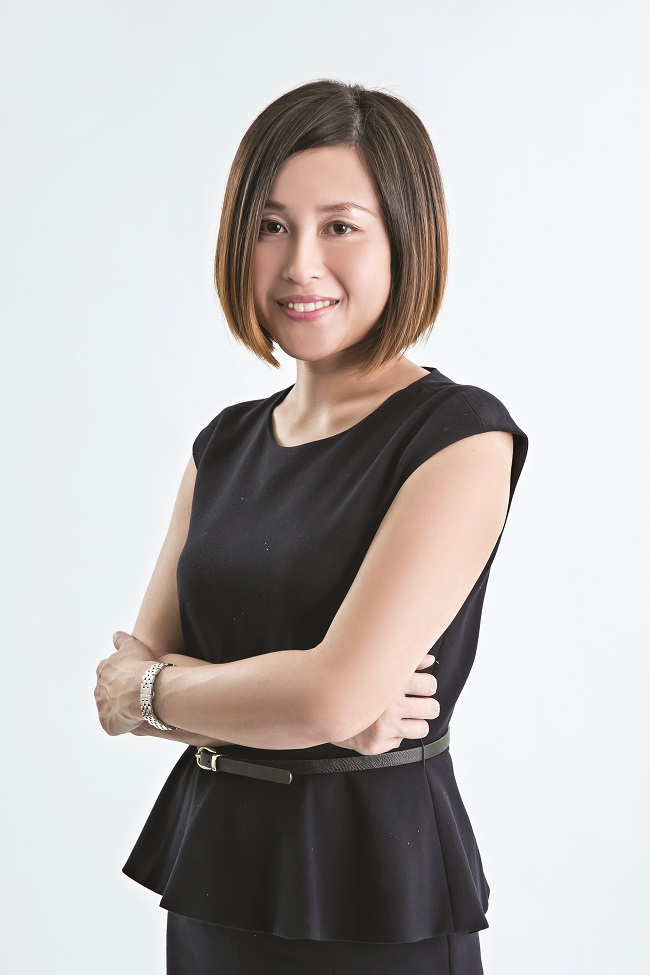 Hence the transactions and price growth of high-rise residential properties in Klang have not moved as fast as those of terraced houses. The condominium and serviced apartment segment saw 65 units sold in 1H2019 which were transacted at an average price of RM210,373 or RM230 psf.
Among the new high-rise projects in Klang are Trio by Setia in Bandar Bukit Tinggi, GM Remia Residence in Bandar Botanic, Maple Residences at Canary Garden and Gravit8 in Kota Bayuemas. These new offerings emphasise safety and lifestyle features, targeting the younger generation of buyers in Klang.
Nevertheless, Khoo from PA International says upgraders in Klang certainly consider high-rises located within township developments that boast quality living environments with recreational facilities, lifestyle elements and safety features.
Indeed, residential properties in existing township developments in Klang that have the above elements, especially those that address safety and security concerns, continue to enjoy capital appreciation and healthy demand such as in Bandar Botanic, Ambang Botanic, Bandar Bukit Raja and Bandar Bukit Tinggi.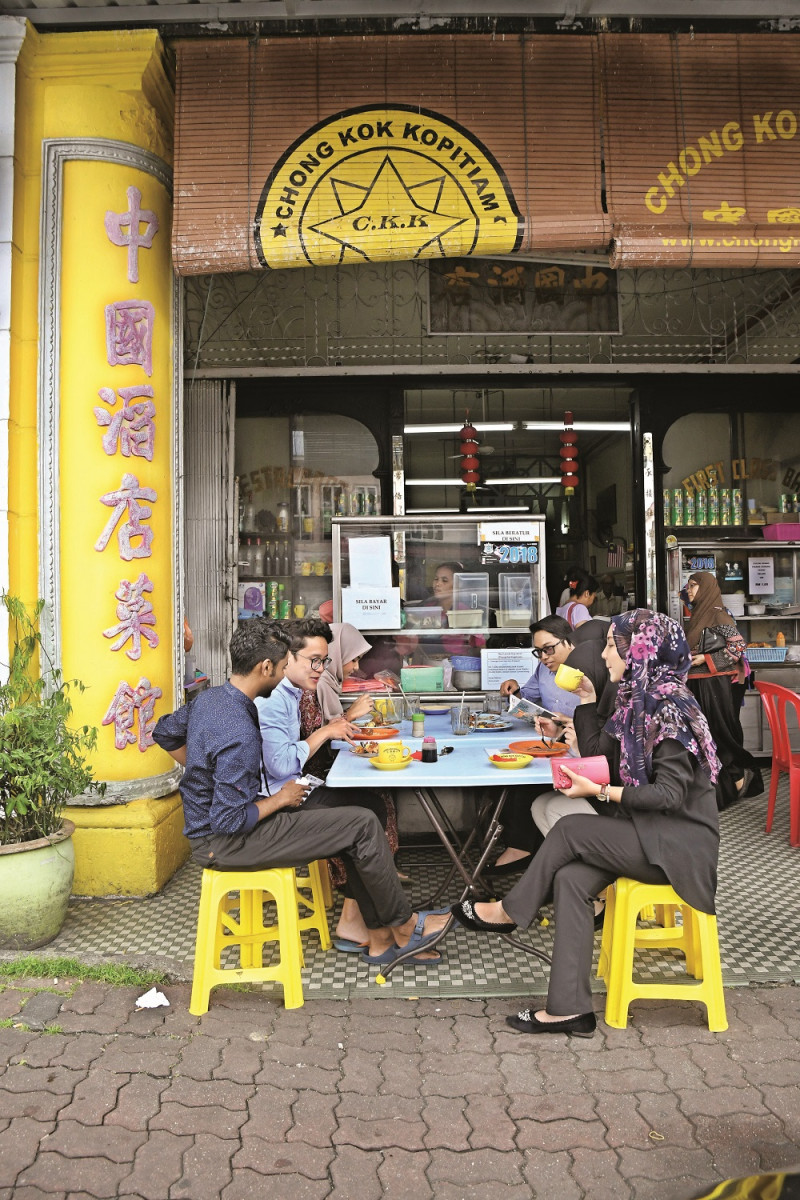 EdgeProp.my data shows that the above townships received the highest number of housing transactions in 2018. Bandar Botanic saw 251 landed homes change hands while Bandar Bukit Tinggi and Bandar Bukit Raja recorded 176 and 220 landed residential transactions respectively.
Metro Rec's Wong concurs that Klang is currently experiencing a surge in demand in these mature township developments as well as in the newer Bandar Bestari.
"Demand for secondary residential properties in these areas are strong as upgraders or young families prefer properties in gated-and-guarded neighbourhoods," he adds.
Going forward, Lim from The Roof Realty believes demand for terraced houses in Klang will continue to grow due to their affordability. She also foresees rising interest from upgraders for the homes in the above-mentioned established townships.
For those who prefer newer developments, Lim sees strong capital growth potential in Bandar Bestari and Berkeley Uptown, especially upon completion of the Light Rail Transit 3 (LRT3) and KSL Mall, the largest shopping mall in Klang which is slated to be ready in three years.
The 37km LRT3 line connects Bandar Utama in Petaling Jaya to Johan Setia in Klang with expected completion in 2024. Meanwhile, The West Coast Expressway is also expected to create greater vibrancy in this part of Selangor upon completion in 2022. The expressway project involves the development of a 233km tolled highway from Banting, Selangor to Taiping, Perak.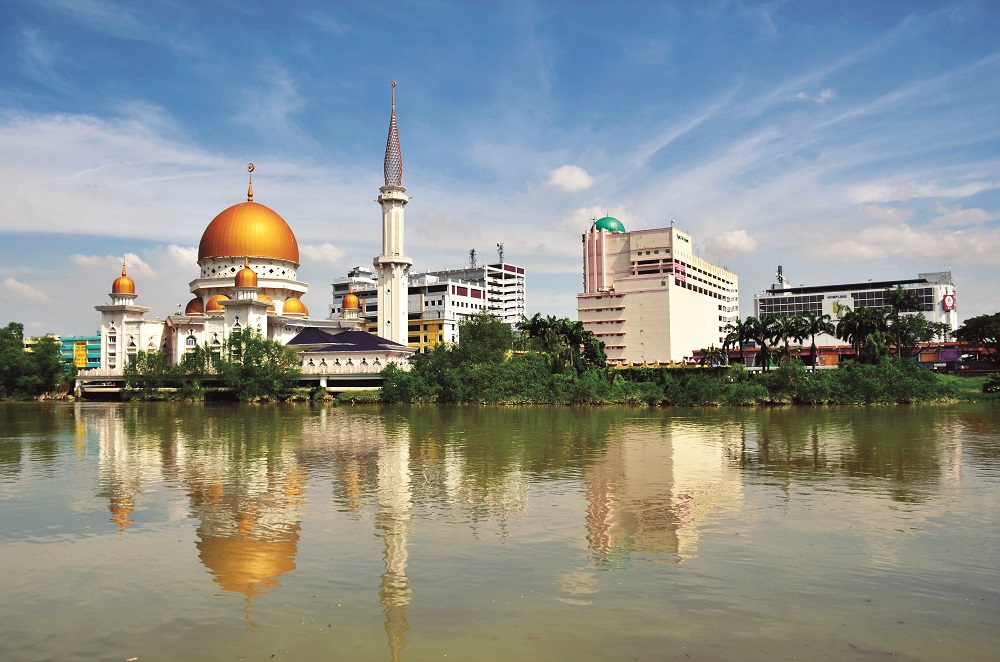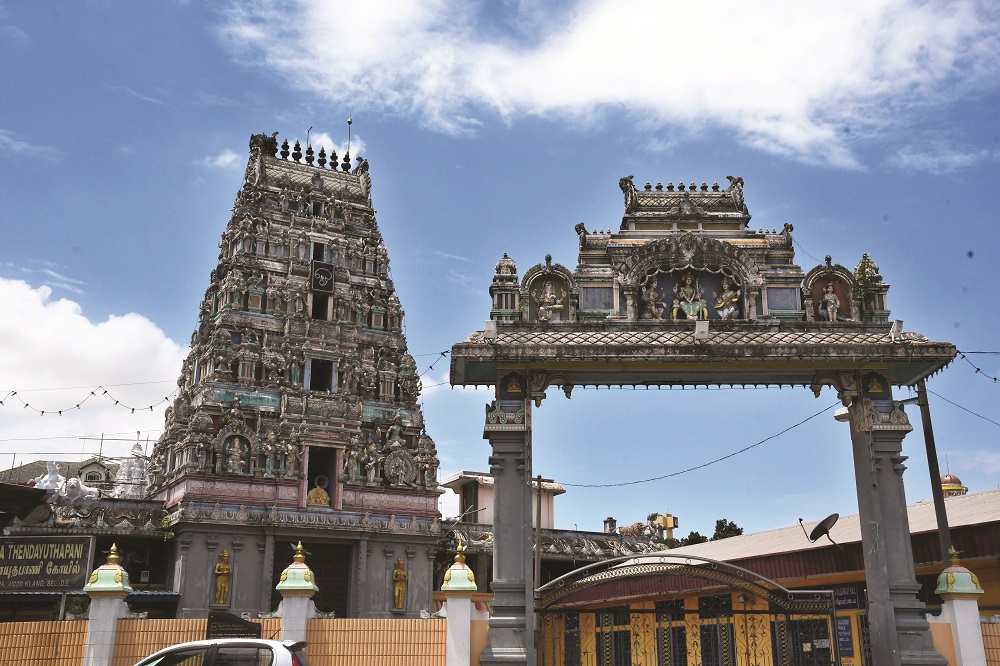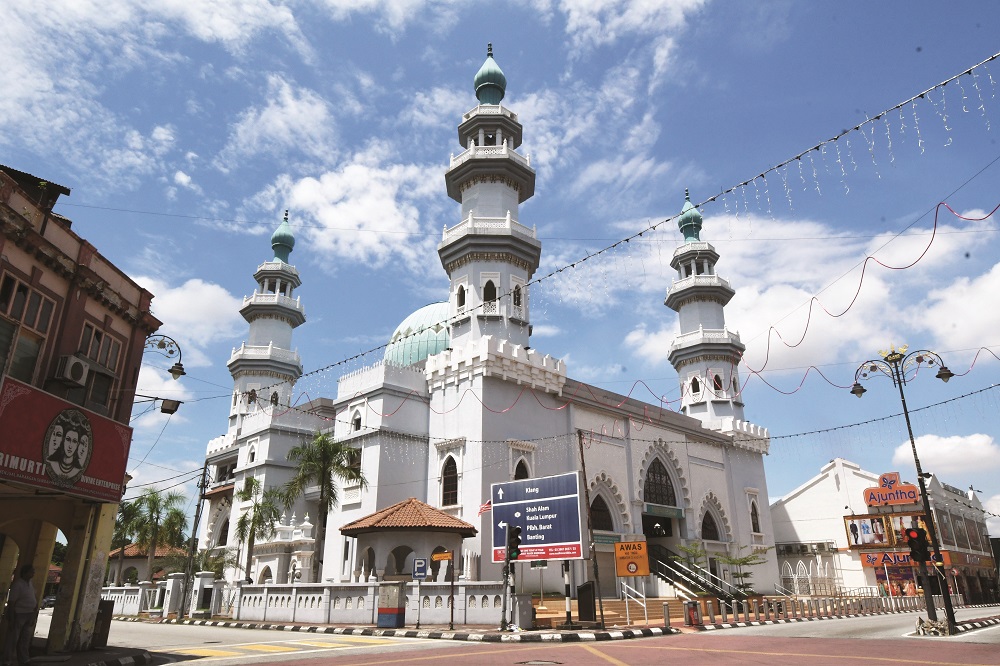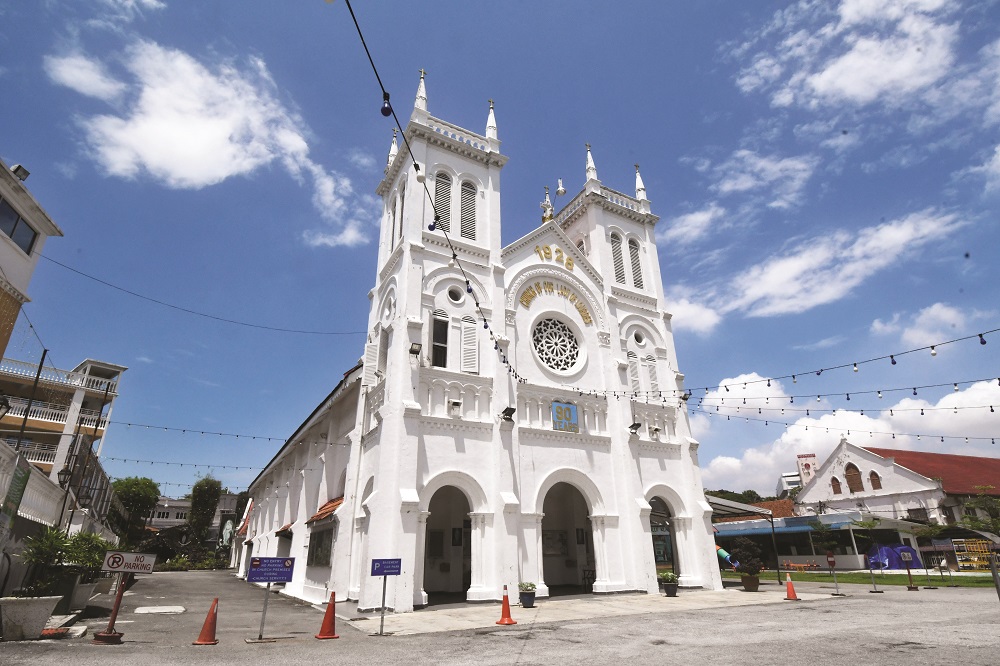 This story first appeared in the EdgeProp.my pullout on Sept 20, 2019. You can access back issues here.