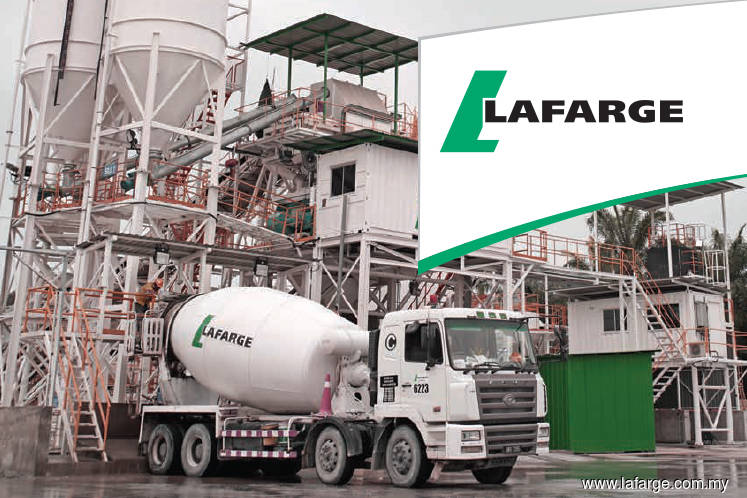 KUALA LUMPUR (Sept 24): Lafarge Malaysia Bhd's (LMB) minority shareholders voted down a resolution that would have allowed the group to undertake recurrent related party transactions (RPTs) worth an aggregate RM3.51 billion, with its new controlling shareholder YTL Cement Bhd.
Only 23.96%, representing 22.07 million shares, voted in favour of the resolution at an extraordinary general meeting (EGM) here yesterday, while 76.04% or 70.03 million shares voted against it, LMB's filing with Bursa Malaysia showed.
The Yeoh siblings — Tan Sri Yeoh Sock Ping, Datuk Seri Yeoh Sock Siong, Datuk Yeoh Seok Kian, Datuk Yeoh Seok Hong and Datuk Yeoh Soo Keng collectively being interested and common directors in the recurrent RPTs — abstained from voting on the matter.
According to LMB's circular to shareholders, the proposed mandate would have allowed LMB to deal with YTL Cement on the sale and purchase of materials such as clinker, cement, pulverised fly ash, slag, drymix, aggregates and manufacturing sand. Other transactions included are support services such as the provision of terminal management fee, gross charge of terminal costs, support function fee and packing services.
Both parties would also have been mandated to deal with a tribute income for aggregates mining activities, a rental receivable for the use of land in Kota Tinggi, Johor, and the rental of an office premises in Singapore.
LMB said the transactions that were to be entered into occasionally would be in the ordinary course of business and intended to meet the group's business needs at the best possible terms, to achieve synergistic benefits within the group. It also said the transactions would be undertaken on a normal commercial-term basis and on terms not more favourable to the related parties than those that could be arranged with unrelated parties, and that they would not be to minority shareholders' detriment.
However, it seems LMB's minority shareholders were unconvinced, though the reason is uncertain. LMB's management declined to speak to the media on yesterday's EGM's conclusion. According to Bloomberg data, after YTL Cement, Permodalan Nasional Bhd is the group's second-largest shareholder with a 13.37% stake. As at July 31, YTL Cement held 76.98% in LMB.
The company surfaced as LMB's controlling shareholder in May after acquiring a 51% stake in the loss-making cement maker for RM1.63 billion or RM3.75 per share from Associated International Cement Ltd (AIC).
Subsequently, YTL Cement launched a mandatory general offer (MGO) to acquire the remaining LMB shares it did not own. But independent adviser AmInvestment Bank Bhd said then that the offer was unfair and unreasonable, and advised LMB's minority shareholders to reject it. It said the offer price of RM3.75 was a discount of between 2.2% and 18.5% to the fair values of RM3.83 and RM4.60 per LMB share. The fair values were derived after taking into account the revival of large infrastructure projects, the suspension of which had depressed LMB's share price. The unreasonableness of the offer was due to YTL Cement's intention to maintain LMB's listing. The MGO ended with YTL Cement acquiring another 25.98% stake in LMB.
Meanwhile, two other resolutions put forward at yesterday's EGM were carried, with 99.99% voting in favour of them — changing LMB's name to Malayan Cement Bhd, and the mandate for LMB and its subsidiaries to enter into recurrent RPTs with its previous controlling shareholder, Swiss company LafargeHolcim Ltd. Lafarge Holcim had a deemed interest in LMB via its indirect interest in AIC. LMB finished 18 sen or 5.6% lower at RM3.04 per share yesterday.