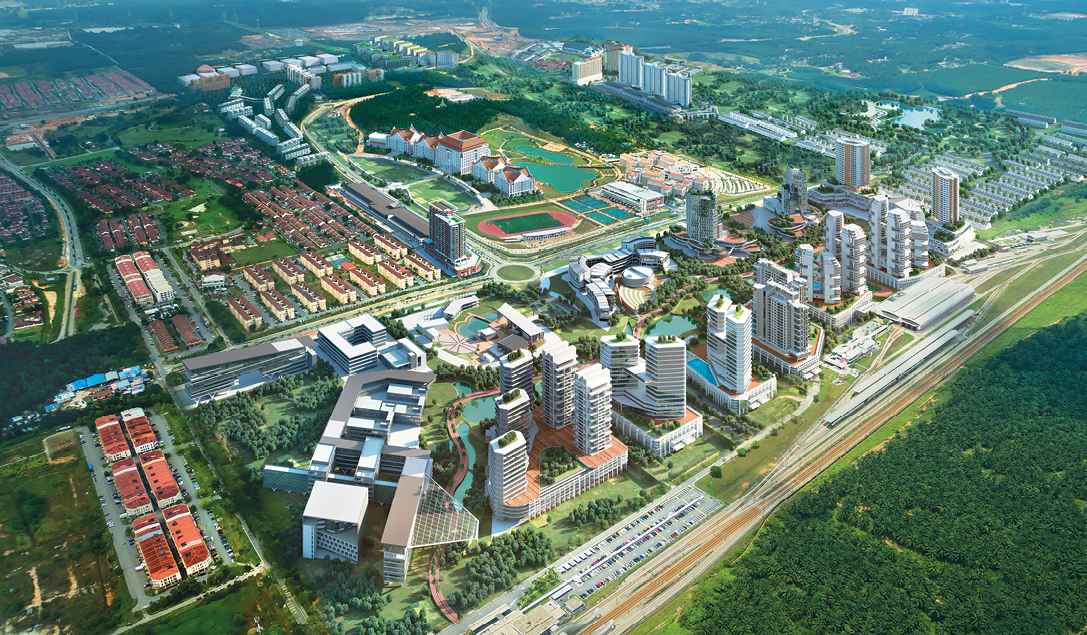 The 525-acre Sunsuria City in Putrajaya South, Salak Tinggi, Selangor is a landmark development in the Greater Kuala Lumpur southern corridor, offering state-of-the-art facilities guided by three principles: smart, liveable and sustainable.
A flagship development of Sunsuria Bhd, the master-planned township has plenty to offer. It caters to those seeking not just an abode but also a myriad of amenities and integrated features that meet their lifestyle needs.
With an estimated gross development value of RM10 billion, Sunsuria City is expected to be completed in about 10 years with the current completion rate of 20% as of October 2019. Lying in the heart of the township is Xiamen University Malaysia — the first overseas campus by a top Chinese university. The university with its 5,000 students and an estimated 400 staff (as of Sep-tember 2019) serves as the catalyst for the township's growth and development.
The freehold township is highly accessible. It is connected to the Elite Highway via a direct link from the Putrajaya-Cyberjaya Expressway as well as from other major highways such as the North-South Expressway and the Maju Expressway.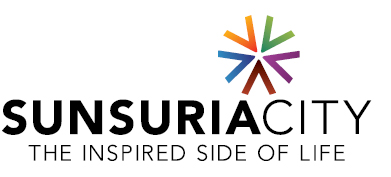 Sunsuria City is also a short drive away from the Kuala Lumpur International Airport (KLIA) and klia2, while commuters can opt to take the Express Rail Link from the Salak Tinggi station which is located within the township for a 7-minute trip to the airport while a trip to KL Sentral will take about 30 minutes.
"We planned the township based on the three pillars of creating a township that is smart, liveable and sustainable. Many would say that it is every developer's slogan but for us, it is our vision," says Sunsuria Bhd group chief operating officer and head of property division Simon Kwan.
LIVING WELL, SMART AND GREEN
In line with its vision, Sunsuria City is working towards becoming a Malaysia Green Building
Index (GBI)-compliant township. A 14-acre park is nestled within the township, serving as its central park and major green lung which is open to the public. "A park is imperative to any township. In fact, Giverny Park is the first component of the development that we envisioned," enthuses Kwan, noting that Sunsuria spent over RM10 million on landscaping the park.
Giverny Park is named after the idyllic gardens of Giverny in France where prolific French impressionist painter Claude Monet produced some of his most famous masterpieces. Likewise, Sunsuria City's three landed residential projects called Monet Lily, Monet Springtime and Monet Garden with their lush green landscapes and themed gardens are Monet-inspired.
"A home is about serenity. An artistically-crafted landscape softens the mood and takes the weariness away after a long day at work," says Kwan.
Residents using the ERL to Sunsuria City will first stroll through Le Park, a beautifully-crafted walkway that is also monitored by CCTV surveillance round the clock to ensure the safety of the residents.
To further enhance the liveability, there are well-connected jogging and cycling tracks throughout the township and residential areas including the back lanes, ideal for residents to pursue an active and healthy lifestyle while at the same time providing a green space for communal activities.
SMART CITY
As a testament to its commitment to build a smart township, Sunsuria City is well-equipped with intelligent infrastructure such as high-speed fibre broadband and smart home security systems. The township recently saw the addition of an eSports hub (M8Hexa), providing Malaysian youths with the training and resources required to seek a career in eSports-related fields, in line with the vision of the Ministry of Youth and Sports.
Meanwhile, a collaboration with Chinese automotive design and engineering firm IAT Automobile Technology Co Ltd will see Sunsuria City being the launch pad of 100 electric vehicles (EV). According to Kwan, the initial stages will be mainly to cultivate local talent in designing EVs.
He adds that Sunsuria took inspiration from many smart cities around the world including Australia to develop Sunsuria City.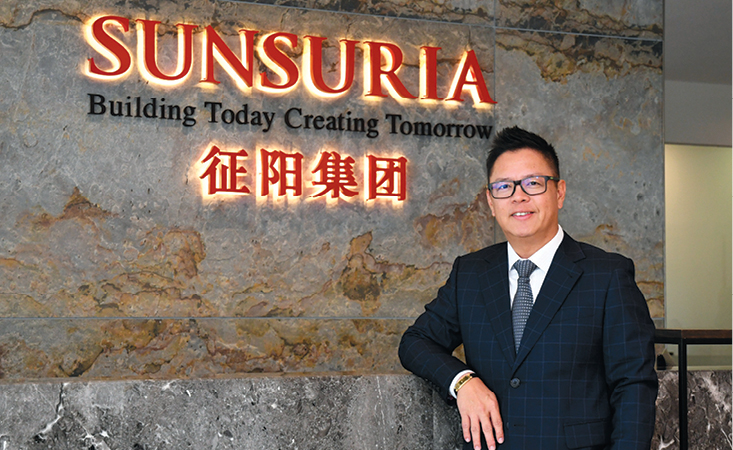 While both the greenery and smart city concept contributed to the township's liveability, the developer had also looked into de-sign details and facilities that safeguard the community's well-being and sustainability.
For instance, Sunsuria has provided double tracks for both jogging and cycling to ensure the safety of runners and cyclists.
There is also the Sunsuria Celebration Centre which offers ample interactive green spaces for residents to mingle and gather for events. Besides housing Sunsuria City's sales gallery, the centre provides a huge arena for carnivals and festivities and a glass cafe which is open to the public.
As for the commercial aspect of the township, the 86-lot Jasper Square is the first commercial development in Sunsuria City located adjacent to Xiamen University Malaysia. It comprises 2- and 3-storey shopoffices. Launched in 2016, the project is in-spired by abstract expressionism American painter Jasper Johns, with its vibrant and colourful building facades.
Also nearby lies Bell Avenue. Named after inventor Alexander Graham Bell, it is strategically located in front of the main gate of the university. This mixed development consists of retail and SoHo units and is within walking distance to the Salak Tinggi ERL station.
HIGH IN DEMAND
Despite the current soft property market in Malaysia, Sunsuria has lined up a number of projects in the pipeline for launch. One such project is the Tangerine Suites with indicative prices from RM285,000. It is the township's most attainable residential project for the younger generation or first-time homebuyers, offers Kwan.
Furthermore, some 115 units are allocated as affordable homes priced at RM250,000 in support of the government's goal to provide affordable homes for mid-to-low income earners.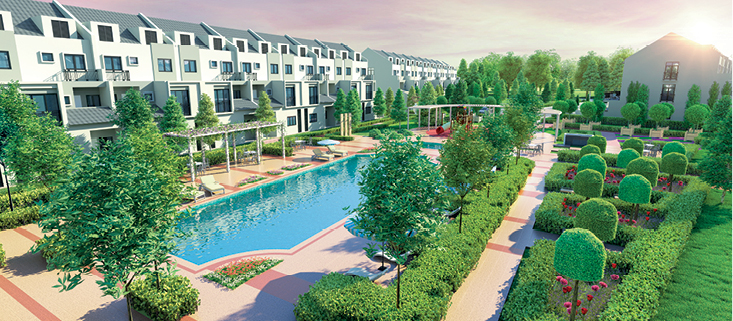 Tangerine Suites has a wide range of amenities including swimming pool, landscaped gardens and a kindergarten.
Meanwhile, Sunsuria is targeting to hand over its residential projects — Monet Lily and The Olive by November this year, with Bell Suites SoHo by 1Q2020. According to the developer, these three projects have seen over 90% take-up rates.
Kwan says there is still demand for Sunsuria City's residential projects despite the soft property market.
"Most of the projects that we have launched since 2017 have seen more than 90% take-up rates. Some are even fully sold," he adds.
"Annually, some 150,000 people migrate to Selangor to seek better career opportunities as the state is the largest contributor to the Malaysian economy in terms of GDP. The demand will eventually balance out the supply [of residential and commercial units]," notes Kwan.
"I believe, to be sustainable, having green features alone is not sufficient. This is why we put in a lot of effort and I am very proud of the team who have been able to deliver. As Sunsuria City is carefully crafted to cater to the needs of the community regard-less of residents or business operators, they will feel committed to help ensure the township continues to thrive and prosper," says Kwan.