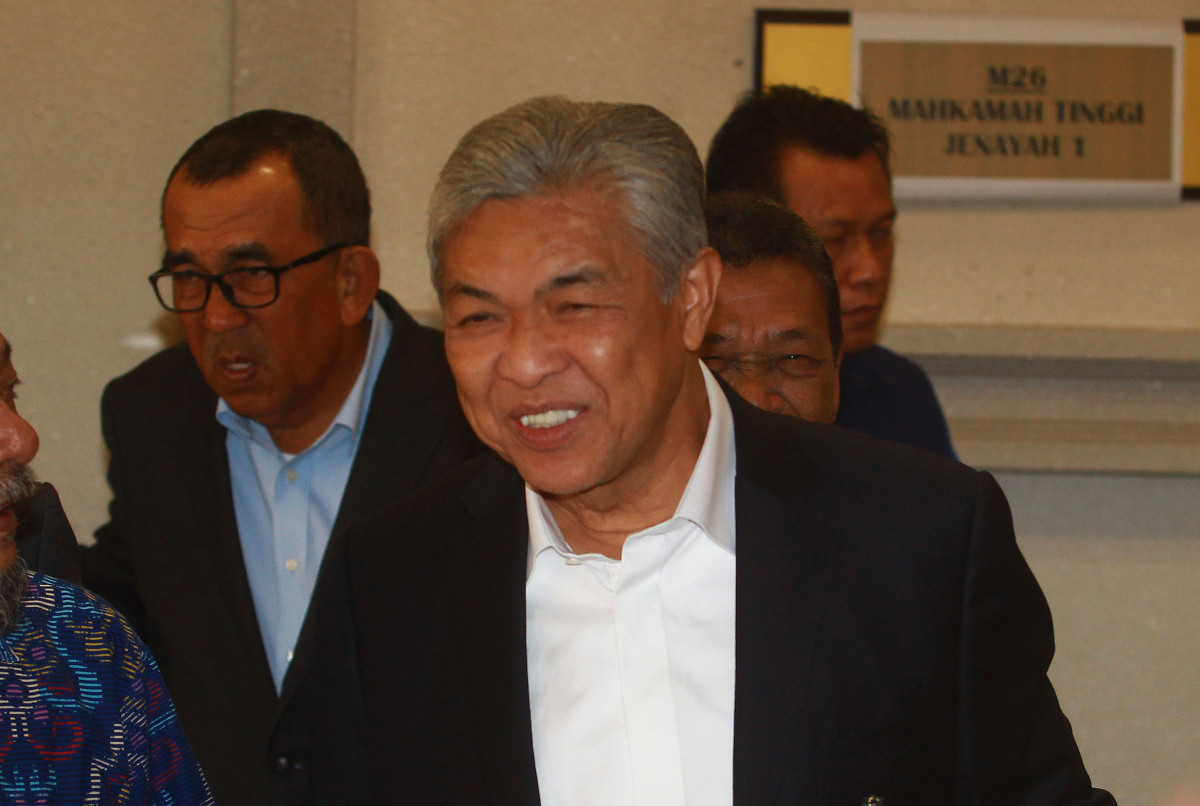 KUALA LUMPUR (Nov 28): A company director dealing with work permits told the High Court yesterday that he had to seek favours from the Prime Minister's Office (PMO) when his firm's contract to operate a one-stop centre (OSC) in Dhaka, Bangladesh was terminated in 2015.
Azlan Shah Jaffril said he also had to pay a RM2 million bribe to former Deputy Prime Minister and Home Minister Datuk Seri Ahmad Zahid Hamidi to operate OSCs in Nepal and Pakistan to process work permits for people from those countries.
Azlan, who was testifying in a suit by former director Nor Rosnani Ibrahim against him and his company Profound Radiance Sdn Bhd (PRSB), said he sought assistance from an individual in the PMO, as he believed the person could assist him.
"I did seek assistance from PMO to assist me after the contract was terminated. The only person I believe who can assist me is from PMO, as the decision to terminate my contract (was done by a lower ranking person) from the then DPM's office.
The witness however, did not name the person in the PMO.
"I asked the individual what can I do to assist them in this matter (to get back the contract). The person replied that they do not want any money from me as a bribe, but wanted a contribution be made," Azlan said during cross-examination by Nor Rosnani's lawyer Datuk R. S. Sodhi.
As a result, he said he had to make monthly payments of RM21,000 for a mosque in Tapah since 2016.
Asked by Sodhi whether he considered the donation as illegal, Azlan replied he did not.
On Ahmad Zahid, Azlan agreed with Sodhi that the former deputy prime minister has been charged with receiving a RM2 million bribe from him.
"Yes that was what he is being charged with, but I am a prosecution witness," he said.
At this point, Judicial Commissioner Ong Chee Kwan asked the parties not to dwell too much on Ahmad Zahid's case, as there was a pending criminal trial.
Profound Radiance was initially given the task to operate an OSC in Dhaka but the contract was terminated, although Nor Rosnani's Bangladeshi permanent resident husband Mahtab Hossain had spent RM2 million to open the office there and Ahmad Zahid had visited that office.
Nor Rosnani and Mahtab were the founders of PRSB in 1998. On Oct 7, 2015, Nor Rosnani had a 30% stake, while persons by the names of Mazrina Mustapha and Nor Fansyurina owned 25% and 45% respectively.
When PSRB encountered the Dhaka problem, Nor Rosnani in her statement of claim, said the company sought Azlan's help to resolve the problem. It agreed to transfer Nor Fansyurina's 45% stake and Nor Rosnani's 30% stake to Azlan to have the matter resolved.
After the matter is resolved, Azlan was to retransfer the 30% stake back to Nor Rosnani, and a further 15% of his 45% stake to Nor Rosnani's close friend Pajan Singh a/l Partap Singh, who had introduced Azlan to her.
This was agreed orally in a meeting held at the PSRB office in Bukit Jalil in October 2015.
However, the government decided to appoint a different company to operate the Dhaka office, and after Azlan managed to resolve PSRB's problems, the company was allowed to operate OSCs in Nepal and Pakistan on Oct 1, 2016.
PSRB was also appointed by the Home Ministry in May 2016, to provide its services for the voluntary repatriation scheme for illegal foreign workers.
Nor Rosnani is seeking a portion of the RM3.3 million voluntary repatriation scheme revenue from more than 8,000 foreign illegals, and a court declaration that she is entitled to get back her 30% stake in the company.
She is also seeking an account stating the revenue received from the OSCs in Nepal and Pakistani and from the voluntary repatriation programme, for her to get back the revenue.
In Azlan and PSRB's defence statement, Azlan agreed he met Mahtab who sought help to resolve the matter in 2015, and that Nor Rosnani had agreed to relinquish her directorship and shares.
Azlan further claimed he contributed RM102,000 of his own money to the company.
He also said he does not know if a sum of RM98,000 was allegedly paid by Nor Rosnani or Mazrina to the company as operation expenses, as it was not his concern.
He claimed he was the rightful beneficial owner of PSRB, due to his 75% stake in the company.
Azlan further said it was on his own initiative that he negotiated to have and gain approval of the OSCs for Nepal and Pakistan on June 27, 2016.
He further denied owing Nor Rosnani any shares or revenue from the company, after she relinquished her post.
Azlan and PSRB were represented by lawyer Datuk Jason Chan.
The hearing continues before Ong tomorrow afternoon.