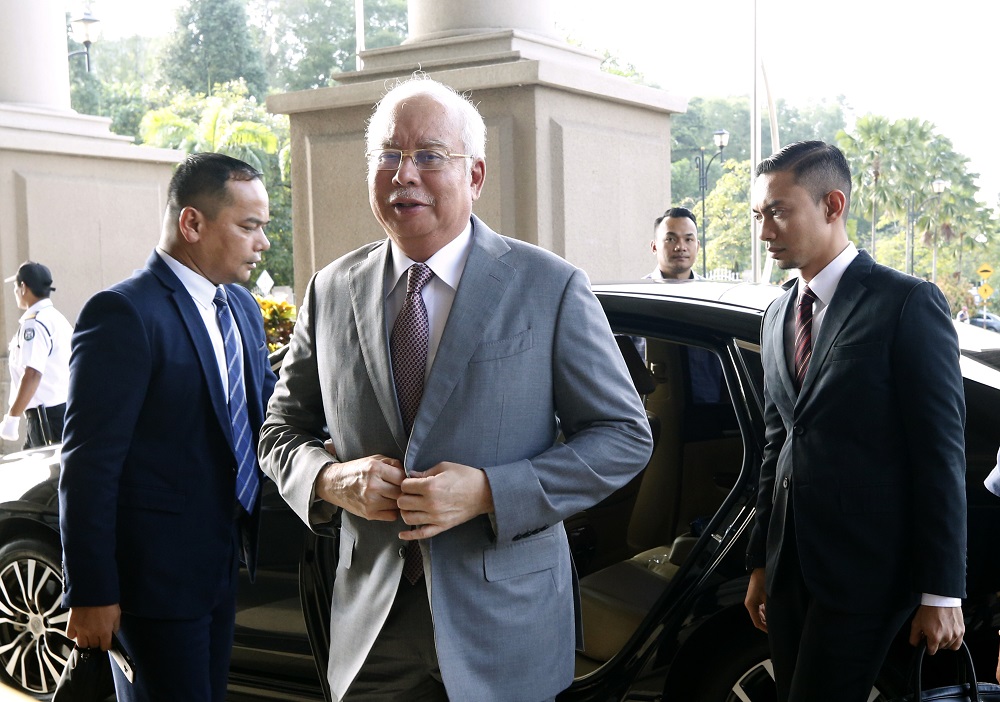 KUALA LUMPUR (Dec 3): Former Prime Minister Datuk Seri Najib Abdul Razak told the High Court that fugitive businessman Low Taek Jho (Jho Low) was a close acquaintance (kenalan rapat) of Terengganu Sultan Mizan Zainal Abidin and his sister Tengku Datuk Rahimah Sultan Mahmud.
Najib, who took the witness stand in his SRC International Sdn Bhd trial today, said he understands that the concept of Terengganu Investment Authority (TIA) was a result of discussion between Jho Low, Sultan Mizan, and the Terengganu state government.
"I understand that Jho Low was chosen as the advisor to the chairman of TIA board of advisors, who was Sultan Mizan himself," he said.
Najib's lead defence counsel Tan Sri Muhamad Shafee Abdullah also asked the lawmaker for Pekan to explain the formation of 1Malaysia Development Bhd (1MDB), which owned SRC when the alleged misappropriation of RM42 million happened.
Najib said Menteri Besar Terengganu Inc (MBTI) and Sultan Mizan, who was then-Yang di-Pertuan Agong (YDPA), decided to form the sovereign wealth fund with a capital of RM11 billion.
The capital, according to Najib, was to be funded via RM6 billion of oil royalty debt to Terengganu and RM5 billion of issuance of Islamic Medium Term Notes (IMTN), which was proposed to be guaranteed by the Federal Government.
"At that time, I was invited in my capacity as the Finance Minister to facilitate the issuance of IMTN," he said.
"Eventually, the Terengganu State Government and MBTI did not agree with the terms in the IMTN despite the fact that they have been issued. As a result, on Aug 8, 2009, the Cabinet approved the Federal Government to takeover TIA.
"This was a decision reluctantly made to protect the (Terengganu) State Government and YDPA from embarrassment and to avoid negative impact to the Malaysian bond market globally," he explained.
On whether Jho Low was given a role after TIA became 1MDB, Najib said that as the Penang-born businessman was Sultan's Mizan's adviser, and had shown himself as an influential person in the Middle East, he was retained in 1MDB.
"Hence, I believe that he (Jho Low) is capable and able to facilitate investment and partnership from there.
"These (Middle East) countries have excess cash due to a rise in oil prices. Hence, I think that Jho Low's influence and networking that he possesses would help achieve 1MDB's objectives in getting the desired investments," Najib said.
Najib has claimed trial to seven charges in relation to embezzlement of RM42 million from SRC.
The Edge is reporting the proceedings of the SRC trial live.
Users of The Edge Markets app may tap here to access the live report.