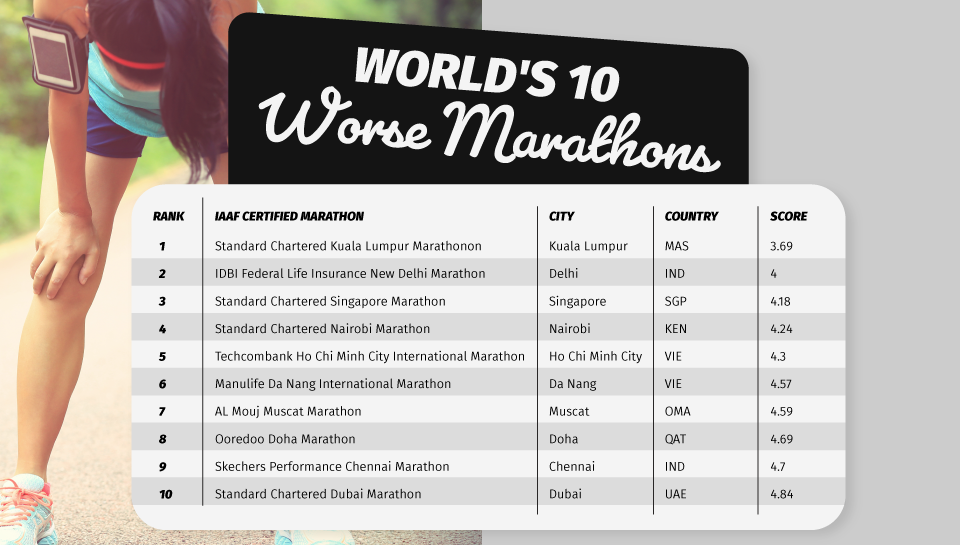 PETALING JAYA (Dec 5): The Standard Chartered Kuala Lumpur Marathon, one of the nation's biggest marathons, was ranked last in a global ranking of major marathons, the Business Insider Malaysia reported yesterday.
The conclusion based on a list released on Nov 27 by The Sole Supplier, a UK-based trainer review and news site, stated that the event scored just 3.69 over 10, the lowest score out of 81 marathons worldwide.
The shameful score was attributed to air pollution, a hot climate, slow average finish times and a lack of medical aid along the course.
Other marathons at the bottom of the list include IDBI Federal Life Insurance New Delhi Marathon (second-worst) and StanChart's Singapore marathon (third-worst).
The Business Insider Malaysia also reported Singapore's version of the Standard Chartered Marathon was most recently criticised for choosing to hold the race on one of the busiest nights of the nation's year-end holiday season.
The Singapore marathon, which was held at night for the first time last Saturday, caused hours of massive traffic gridlock in the city centre and sparked outraged among Singapore's road users.
According to Malaysiakini, Federal Territories MIC chairman Datuk Rajah Symon in a statement on Sept 27 had called for Kuala Lumpur City Hall (DBKL) to stop allowing large-scale events such as marathons and concerts to be held in Kuala Lumpur.
"This causes severe traffic congestion in Kuala Lumpur. DBKL should shift them to Putrajaya or Bukit Jalil where it is less congested," he said.
However, Federal Territories Minister Khalid Abdul Samad rejected the proposal to shift major events even after a car ploughed through safety barriers at the Standard Chartered Kuala Lumpur Marathon on Sept 29, injuring three participants with one in critical condition.
He told Malaysiakini that an event on the scale of the Standard Chartered Marathon, which attracts 40,000 people, should not be disrupted.
"The programme is held for a day once a year, there is no need to change the location. If there are problems, we will find ways to overcome them," he told journalists after a court case at the Kuala Lumpur High Court on Sept 30. Kuala Lumpur High Court upheld the Sessions Court's decision in acquitting and discharging Khalid of making a seditious statement against the Selangor Islamic Religious Council (MAIS).