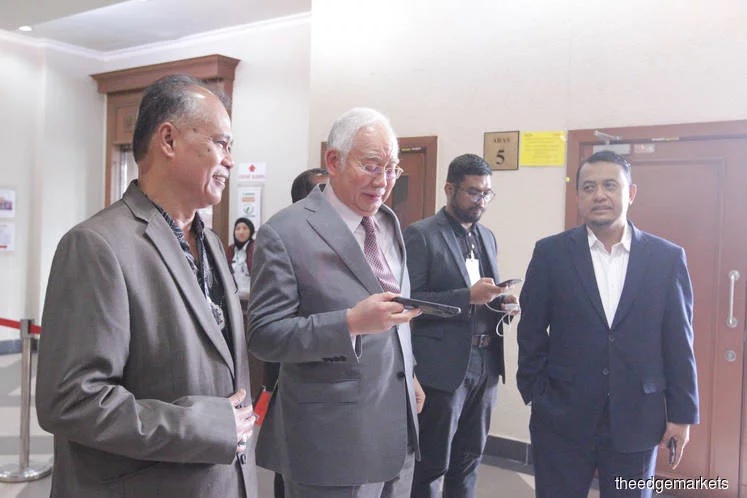 KUALA LUMPUR (Dec 9): Former prime minister Datuk Seri Najib Razak spent RM466,330.11 from his AmBank account — allegedly funds from SRC International Sdn Bhd — to buy a Chanel watch as a birthday present for his wife Datin Seri Rosmah Mansor.
The luxury watch was bought in Honolulu, Hawaii, in December 2014, using the former premier's Visa and MasterCard platinum credit cards that were linked to his AmBank account ending 880.
This was the same personal holiday trip where Najib reportedly played a round of golf with then-US President Barack Obama.
It was into this account that part of the RM42 million originating from SRC was allegedly transferred to.
Najib confirmed the transactions today, based on the credit card statement produced to the court, during his examination-in-chief by defence counsel Rahmat Hazlan.
Besides the Chanel watch for Rosmah, Najib also admitted that the credit card was used to pay a total of RM127,017.46 for expenses in Shangri-La Hotel in Bangkok in January 2015.
Najib said this was during his personal holiday trip to Bangkok, where he also met his Thailand counterpart Prayut Chan-o-Cha to discuss about how the Thai government may help in dealing with the flood Malaysia was facing that year.
"It is my right to claim back the expenses from the government as I was working during my vacation. However, I chose to bear all the expenses on my own since I didn't want to complicate the matter and have acted on my discretion," he said.
He clarified that the hotel bill includes accommodation for him and his support staff accompanying him, as well as unexpected spending for the trip.
Most significantly, about RM3.28 million was spent through the credit card across eight transactions with Swiss luxury jeweller De Grisogono in Sardinia, Italy.
Najib explained that the money spent in De Grisogono were for gifts intended for the then-Qatar prime minister Sheikh Ahmed bin Jassim Al Thani, whom he coincidentally met in Sardinia during his family trip.
Najib pointed out that Malaysia has a good diplomatic and economic relationship with Qatar and that the former Qatari premier and his wife Noor Abdulaziz Abdulla Turki Al-Subaie regularly gave gifts to Rosmah during their official visits to Malaysia.
"On that basis, it would be unbecoming of us to return their favour with anything less than their position and generosity," he said.
"I do not want to use public funds for the purchase of this gift and I think that since this account is available, it is only fair to use this account instead of public funds, in my sincere belief that the funds in this account were to be spent at my own discretion [for purposes that] will provide benefits to Malaysia," Najib added.
He also pointed out that expenses for personal matters from the account for the period from August 2013 to March 2015 only took up 0.4% of the total funds received in the account.
The two cards, with a combined limit of RM3 million, were cancelled in April 2015.
Najib had previously claimed that he thought the US$800 million that went into the AmBank account ending 880 were from donations from Saudi Arabia ruler King Abdullah ibn Abdul Aziz Al-Saud as a sign of his support to the government of Malaysia.
As such, Najib said it was his prerogative to spend the monies at his discretion, for the benefit of Malaysia.
The prosecution, however, argued that the RM42 million that ended up in Najib's accounts originated from MoF Inc-owned SRC.
Najib is battling three counts of criminal breach of trust, one charge of abusing his power as Prime Minister, and three counts of money laundering over SRC funds amounting to RM42 million.
If convicted, he may be jailed for up to 20 years and fined RM5 million or five times the amount of money laundered, whichever is higher.
The Edge is reporting the proceedings of the SRC trial live.