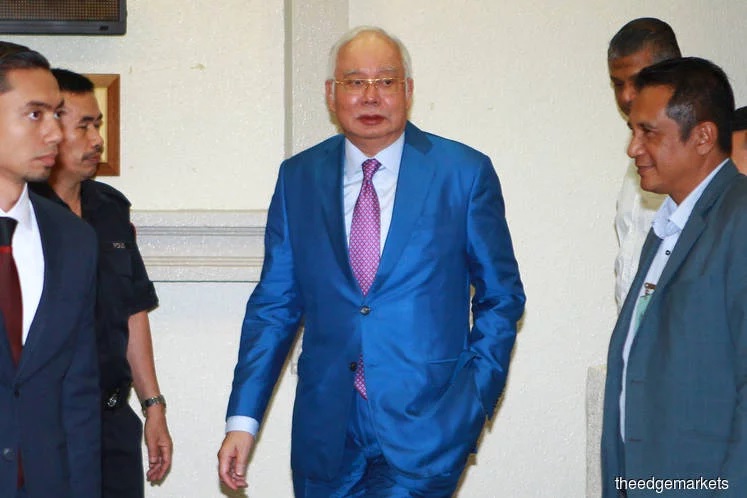 KUALA LUMPUR (Dec 10): Datuk Seri Najib Abdul Razak maintained his position that despite his agreement to a suggestion that the Retirement Fund Incorporated (KWAP) extends a RM2 billion loan to SRC International Sdn Bhd, the decision still lies with KWAP's investment board on whether to approve or reject the loan.
This is despite attorney-general Tan Sri Tommy Thomas bringing out the KWAP investment paper to the board that initially recommended a RM1 billion cap, followed by minutes of the second meeting by the fund's investment panel where its chairman Tan Sri Wan Abdul Aziz Wan Abdullah said Najib had told him that "RM2 billion was sufficient".
Notably, this is the first time in the country's history that an AG is cross-examining a former premier.
Thomas: I put it to you that [the investment panel] accepted your instruction?
Najib: I disagree.
Thomas: I put it to you that the panel they never disobeyed your order?
Najib: I disagree.
Thomas: I put it to you that they were appointed to carry out your will?
Najib: No.
When Thomas mentioned what Wan Abdul Aziz had revealed could be added pressure after the panel had initially agreed on loaning only RM1 billion, the former PM said "it is up to them to disagree".
"They can say that they do not agree," said the Pekan MP.
Thomas had suggested that the KWAP investment panel was appointed by Najib, as he was the Finance Minister.
Wan Abdul Aziz, in his testimony during the prosecution case, told the court that KWAP's investment panel had agreed to extend a RM1 billion loan, as it did not want so much funds to be concentrated or risked in one company.
"I went to see Najib to inform him about the decision, but he said RM2 billion would be sufficient," the former Treasurer Secretary-General told the court.
Thomas: 'If we were all following the law, we wouldn't be here?'
Earlier, the Attorney-General also pointed at the June 3, 2011 letter from SRC former managing director Nik Faisal Ariff Kamil addressed to him — not KWAP — for a RM3.95 billion loan, where Najib wrote a note to then-KWAP CEO Datuk Nor Azian Mohd Noh, stating he agreed with the proposal.
Thomas: The KWAP investment panel and its staff had taken the note to mean Najib's approval of Nik Faisal's request, meaning that the loan must be approved?
Najib: Why are you saying that I approved? It's the law, and the law states that they (the investment panel) must approve it. It is not me!
Thomas: If we all were following the law, we wouldn't be here Datuk Seri?
Najib: Yes, but you are the Attorney-General, you should know the law.
The former premier was testifying in his defence of seven charges including three for criminal breach of trust, one for abuse of power and three more for money laundering, where High Court judge Justice Mohd Nazlan Mohd Ghazali had ordered the former premier to enter his defence.
Agreement not 'carte blanche' approval
Last week, during his examination-in-chief, Najib said the note on the June 3, 2011 letter did not amount to a "carte blanche" approval, as his officers are free to disagree with him.
"This resulted in me changing the earlier decision (of being in agreement). The word "bersetuju" does not denote finality in my decision, as it can be changed. It could be subject to further scrutiny by my officers, who may give differing opinions on the issue."
During her testimony in the prosecution stage, Nor Azian described Najib as the "ultimate boss", as he was then prime minister and also the finance minister who oversaw KWAP affairs.
The former premier said he does not remember whether the five members in KWAP's investment panel were appointed by him.
He however, agreed that he appointed the board of directors for SRC who were Tan Sri Ismee Ismail, Datuk Che [email protected] Che Omar, Datuk Shahrol Azral Halmi and Nik Faisal Ariff and Datuk Suboh Md Yassin, but the names may not have come from him alone.
Ismee had testified that Najib has the power to hire and fire, while Suboh had described Nik Faisal dared to act without consulting with the board, because he was emboldened by the 'mountain' behind him' which is implied to be Najib.
Najib had also denied the prosecution's suggestions that he appointed himself as the finance minister, despite holding the post as then prime minister, Umno president and also Barisan Nasional chairman, to ensure SRC can secure government guarantees.
The hearing before Justice Nazlan continues tomorrow.
The Edge is reporting the proceedings of the SRC trial live.
Users of The Edge Markets app may tap here to access the live report.