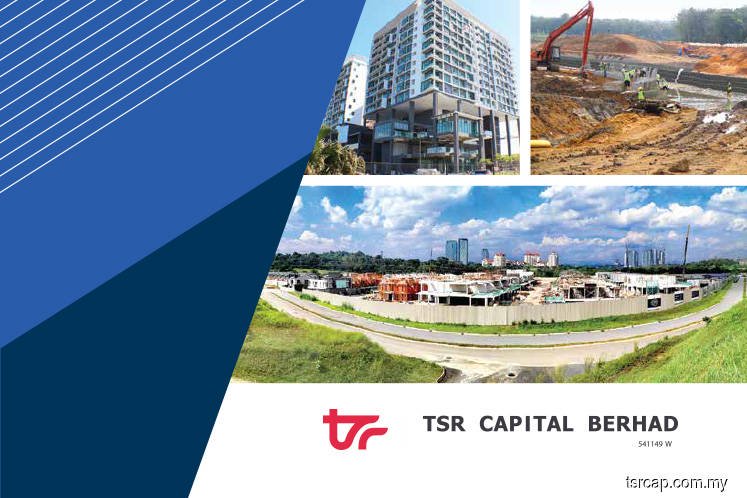 KUALA LUMPUR (Dec 16): Property and construction outfit TSR Capital Bhd is bucking up internal funds to support ongoing projects, as it seeks to reduce reliance on external funding.
"As you know, the market is going through a situation… where we can no longer depend as much on financial institutions for financing, like previously," said the group's chief financial officer Ng Kim Keong.
"So we require more internal resources to support ongoing projects," Ng told The Edge Financial Daily. "If the property and construction market condition improves and the financial system goes back to normal, then the extra resources may go to other investments."
Last week, TSR received its shareholders' nod to sell 70% of it 17-storey flagship Menara TSR to Ivory Code Sdn Bhd — a company linked to its deputy chairman Tan Sri Lim Kang Yew — to raise RM18.59 million cash and free up shareholder advances of RM14.39 million. The sum will be used for working capital. Meanwhile, TSR still has another RM11.6 million to gradually claim from former client Permodalan Kedah Bhd (PKB) out of the RM12.7 million long owed to the company that it impaired last year.
Ng dismissed any intention to raise funds via the capital market now, as the current market condition does not encourage fundraising activities.
It is a tough season for property and construction play amid the current market sentiment, especially for those with smaller balance sheets.
Depending on the project, there are occasions when one needs to have 30% of project sum upfront before a bridging loan is approved, according to industry players.
This happens at a time when cost pressure persists. TSR swung to a loss of RM25.63 million on RM206.35 million in revenue for the financial year ended June 30, 2019 (FY19) — about half of which was due to provision for losses from different projects.
Ng said costs escalated because of project delays due to a shortage in skilled labour as the government is trying to cut down on its main supply — foreign workers. To mitigate the impact, TSR is pushing for more infrastructure projects which have less requirements for specific skilled labour than property development.
After all, the ministry of finance reportedly guided for a faster year-on-year growth in the construction sector in 2020, partly on account of acceleration and revival of mega projects.
The tender book includes the East Coast Rail Link — TSR has developed mass rail transit (MRT) depots before — as well as projects under the Public Works Department (JKR) and roadworks and infrastructure in the Northern Corridor Economic Region.
"Our order book is currently RM1 billion with bids for RM1 billion mostly for infrastructure projects," explained TSR Capital executive director Joshua Lim. "We have our own fleet of machinery and we want to make use of that," he said.
That said, TSR needs to get back its tempo. It has successfully delivered sizeable projects in recent years — such as MRT depot works in Serdang and Kajang, both in Selangor — but other ambitious ventures have been slow to bring it back to its glory days.
As luck would not have it, there is also a slight delay in TSR's most sizeable ongoing project. The company is still awaiting the handover of the site for an eight-storey shopping complex at the foot of Permodalan Nasional Bhd's Merdeka 118 skyscraper, which TSR is jointly developing with WCT Holdings Bhd vide a 49:51 ratio for RM676.8 million. "The full swing will likely be in February 2020," said Ng.
While there have been some notable projects done under its flagship Port Dickson Waterfront, the bulk of the 63-acre (25.5ha) master plan has yet to be developed.
"Of course, that is still under planning," said Lim, who explained that TSR retains its interest to develop the crown of the waterfront — a 300-unit of overwater villa, for which TSR has allocated 11 acres of land.
If successful, the villa will be a direct competitor to Port Dickson's two existing overwater villas — Lexis Hibiscus Port Dickson and Grand Lexis Port Dickson, both owned by the Lexis Hotel Group.
Separately, it is also reviewing the proposed development of a 20-acre land in Bandar Enstek, Negeri Sembilan that was initially planned for launching in 2014. TSR now plans to redesign the master plan, considering the changes that have occurred in the market, but no timeline was given.
In its latest quarter ended Sept 30, 2019, TSR's property development division near doubled its pre-tax losses to RM956,000 whereas the construction division's pre-tax profit rose 52% to RM2.29 million. The group's met profit rose 85.2% to RM1.17 million despite revenue declining 38.75% to RM37.53 million.
TSR's share price last closed at 33 sen, giving the group a market capitalisation of RM57.57 million.
This article first appeared in The Edge Financial Daily, on Dec 16, 2019.