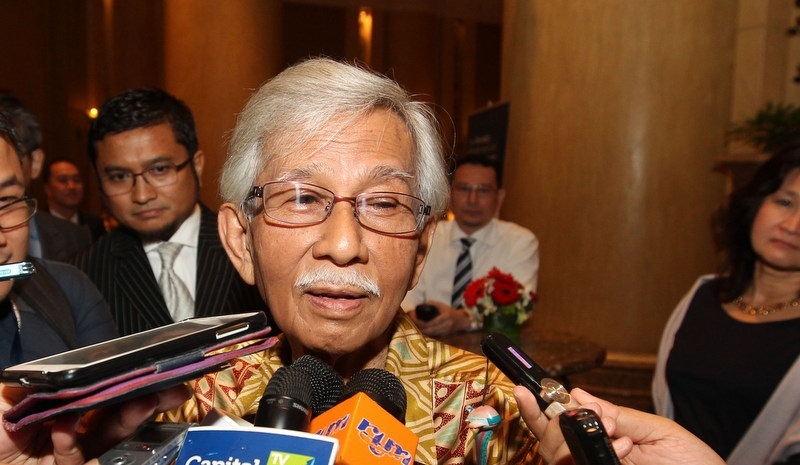 KUALA LUMPUR (Dec 18): Tun Daim Zainuddin (pictured) is worried that the Bandar Malaysia mega development could exacerbate the oversupply of property in the country.
"I'm worried about the huge overhang. They've mentioned it could be over RM20 billion and there have been reports about this. I mean you don't develop unless you have buyers isn't it?," Daim was reported by the Malay Mail as saying to the media at the Tunku Abdul Rahman Lecture at Shangri-La hotel today
The former finance minister was also asked if about the domestic property market next year and if new properties coming in were not a good idea, he said: "They're very concerned now. There are already reports regarding this. What I'm telling you now is what's been written in the papers. What I say and what I know is from the newspapers."
Daim was speaking on building a sustainable ecosystem at the lecture.
Yesterday, TRX City Sdn Bhd, a wholly owned subsidiary of the Ministry of Finance Inc signed an agreement with IWH CREC Sdn Bhd (IWH-CREC) to develop the reinstated Bandar Malaysia mega project.
Prime Minister Tun Dr Mahathir Mohamad, who delivered his keynote address at the signing ceremony, said the revived Bandar Malaysia project provides premium economic value to the country, is people-centric and inclusive in line with the Shared Prosperity Vision 2030.
"Bandar Malaysia will stimulate demand for Malaysian-produced construction materials, technology and homegrown talents.
"It will also shape KL's direction for the next few decades as a liveable and sustainable development. The integrated transportation hub will change how people travel. The commercial centre will provide a continuous boost for trade and innovation," said Dr Mahathir.
The 486-acre Bandar Malaysia is the largest piece of development land in the heart of Kuala Lumpur. It is located at the site of the former Royal Malaysian Air Force base on Jalan Sg Besi.
Among the new terms of the deal signed were that the amount of affordable housing units in the development will be doubled to 10,000.