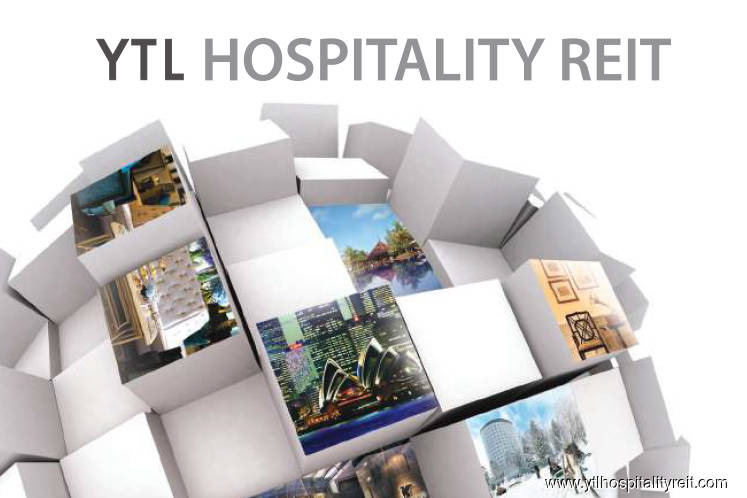 KUALA LUMPUR (Dec 31): Affin Hwang Capital Research forecasts YTL Hospitality Real Estate Investment Trust (YTL REIT) to grow its distributable financial year 2020-2021 earnings (FY20-21E) by 9% year-on-year, driven by higher contributions from Green Leaf Niseko Village, JW Marriott KL and Brisbane Marriott Hotel, and lower financing cost for its Australian dollar borrowings.
In a note today, the research house said it has maintained its 'buy' call on YTL REIT at RM1.35 with a higher target price of RM1.46 (previously: RM1.38).
Affin Hwang said YTL REIT has a term loan denominated in Australian dollar amounting to A$342.8 million (circa RM984 million).
"YTL REIT obtained the loan in FY15 and it is repayable by a bullet payment on June 29, 2020. The term loan bears a weighted-average interest rate of 4.58%.
"We observe that Australian banks' lending rates for large business [have] declined in the recent years and expect YTL REIT to refinance the loan at a lower borrowing cost," it added.
The research house also said it has pencilled in a 100-basis-point decline in the finance cost for the Australian dollar loan, which should result in circa RM9.8 million savings and lift its FY21E earnings.
Meanwhile, Affin Hwang said it forecasts YTL REIT to grow its FY20E distributable earnings per unit by 10%, which is mainly driven by full-year contribution from Green Leaf Niseko Village acquired in September 2018, earnings recovery at Brisbane Marriott Hotel after completing its renovation works in April 2019 and rental revision at JW Marriott (+RM5.95 million per annum) following the completion of RM85 million renovation works.
The rental growth should more than compensate for higher finance costs, it said.
The research house said it continues to like YTL REIT's master leases, which account for 60% of the REIT's FY20E net property income.
"To recap, these master lease agreements with the lessees (mainly affiliate companies of YTL Corp Bhd) has long contract tenure and stable rental income, with a 5% step-up provision every five years.
"Elsewhere, we are mildly positive on its Australian hotels (under management contracts)," it added.
It also expects the Sydney Habour Marriott to sustain its strong occupancy while Brisbane Marriott should see a recovery after completing its renovation in April 2019.
Moreover, Affin Hwang said it expects defensive assets to remain in vogue and maintain its 'Overweight' rating on Malaysian REITs (MREITs).
"Taking a cue from the compressed 10-year Malaysian Government Securities (MGS) yield and a possible cut in overnight policy rate (OPR) in the first half of 2020 (1H20), we anticipate strong investor demand to drive further positive re-rating of the high-quality MREITs.
"Historically, MREITs' distribution yield is positively correlated to the 10-year MGS yield," it added.
At 6.4% FY20E yield, YTL REIT offers the highest yield among the MREITs under its coverage and the stock looks attractive, it said.
At 9:17am, YTL REIT units were traded at RM1.36 for a market capitalisation of RM2.32 billion.