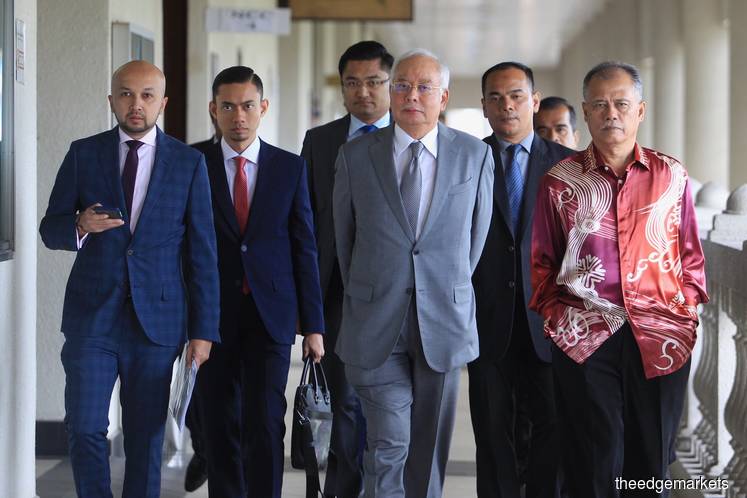 KUALA LUMPUR (Jan 8): Former prime minister Datuk Seri Najib Razak (pictured, centre) admitted at the High Court today that he had benefited from the money allegedly deposited from fugitive businessman Low Taek Jho, better known as Jho Low, into his personal accounts.
The Penang-born financier had purportedly transferred some RM80 million to RM90 million into the former premier's accounts, according to appointed prosecutor Datuk V Sithambaram, who was cross-examining Najib this morning during the SRC International Sdn Bhd trial.
"You say you are a victim of Jho Low's manipulation but you gained, as a victim you gained," Sithambaram put to him.
"Yes, the way you put it yes," he replied.
"Usually victims will lose money," noted the deputy public prosecutor (DPP), to which Najib concurred.
"Here, it looks like the manipulator [Jho Low] lost money," added Sithambaram.
Najib replied: "I cannot say."
Sithambaram then said: "I'm putting it to you that there is no way Jho Low was manipulating the account of the PM, Finance Minister and the most powerful political figure at that time," to which Najib disagreed.
Previously, the Pekan MP had claimed that Jho Low had manipulated his accounts as he had only given the mandate to former SRC International Sdn Bhd managing director Nik Faisal Ariff Kamil.
However, yesterday, he agreed that Jho Low and Datuk Azlin Alias, his deceased former private secretary, were also tasked with handling his accounts.