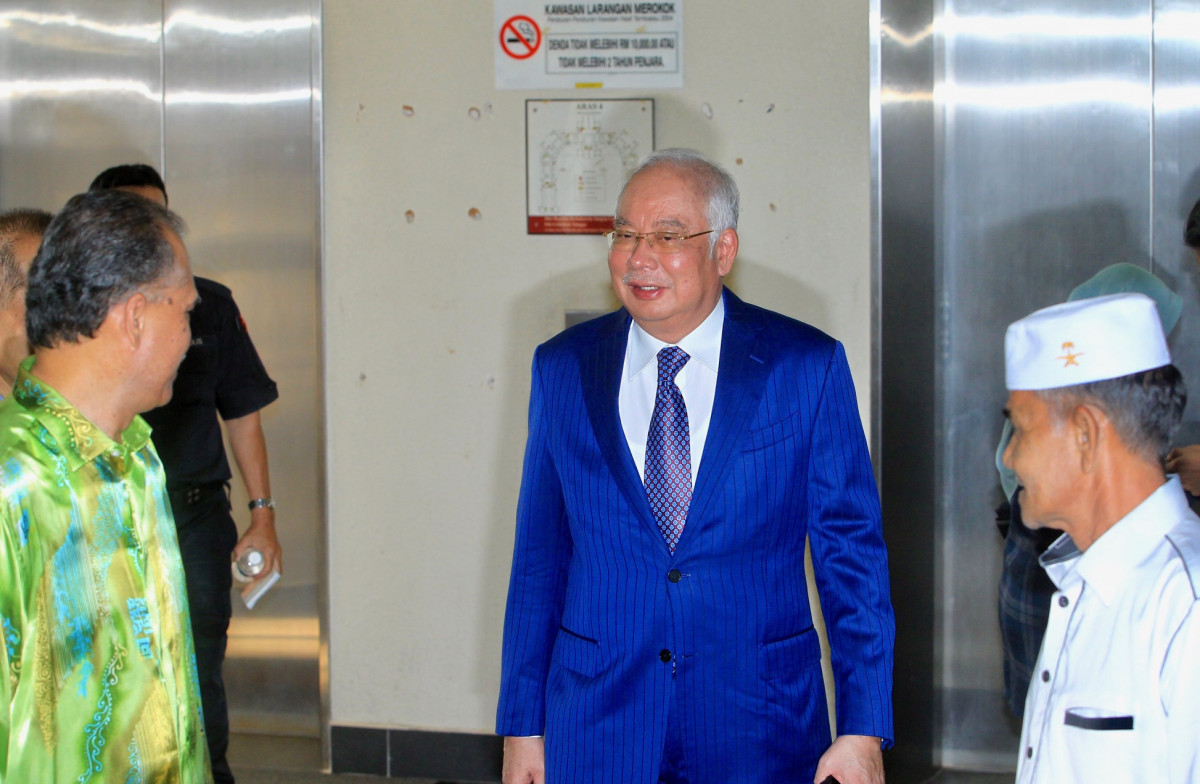 KUALA LUMPUR (Jan 9): The Cabinet was kept in the dark about the approval for the second and third government loans granted by Ministry of Finance (MoF) to SRC in 2016 and 2017, Datuk Seri Najib Abdul Razak testified today.
The former premier said this after the prosecution referred him to the Loans Guarantee (Bodies Corporate) Act 1965, and probed him on the three loans granted by the MoF defaulting on the loans granted by Retirement Fund Inc (KWAP).
Section 2(3) of the Act states that the Finance Minister shall, as soon as possible after a guarantee is given, lay before the Dewan Rakyat a statement of the guarantee together with a copy of the agreement.
Deputy public prosecutor (DPP) Datuk V Sitambaram asked Najib, who was the Finance Minister then, whether the guarantees were tabled to Parliament. Najib, however said he does not remember and will have to check.
Sithambaram also questioned the former premier whether he abided with Section 7(1) of the Act, which states that the Yang di-Pertuan Agong (YDP) must be informed if there is reasonable cause to believe that a body corporate is likely to fail and that the Government may become liable under any guarantee given.
Sithambaram: Was this matter brought to the attention of the YDP as required?
Najib: Not to the YDP. In practice, it's either the Prime Minister or the Cabinet, not the YDP.
Sithambaram: Was the matter brought before the Cabinet after the default?
Najib: The Cabinet knew about the first short-term loan.
Sithambaram: What about the following loans?
Najib: They had some inkling. They had some knowledge but were not referred to for the second loan.
Sithambaram: There is no evidence that you brought the matter regarding the second and third loans to the attention of the Cabinet.
Najib: Because it was within my purview.
SRC had requested for a RM92 million short-term loan in 2015, a RM250 million standby credit in 2016 from which it drew down RM213 million, and another RM300 million standby credit in 2017, from which it used RM296 million.
The total draw down from the three loans amounted to RM601 million (previously reported as RM595 million).
In June last year, 41st prosecution witness Afidah Azwa Abdul Aziz, who was the Finance Ministry's principal assistant secretary for the loan management, capital market and actuary division, testified that all three loans that were approved by MoF were paid directly from MoF to KWAP.
This was to service the interest and loan payments for the first and second RM2 billion loans provided by the pension fund to SRC.