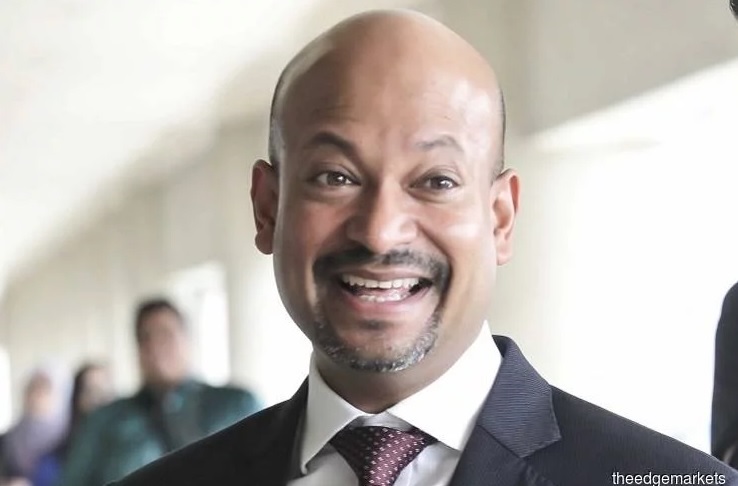 KUALA LUMPUR (Jan 14): The lawyer for co-accused Arul Kanda Kandasamy (pictured) in the 1Malaysia Development Bhd (1MDB) audit report tampering case will not be cross-examining prosecution witnesses until his client is called to testify for the prosecution.
"This is to avoid a situation where our client may be put in a compromised position when he takes the witness stand," counsel Datuk N Sivananthan told the High Court today.
"Hence, we will only be cross-examining the prosecution witness after our client has testified," he said.
Deputy public prosecutor Datuk Seri Gopal Sri Ram had in his opening statement at the trial said the prosecution planned to call Arul Kanda, the former president and CEO of 1MDB, to testify on its behalf against former premier Datuk Seri Najib Razak.
It would do so by invoking Section 63 of the Malaysian Anti-Corruption Commission Act 2009, which says that when more than one person is charged for an offence under the Act, the prosecution may apply to have one of them to testify for the prosecution.
Najib is facing a charge of abusing his power to amend the final 1MDB audit report before it was submitted to the Public Accounts Committee to protect himself from disciplinary, civil and criminal actions, while Arul Kanda has been charged with abetting the former premier.
If convicted, they face a maximum jail term of 20 years and a fine of at least five times the amount of gratification, or RM10,000, whichever is higher.
Sivananthan, speaking to reporters after today's proceedings, said he had so far cross-examined one witness in the trial but would not undertake any further cross-examination until Arul Kanda testifies.
The senior lawyer said there is therefore a possibility that some of the witnesses who had testified earlier would be recalled to be cross-examined by him at a later stage of the trial.
Five witnesses have yet to be cross-examined and they include former chief secretary to the government Tan Sri Ali Hamsa, former auditor-general Tan Sri Ambrin Buang and National Audit Department (NAD) officer Nor Salwani Muhammad.
Sivananthan said this is the first time that the prosecution is invoking Section 63 on a co-accused person to testify for the prosecution.
If Arul Kanda takes the stand as a prosecution witness, the charge against him would be dropped.
In today's hearing, the seventh prosecution witness Saadatul Nafisah Bashir Ahmad, who was formerly the audit director in the NAD, had completed her testimony under examination in chief by Sri Ram.
Sri Ram had asked Saadatul Nafisah who would stand to benefit from the changes made in the final audit report on 1MDB, and the witness replied it would be the finance minister. The finance minister at that time was Najib.
The trial continues tomorrow, with Saadatul Nafisah's cross-examination by Najib's lawyer Tan Sri Muhammad Shafee Abdullah.