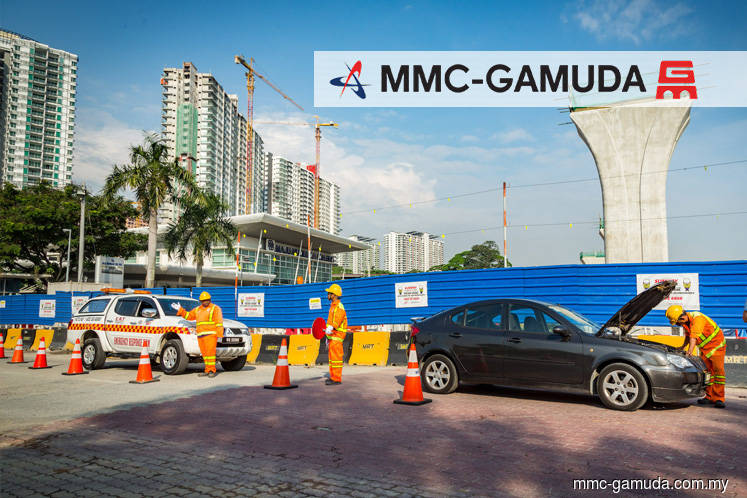 KUALA LUMPUR (Jan 17): MMC Corp Bhd and Gamuda Bhd have today formalised their roles in the Mass Rapid Transit Sungai Buloh-Serdang-Putrajaya (SSP) line (MRT2) as joint turnkey contractor, from project delivery partner (PDP) previously.
In separate filings to Bursa Malaysia today, MMC Corp and Gamuda said their joint venture (JV) unit MMC Gamuda KVMRT (PDP SSP) Sdn Bhd (MMC-Gamuda) has entered into a supplemental agreement to the PDP agreement with Mass Rapid Transit Corp Sdn Bhd (MRT Corp).
The supplemental agreement, the filings said, is to formalise the role of MMC-Gamuda to deliver and be responsible for the design, execution and completion of the entire SSP Line (for both above ground and underground) on a turnkey basis.
Concurrently, the tunnelling JV unit MMC Gamuda KVMRT (T) Sdn Bhd has also entered into a novation agreement with MMC-Gamuda and MRT Corp.
Meanwhile MMC Corp and Gamuda said the lump sum construction cost remains at RM30.53 billion, as announced on Oct 26, 2018.
In a separate statement, the Finance Ministry said the RM8.82 billion cost savings were achieved by building MRT2 progressively to meet current demand, while providing space for upgrade for future needs.
"With the supplemental agreement, MRT Corp and MMC-Gamuda can fully focus on delivering the MRT2 on time and within cost, in order to provide Malaysians with a modern, efficient, reliable, safe, and green mode of transportation," said Finance Minister Lim Guan Eng.
Among the factors behind the cost savings were conversion to turnkey model to save on PDP fee, rationalisation in the allocation of reimbursables, contingencies and provisional sums, the postponement of Bandar Malaysia stations, and scope rationalisation for electrical and mechanical system works.
"Despite the change in project structure, the government has ensured that the original target for Bumiputera participation of 45% of the total contract value, which will amount to RM13.7 billion, was maintained," said Lim.
The MRT2 project was awarded in February 2014 to MMC-Gamuda under a PDP structure with an initial cost of RM28 billion.
However, the construction cost ballooned to RM39.35 billion — or RM56.93 billion including land and other costs — which the Finance Ministry said was due to line extensions to Bandar Malaysia, scope changes and ringgit depreciation.
MMC-Gamuda then offered to complete the above ground portion on turnkey basis for RM17.42 billion, from the projected RM22.64 billion.
The government announced that it will re-tender the underground portion, before deciding on Oct 26, 2018 to keep MMC-Gamuda as the contractor by cutting down the portion's cost to RM13.11 billion from RM16.71 billion.
Currently, MRT2 is 70% completed, and phase one of the rail line from Kwasa Damansara station to Kampung Batu should commence operations in July 2021.
According to the Finance Ministry, major works should be completed in 2022 before it goes into full operations by January 2023.
At press time, MMC Corp shares slid half sen at 99.5 sen, giving it a market capitalisation of RM3.03 billion. Gamuda's share price slid two sen at RM4.03 for a market capitalisation of RM10.03 billion.