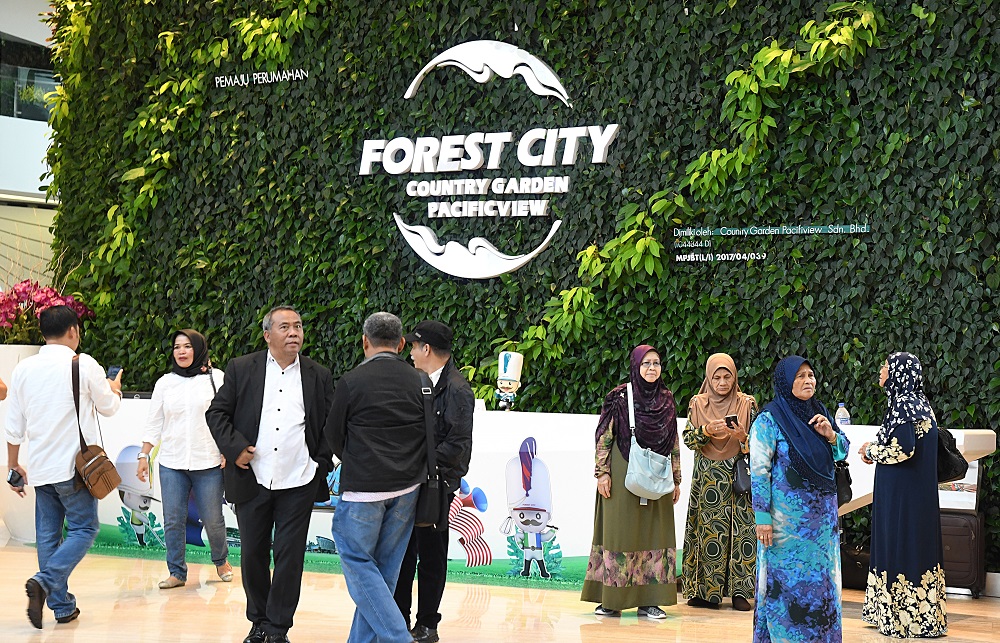 PETALING JAYA (Jan 21): Country Garden Malaysia, the subsidiary of the Hong Kong-listed Country Garden Holdings Co Ltd, has laid off hundreds of staff since December 2019.
It is believed that as a result of the company's recent restructuring exercise, close to 400 personnel were given the option to accept a severance package and leave within 48 hours, or leave their jobs and negotiate for compensation with the company's lawyers later.
According to a source, the restructuring or what was called "manpower optimisation exercise" was announced in October 2019 through department meetings.The company's mega development Forest City (pictured) had apparently let go of at least 60% of its staff, both Malaysians and China expats. More are expected to leave after the Lunar New Year, with another two rounds of down-sizing in March and June, respectively.
The Forest City development in Johor is Country Garden Malaysia's ongoing flagship project in Malaysia. As at March 2019, Forest City had a 1,374-strong staff including 1,078 Malaysians and 296 expatriates.
When contacted, one of the officers in Johor Bahru Labour Department said it has not received any notice of retrenchments from Country Garden Malaysia.
According to the Employment Act 1955 (EA) and the Employment (Termination and Lay Off Benefits) Regulations 1980, employers are required to report retrenchments, voluntary separations, temporary layoffs or employee pay-cuts, if applicable, to the nearest Labour Office before any said termination action via the prescribed Termination Form.
Failure to submit the form within the stipulated timeline is an offence under the EA and the employer could be fined not more than RM10,000 for each offence.
"Any job cuts of more than five persons, the company will need to report to the labour office and furnish details such as compensation packages and reasons of retrenchment. If the terms are unfair to the employee, we [officer] will step in to protect the employees' rights," said the Labour officer.
Internal merging exercise
It is believed that the job cuts were triggered by the company's move to merge its four subsidiaries undertaking various projects in Malaysia. Sources said former regional president for Malaysia and Singapore Jason Fu's role changed after the merger and he decided to resign, serving his last day of work on Jan 15.
Fu had joined Country Garden Holdings in September 2015 and has been the face of Country Garden Malaysia. He was involved in its Forest City mega development in Johor carrying an estimated gross development value of RM450 billion as well as the 80-acre Lake City @ KL North development which saw its first residential launch in August 2019. Other Country Garden Malaysia projects include Country Garden Diamond City in Semenyih, Selangor; Country Garden Central Park in Tampoi and Country Garden Danga Bay, both in Johor Bahru.
Taking over Fu's position is Su Bai Yuan, the CEO of Country Garden's Forest City and the executive director of Country Garden Holdings Co Ltd.
When contacted, Country Garden Malaysia said Fu's resignation was "to focus on his personal pursuits".
It said in its statement to EdgeProp.my that the objective of the down-sizing exercise was to "cultivate the Malaysian market and have a unified interface within all sectors".
It explained that it has recently carried out a Malaysia-Singapore Region integration exercise combining the Malaysia office (that was managing Danga Bay, Central Park, Diamond City and Lake City-KL North), with the Forest City office.
"During the integration process, the organisation saw the need to manage overlapping skills and talents. Some of the talents were transferred to other departments that fit their skills while some were reassigned to other projects.
"For those who made the decision to leave, their service was recognised with a fair package with consensual understanding between both parties. The process was executed in accordance with Malaysia's labour laws," Country Garden Malaysia said in the statement.
Auctioning of company's cars
Meanwhile, in a document sighted by EdgeProp.my, a total of 63 cars registered under Country Garden Malaysia subsidiaries has been listed for public auction, slated to be held in February this year.
The cars include luxury sedans, four-wheel drives, MPVs, sport utility vehicles (SUV) and compact cars manufactured between 2011 and 2018. Their reserve prices range between RM1,600 and RM119,200, with the total amounting to RM1.92 million.
Country Garden Malaysia described the car auction as part of its asset management practice where a systematic approach is taken to manage tangible or intangible assets of the organisation.
"This includes disposing company vehicles after several years. It is a standard approach taken by any organisation in this country.
"Vehicles that have exceeded their shelf life in serving the organisation will first be offered to employees who are interested to own them at lower than market price (via an auction). Thereafter, the remaining vehicles will be sold to the public," the company said.