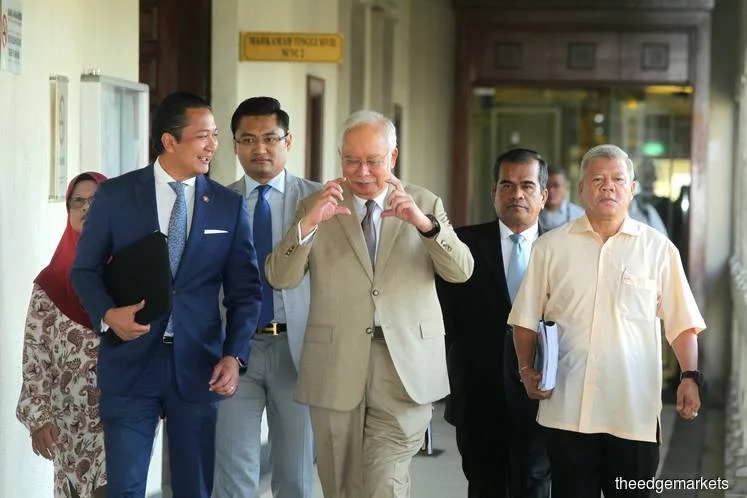 KUALA LUMPUR (Jan 22): The High Court today allowed former premier Datuk Seri Najib Razak to call an Australian expert witness to examine 13 questionable documents.
However, Justice Mohd Nazlan Mohd Ghazali also allowed the prosecution to call any rebuttal witness if needed, as provided for under Section 425 of the Criminal Procedure Code.
"Even if the basis for this application is an afterthought or a recent invention by the accused, this is not valid reason to bar the accused from leading evidence in his defence.
"Under the law, an accused in his defence is entitled to procure and lead any relevant evidence of his choice. Furthermore, it is settled law that even if a defence is not put to the prosecution witnesses, the court is still bound to consider the defence, however weak," he added.
Nevertheless, the judge said the weight to be given to this expert evidence — should it be tendered — including whether the credibility of the defence of the accused is adversely affected by any afterthought, is for this court to determine at the end of the case.
"The evidentiary value of the intended evidence [from Najib's expert evidence] is an issue to be determined at the end of the case.
"This would ensure that the best evidence on the authenticity of the disputed documents is made available to this court.
"It is the duty of this court to ensure that the integrity of the trial process and the constitutional right of the accused to a fair trial is upheld at all times.
"I therefore allow the application for the examination of the exhibits, but only to those referred to as disputed documents in paragraph four of the written submissions of the applicant [Najib]," Justice Nazlan ruled.
He ordered that the examination of the documents be done for two days next week, before the trial resumes on Feb 3.
Justice Nazlan said in allowing this application by Najib, he further ruled that this is a proper case for the court, and that it is essential to the just decision of the case to allow the prosecution to call a rebuttal witness under Section 425.
"This (the prosecution calling a rebuttal witness) should the prosecution wish to do so, in relation to the evidence that may be given by the expert document examiner, should this expert be called by the defence," he ruled.
Justice Nazlan said the venue for examination of the documents by the Australian examiner will be notified by the High Court deputy registrar, with representatives of the prosecution, defence and the court in attendance.
The Edge is reporting the proceedings of the SRC trial live.