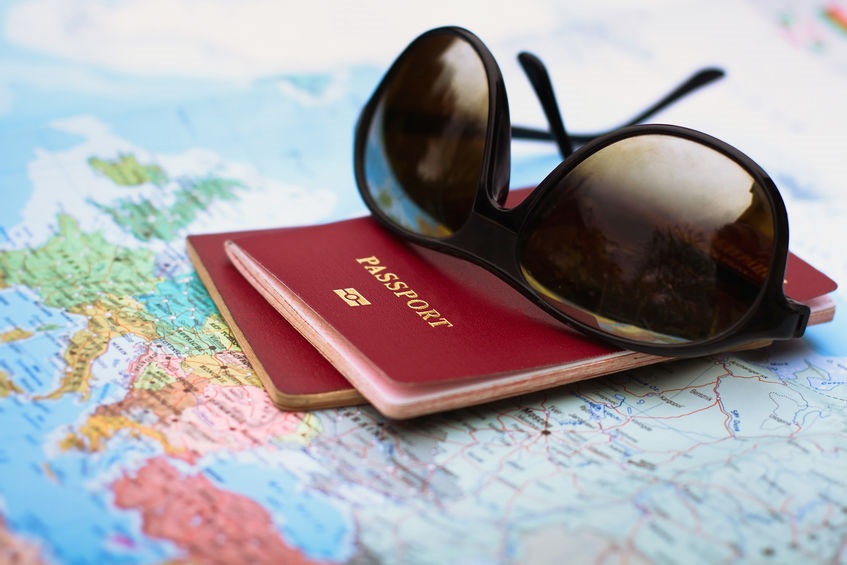 KUALA LUMPUR (Feb 3): To say Malaysia's much anticipated Visit Malaysia Year 2020 (VMY2020) is not off to a good start is probably an understatement, what with the severe blow dealt to the tourism industry by the Wuhan virus, now a global health emergency that has caused the death of over 300 and infected over 14,000 worldwide since the start of the outbreak at end-December. And there is no sign, so far, that the infection is abating.
Tourism-related stocks, especially aviation, have been bearing the brunt of fear-stoked selling since the outbreak. As of last Friday, AirAsia Group Bhd's stock price has plummeted 15.9% to RM1.43 apiece from Dec 31, erasing more than RM900 million of its market capitalisation in just one month.
In the same period, its sister company, AirAsia X Bhd, lost 18.8% of its market value to close at 13 sen apiece last Friday, while airport operator Malaysia Airports Holdings Bhd's (MAHB) stock price fell 12.7% to RM6.74.
Most major airlines have cancelled their routes to the outbreak's epicentre of Wuhan — including AirAsia — and the Malaysian government is reportedly considering blocking all flights originating from China, raising more concerns about the possibility of achieving its VMY2020 targets of 30 million tourists and RM100 billion receipts.
"This is not a good start to VMY2020. With the Wuhan virus outbreak, the targets set under VMY2020 seem to be at risk. Although the cases are mostly (99%) in China, the incident would nonetheless be a detriment to overall tourist arrivals as people turn cautious on travelling.
"Tourism-related sectors that we expect to be negatively impacted by the virus outbreak are aviation (lower air travel demand), gaming (fewer tourists to casinos and hotels), and potentially consumers (severe acute respiratory syndrome [SARS] experience saw a sequential decline in sentiment and private consumption)," Hong Leong Investment Bank analysts wrote in a note.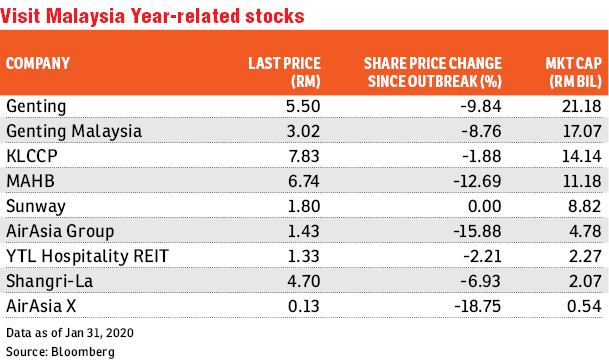 Gaming counters Genting Bhd and Genting Malaysia Bhd (GenM) have fallen 8% to 10% in the one month since the outbreak. Those in the hospitality and retail landscape are not spared from the market selldown either — Shangri-La Hotels (Malaysia) Bhd and YTL Hospitality REIT have lost about 6.9% and 2.2%, respectively. Even the usually defensive KLCC Stapled Group, which has prime shopping malls in the Kuala Lumpur city centre, has gone down nearly 2%.
'Don't panic sell'
While the epidemic continues to send shivers down markets everywhere, Jerry Lee Chee Yeong, an assistant portfolio manager at Fundsupermart, said the current selldown of certain stocks appears to have been overdone. Nevertheless, he cautioned that volatility may persist in the global and local equity markets, especially among tourism-linked counters.
"I would advise investors to remain cautious as the number of confirmed cases will likely continue to rise over the next couple of weeks as the number of suspected cases still remains high.
"Having said that, if history is any guide, the impact of such a virus on the economy is rather short-lived. Hence, at this moment, investors should not jump the gun and panic sell their investments. Long-term value investors can consider adding some exposure if prices drop further due to irrational sell-offs," Lee said when contacted.
Similarly, Credit Suisse research analyst Danny Goh pointed to how tourism-related stocks such as Genting, GenM, and MAHB, which were sold down due to concerns over the 2002-2003 SARS outbreak, soon saw their share prices recover and even surpass the pre-SARS level by November 2003 — just three months after concerns over the SARS outbreak eased.
"Genting and GenM are [currently] both trading at the bottom of their historical price-earnings ratio valuation range, and at similar levels to that in the SARS period, albeit with some possible downside risks to net profit estimates. We urge investors to monitor the [Wuhan virus] situation and expect these stocks to stage a rebound soon after travel concerns ease," he said.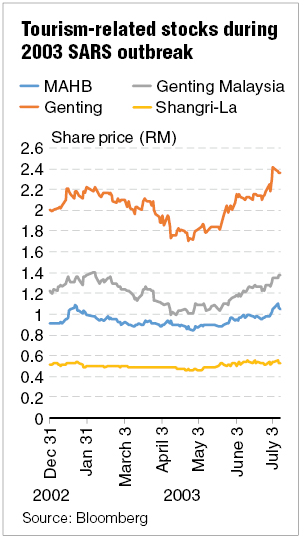 He also observed that while tourist arrivals plunged as much as 57% to 456,000 per month in April 2003 at the height of the SARS outbreak when compared with pre-SARS level in January 2003, the numbers rebounded sharply post-SARS. Tourist arrivals, he noted, rose 29% in the three months of August to October 2003, compared with the average recorded during the February to August period of that year.
Analysts at Maybank Kim Eng think that countries that are more open and dependent on China's trade and tourism will be negatively impacted, with Singapore and Thailand seen as the ones likely to be the most hit within Asean. Malaysia and Vietnam, on the other hand, are expected to see a smaller negative impact.
"Malaysia will take some hit from the decline in China tourists, especially the casino sector, which felt a blow in the SARS episode. Resorts World Genting saw net profit plunge by 45% in the first half of 2003 during the peak of the SARS epidemic.
"Our gaming analyst does not discount the possibility that the Malaysian government will roll back some of the 10% duty rate hike that came into effect on Jan 1, 2019," it added.
This article first appeared in The Edge Financial Daily, on Feb 3, 2020.