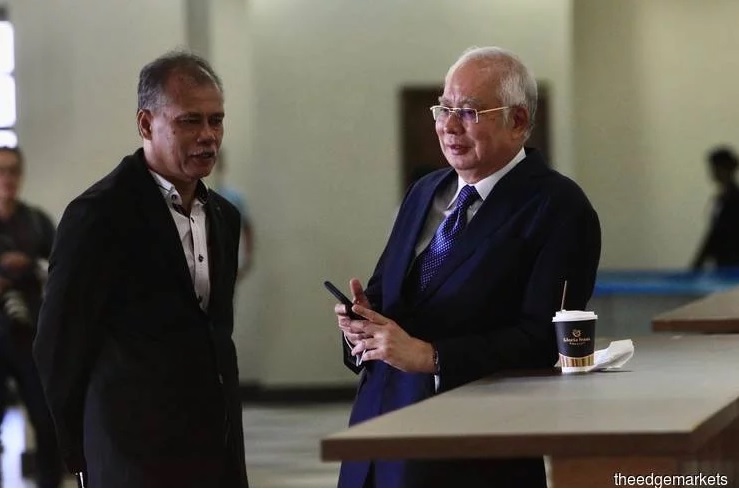 KUALA LUMPUR (Feb 3): Former prime minister Datuk Seri Najib Razak said today that it was "ludicrous" that he would knowingly siphon money from a Minister of Finance Inc company into his personal accounts.
Speaking at the SRC International Sdn Bhd trial today, where he is under re-examination by his defence team, Najib said if he had intended to cheat, he would not have been so careless as to credit the money into his personal accounts.
"It is so ludicrous for me to take money from a MoF Inc company to begin with and in some way or manner put it into my personal account. If I wanted to cheat, I would have been a stupid person to put it in my personal account," he told the High Court today.
"I'm not the most intelligent but I'm not so stupid as to put stolen money into a personal account," he said adding, "I wouldn't do something so bizarre."
Najib was responding to questions put to him by his lawyer Farhan Read, who asked him about appointments to SRC's board of directors, which he had purportedly made.
Najib went on to deny that members of the board were all his cronies, saying he did not know most of them personally, and that they were not appointed by him as the appointments were based on suggestions made by SRC's former parent, 1Malaysia Development Bhd (1MDB).
"I did not decide on my own, they were suggestions by 1MDB," he said.
"Even though I might know one or two of them personally, there were one or two board members I knew... To be a crony you have to have a personal relationship, that is the definition. I was never on personal terms [with the others]," he said.
Najib added that the appointments were good choices at the time, based on their experience in the corporate sector. "I did not know more than that, now I know more," he said.
Najib also said there has been no written evidence to suggest that he had specifically instructed RM42 million to be credited into his account as a kickback for him to ensure approval for the government's guarantee on a related RM4 billion loan to SRC.
"No witness has come forward to say that I gave instructions. There is no written evidence in which the RM42 million was discussed. There is no evidence that the RM42 million was offered to me as a bribe for approving the government guarantee. There is no basis to say that I knew of the RM42 million at all," he said.
Najib is facing seven charges for RM42 million he received in his personal bank accounts from SRC.
The charges include criminal breach of trust, money laundering and abuse of power.