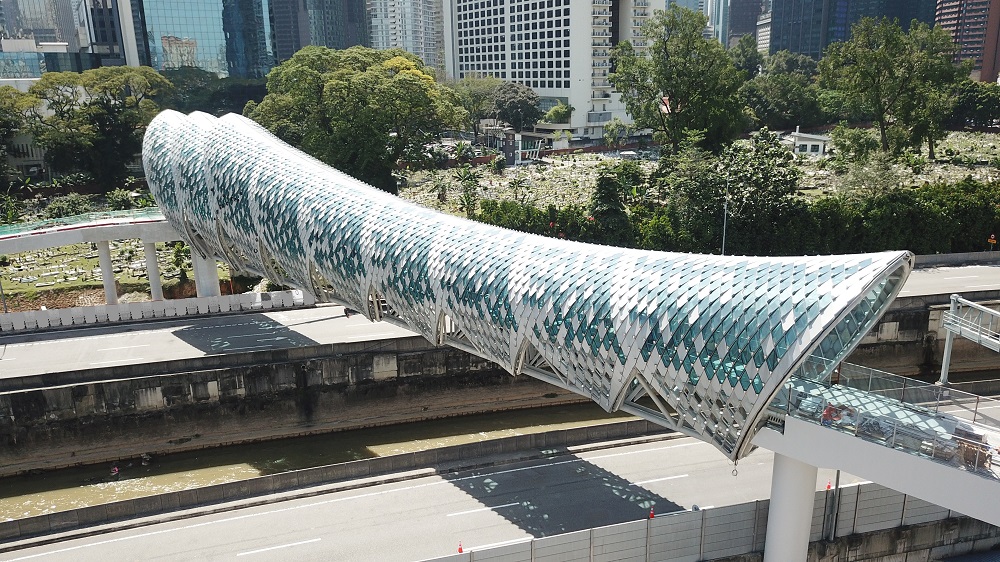 KUALA LUMPUR (Feb 6): Gone are the days when pedestrians from Kampung Baru had to meander through busy streets to get across to KLCC.
The iconic RM31 million Saloma Link footbridge, one of several projects under the modernisation plan of Kampung Baru was opened to the public yesterday. The eye-catching new landmark in Kuala Lumpur city centre was commissioned by the Kampung Baru Development Corp (PKB) and designed by VERITAS Design Group.
"The link creates a prominent physical connection between KLCC and Kampung Baru, besides boosting walkability in the city," said VERITAS Design Group principal Azril Amir Jaafar in a media statement.
The company is not only involved in designing the aesthetics of Saloma Link, but is also extensively involved in the master plan for the Kampong Baru redevelopment.
The 370m long footbridge begins near the Kampung Baru light rail transit (LRT) station at Lorong Raja Muda Musa 3, across the Ampang-Kuala Lumpur Elevated Highway (Akleh) and Klang River and then ending at Jalan Saloma near Menara Public Bank and the Petronas Twin Towers. The length of the bridge spanning across the highway and river is about 69m.
It allows for a seamless connection from the traditional Malay kampung enclave to the modern KLCC filled with skyscrapers, in just under 10 minutes.
"The architectural concept of Saloma Link was inspired by the sirih junjung (betel nut leaf arrangement), which holds a special significance in Malay weddings.
"In this context, it is a symbol of unity between the two distinctive parts of KL that are separated by the Klang River," said Azril.
The unique aesthetics allow ample natural lighting and a magnificent view of the Petronas Twin Towers and other landmarks via a raised platform at the Kampung Baru side.
Interested in buying a property in the KLCC area? Click here.