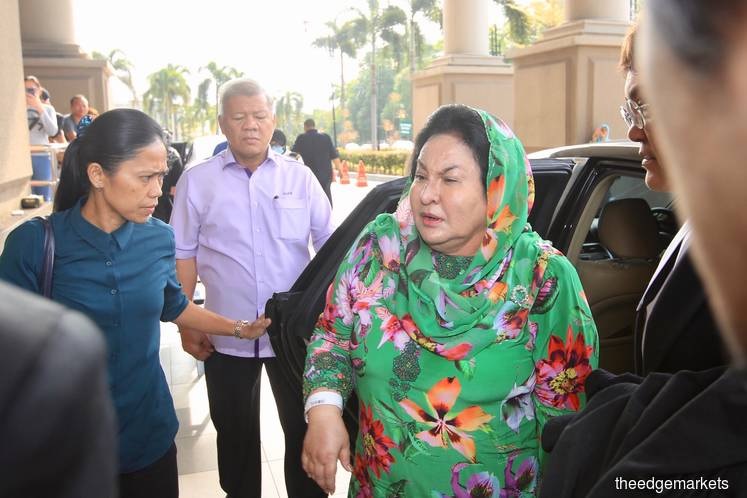 KUALA LUMPUR (Feb 10): Former education minister Datuk Seri Mahdzir Khalid today rebuffed Datin Seri Rosmah Mansor's suggestions that he allegedly received a bribe of RM50,000 from Jepak Holdings Sdn Bhd managing director Saidi Abang Samsudin.
The witness was asked about the bribe during cross-examination by Rosmah's counsel Datuk Jagjit Singh, who showed him an article from Berita Harian dated Nov 30, 2018 which claimed Mahdzir could be charged next year.
During his examination-in-chief by deputy public prosecutor Idham Abdul Ghani, Mahdzir said he had not solicited or received any bribe from Saidi for the solar hybrid project.
"I only followed Datuk Seri Najib Razak's instruction to implement the solar hybrid project to Jepak. I only received pressure from team Saidi regarding the project," he had testified.
Team Saidi, as he had testified on Thursday (Feb 6), refers to people associated with Saidi, and they included Rosmah's former aide Datuk Rizal Mansor and Pekan Umno division secretary Datuk Ahmad Aazmey Abu Talib.
Jagjit: I put it to you that you are not telling the truth regarding the solar hybrid project as you did receive money from Saidi?
Mahdzir: I do not agree.
Jagjit: I put it to you that you were earlier implicated with this as alleged in the newspaper article on Nov 30, 2018.
Mahdzir: I was not aware of the article.
Jagjit: I put it to you that you are asked to implicate my client, so you did solicit and receive a bribe, and that you were to be charged?
Mahdzir: I do not agree.
Jagjit: Based on the instruction I received, you are the most corrupt education minister?
Mahdzir: I disagree.
Jagjit: You were not charged so that you would implicate my client?
Mahdzir: I disagree.
Rosmah is facing three charges, namely soliciting RM187.5 million from Saidi between January to April 2016 and receiving RM5 million and another RM1.5 million in 2016 and 2017 respectively.
Click here to see condominiums for rent in Sabah.