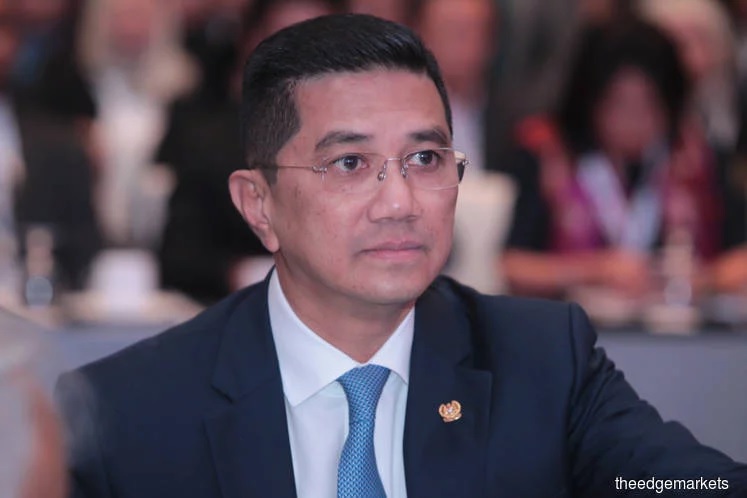 KUALA LUMPUR (Feb 13): The economic stimulus package by the Malaysian government to address the economic impact of the COVID-19 virus outbreak is expected to be introduced in end-February, Minister of Economic Affairs Datuk Seri Mohamed Azmin Ali said today.
In a statement, Azmin said the Government will ensure that the stimulus package, as well as development projects that have been approved for this year, will be implemented promptly.
"The Government is taking proactive steps to encourage domestic economic activities, while continuing to encourage exports particularly for healthcare, electrical and electronic and palm oil-based products," he added.
Today, Bloomberg reported Minister of Transport Anthony Loke as saying that planning for the upcoming economic stimulus package will involve all Federal Government Ministries.
Earlier this week, the Ministry of International Trade and Industry met associations representing key industries such as manufacturing and services to obtain input on the impact of the coronavirus on their businesses.
So far, the Government has identified transport, tourism and the manufacturing sectors as those that will be affected by the virus outbreak.
The outbreak has already affected the hotel industry, with soaring hotel cancellations when China announced the travel ban for its citizens. As at Feb 9, booking cancellations have caused hoteliers to lose over RM40 million in revenue.
"Our best hopes are to minimize losses," Bloomberg quoted Malaysian Association of Hotels's head Yap Lip Seng as saying. "If the Government doesn't step in, "the industry may just collapse," Yap reportedly said.
Minister of Finance Lim Guan Eng said previously that the stimulus package was brought forward in light of the virus outbreak — the Government had initially planned for a package to address potential risk from the US-China trade war which already affected Malaysia's economy in 4Q19.
This week, Bank Negara Malaysia announced that Malaysia's GDP growth slowed to 3.6% in the last quarter, bringing 2019's growth to 4.3%, the lowest since the Great Recession a decade ago.
On Wednesday, Bank Negara Malaysia governor Datuk Nor Shamsiah Mohd Yunos pointed out that the virus will impact Malaysia's economy "particularly in the first quarter".
She pointed out that the Federal Government has the capacity to push for the stimulus package, adding that the Central Bank has "ample room" to cut interest rate further from its current 9-year low of 2.75%. The last cut of 25 basis points was in January.
Click here to see industrial properties for sale in Kuala Lumpur.