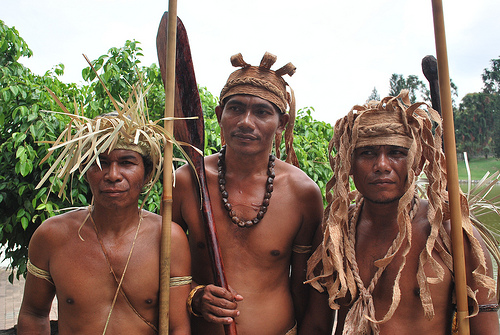 KUALA LUMPUR (Feb 21): The Temuan (pictured) people feel they will stand to lose the most if Selangor pushes ahead with plans to develop parts of the Kuala Langat permanent forest reserve.
"We are disappointed at what [Selangor Menteri Besar] Amirudin Shaari said yesterday," village chief Rahman Pahat said today in a report by The Malaysian Insight (TMI).
"The forest to us is an important source of herbs used for medicine and of resources for our crafts and tools," he said.
Rahman explained to the news portal that the Kuala Langat area is home to about 2,000 Temuan Orang Asli and most of them "would be forced to travel much further for their needs if Selangor develops part of the forest".
"When it becomes harder for us to do this, we will lose our culture and identity," he warned.
Yesterday, TMI reported Selangor Menteri Besar Amirudin Shari saying that the state's plan to allow development of a permanent forest reserve in Kuala Langat "will prevent bush fires".
Rahman does not agree with Selangor's plans for preventing such fires
"There was a forest fire in 2014 but we have since begun training and educating our people about how to prevent fires," the village chief revealed.
He said people have come to help the Orang Asli in the area form fire brigade teams and to do replanting.
Amirudin yesterday also said that the "Orang Asli villages are not involved and were taken out of the plan to degazette the forest reserve".
"The Orang Asli area of 423ha will remain within the forest reserve and be kept as their villages and forage areas."
The Selangor MB said besides preventing fires, the de-gazetting of the forest reserve would also benefit the East Coast Rail Link (ECRL) project as the train track runs through the protected area.
Today, Malaysia Rail Link Sdn Bhd (MRL), owner of the mega ECRL project, told Malaysiakini that "it was not involved in plans to degazette the Kuala Langat (North) Forest Reserve".
"No, we did not make such an (degazettement) application," MRL told the news portal.
MRL said it, however, wanted "to apply for permission to allow it to use the portion of the protected forest".
"MRL's preferred approach is to apply for "permit penggunaan" (user permit) from the (Selangor) Forestry Department for the cut through and avoid having that part of the forest reserve degazetted," it added