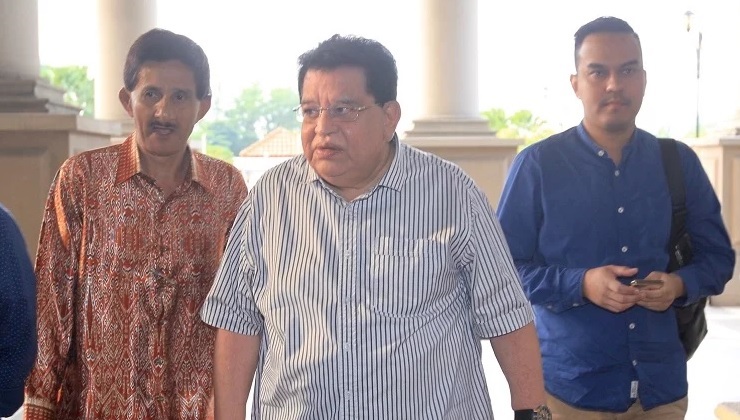 KUALA LUMPUR (March 5): Umno treasurer Datuk Seri Tengku Adnan Tengku Mansor (pictured) has denied the prosecution's claims that he had forged a receipt to disguise the RM2 million bribe he allegedly received from a property developer as a political donation to his party.
Deputy public prosecutor (DPP) Julia Ibrahim brought up a receipt book used by Umno to issue the disputed payment slip to Aset Kayamas Sdn Bhd managing director Tan Sri Chai Kin Kong in 2016 for the RM2 million cheque he had made out to Tengku Adnan's company Tadmansori Holdings Sdn Bhd during his graft trial today.
Julia: You refer to the receipt book and we see the first page with the serial number 376201 is dated August 24, 2017, and the receipt that was issued to Chai with the serial number 376241 was dated June 14, 2016 and the next receipt 376242 was dated Nov 16, 2018. This is an anomaly in the receipt with the serial number 376241?
Tengku Adnan: I disagree.
Julia: Because it is an anomaly in the date, it is a forged document?
Tengku Adnan: I disagree.
The prosecution then tried to show the possibility the receipt could have been backdated by linking it to Tengku Adnan's arrest by the Malaysian Anti-Corruption Commission (MACC) in November 2018.
Julia: According to the form in the charge sheet, you were arrested on Nov 14, 2018 and your first appearance in court was Dec 12, 2018. I suggest that you forged the receipt based on the date of your arrest on Nov 14, 2018, and based on the serial number 376242 which was dated Nov 16, 2018, I am suggesting to you that the receipt could not have come from the receipt book.
Tengku Adnan: I disagree.
Julia: I am also suggesting the document was forged after you were arrested by the MACC?
Tengku Adnan: I disagree, I never forged things.
Previously, it was reported that Chai, who was the prosecution's 19th witness, had suddenly produced the receipt from Umno to highlight the fact it was a donation as he had known Ku Nan for about 30 years.
"Ku Nan gave me the receipt dated June 14, 2016, after the cheque addressed to Tadmansori Holdings Sdn Bhd was made," the witness said.
MACC assistant enforcement officer Nik Muhamad Faiez Idris then went to Umno's headquarters and seized the party's official receipt book a day after Chai's testimony.
Nik Faiez said he met Umno's financial controller named Faradilla and took the receipt book with the serial number.
Tengku Adnan is charged under Section 165 of the Penal Code with accepting RM2 million from Chai belonging to Aset Kayamas, which was deposited into a bank account belonging to Tadmansori where he is the beneficial owner.
He is allegedly charged with committing the offence in his capacity as a public servant, as the then FT Minister, at CIMB Bank Bhd, Pusat Bandar Damansara branch, level 1, Lot A4, Block A, Pusat Bandar Damansara, here, on June 14, 2016.
Today, DPP Julia also showed the former minister may have violated the Code of Ethics for members of the administration (Cabinet).
Code 2(iii) stipulates that any member of the administration who has a majority stake or controlling interests in a company must dispose of their shares.
In previous testimonies, it was revealed that Tadmansori is a company that is controlled by the accused.
The prosecution had finished its cross-examination of Tengku Adnan, and he would be re-examined by his counsel Datuk Tan Hock Chuan this afternoon before Justice Mohamed Zaini Mazlan.