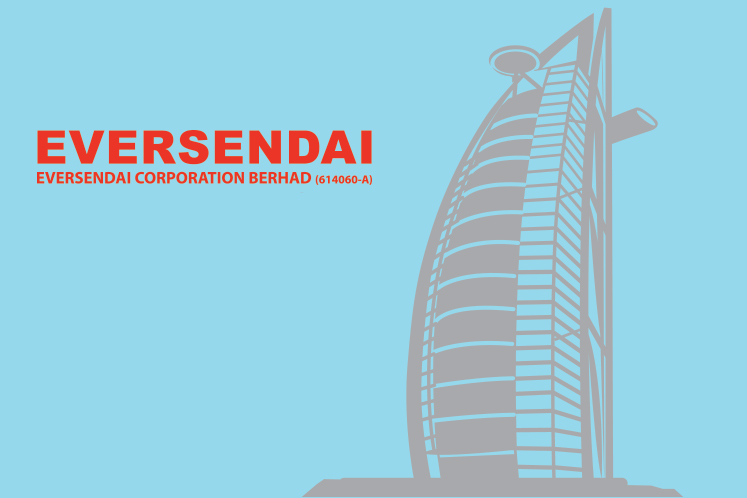 KUALA LUMPUR (March 10): Eversendai Corp Bhd has agreed to buy its founder, major shareholder, executive chairman and managing director Tan Sri AK Nathan Elumalay's private liftboat company.
In a bourse filing today, the oil and gas, and construction group announced it would be acquiring Nathan's Vahana Offshore (M) Sdn Bhd, which owns the Vahana Aryan liftboat and Vahana Arjun – the construction of which will be completed in 2021.
"Upon due deliberation of the offer set out in the Letter of Offer, the Board (save for the interested directors) has resolved to accept Vahana Holdings Sdn Bhd's offer, subject to the finalisation and execution of the Definitive Agreement. In this respect, we seek your consent to extend the Exclusive Period to March 31, 2020, for both parties to finalise and execute the definitive agreement," the announcement read.
Nathan, via Varhana Holdings, had offered to sell Varhana Offshore to Eversendai on Feb 10.
The board had 30 days to deliberate the group's offer. Nathan and his son Narishnath Nathan, also a director in Eversendai, abstained from voting on the matter.
According to Nathan, the move was done so that the group's bottom line can be improved.
The purchase price of Varhana Offshore will be ascertained by an independent valuer, and the purchase will be satisfied via the issuance of new redeemable convertible preference shares.
Eversendai shares were 5.56% or 1.5 sen lower at 25.5 sen at Bursa's noon market close, giving the group a market capitalisation of RM199.18 million.
Click here to look at industrial property for sale in Kuala Lumpur.