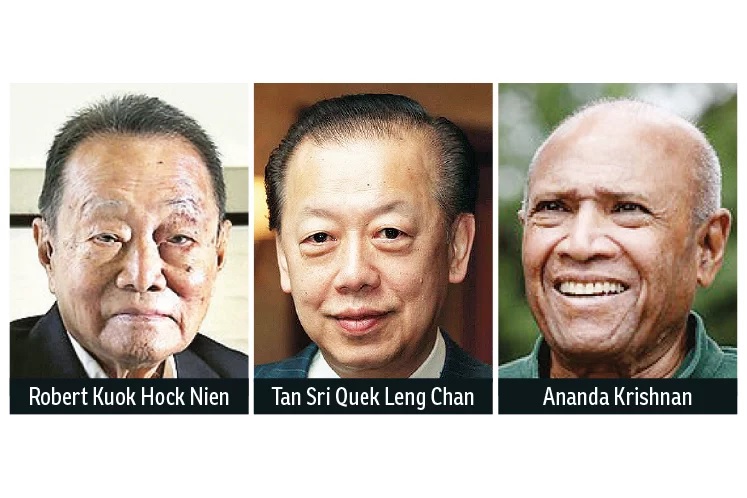 KUALA LUMPUR (March 23): Malaysia's richest tycoons have lost an estimated RM30.93 billion since the start of this year, based on their known shareholdings in Bursa Malaysia-listed firms, as pandemic-driven panic selling across global markets sparked an equity rout that has yet to see an end.
Of the 10 richest men in Malaysia, Hong Leong Group's Tan Sri Quek Leng Chan — who stands at No 2 on the latest 2020 Forbes Malaysia Richest List that was released earlier this month — lost the most in the past 12 weeks.
Based on shares he holds in seven companies, in particular Hong Leong Bank Bhd (HLB) and Hong Leong Financial Group Bhd (HLFG), Quek saw RM11.87 billion worth of paper losses. Quek has a 62.1% stake in HLB, whose share price has sunk 27% year to date (YTD). As a result, he lost RM6.21 billion. Quek also holds 78.51% of HLFG, which has also fallen 27% YTD, resulting in his investment value declining by RM4.05 billion.
After Quek was gaming tycoon Tan Sri Lim Kok Thay, who saw his wealth shrink by almost RM8 billion, as the three Genting Group stocks on Bursa — Genting Bhd, Genting Malaysia Bhd and Genting Plantations Bhd — have been battered.
The biggest chunk of Lim's losses — some RM4.03 billion — came from his 44.62% stake in Genting, which has dropped 43% YTD. This is followed by RM3.4 billion from Genting Malaysia, in which he controls 49.9%. Then, from his 54.49%-held Genting Plantations, Lim lost a further RM547.51 million.
If not for a slight rebound seen on Bursa last Friday, Lim would have lost RM9.39 billion (based on the stocks' closing price last Friday) from the shares he holds in these three companies.
The tycoon who saw the third biggest loss YTD was Public Bank Bhd founder Tan Sri Teh Hong Piow, as the bank's stock fell 26% YTD and caused him some RM4.5 billion loss in investment value.
Teh holds 23.41% of Public Bank, which has always been seen as the most solid banking stock in the domestic market. He also holds 44.19% of insurer LPI Capital Bhd, which saw a similar drop in share price that cost him another RM678.63 million.
This means Teh lost a collective RM5.18 billion YTD from his investments in these two companies.
Next came Sabah tycoon Tan Sri Lau Cho Kun, who holds 73.91% of Hap Seng Consolidated Bhd. He lost about RM4.56 billion on paper as the company's shares declined 25% YTD.
After Lau, IOI Group's Datuk Lee Yeow Chor recorded the next biggest loss, with an estimated RM3.91 billion gone from his investments.
The group managing director and chief executive officer (CEO) of IOI Corp Bhd lost an estimated RM2.68 billion from the palm oil company, in which he holds 48.29%. He also lost another RM1.22 billion from his 63.62%-owned IOI Properties Group Bhd.
Next was Malaysia's third richest man Ananda Krishnan, who lost an estimated RM2.56 billion. This came from telecommunications company Maxis Bhd where he holds 62.34%; media firm Astro Malaysia Holdings Bhd in which he controls 41.29%; and oilfield services-provider Bumi Armada Bhd where he has 34.86%.
The bulk of his losses, some RM1.16 billion, came from Astro, as its share price has sunk 43% YTD. While shares in Maxis have only dipped 2% YTD, Bumi Armada's shares plunged by as much as 75% to close at 14 sen last Friday.
The tycoon with the eighth biggest loss YTD was Tan Sri Paul Koon Poh Keong, the CEO and co-founder of now Southeast Asia's largest aluminium smelter Press Metal Aluminium Holdings Bhd.
Koon lost a collective RM2.24 billion, comprising RM2.21 billion from his 39.67% stake in Press Metal, and another RM24 million from the 24.02% he holds in PMB Technology Bhd.
Last on the YTD loss-making tycoons list is Robert Kuok Hock Nien, the richest man in Malaysia. He only lost some RM2.01 billion via his shareholdings in PPB Group Bhd (50.81%) and Shangri-La Hotels (Malaysia) Bhd (75.81%). He lost RM1.95 billion from PBB and RM56.7 million from Shangri-La.
The only winner from Malaysia's 10 richest list in the past 12 weeks is Hartalega Holdings Bhd's founder and executive chairman Kuan Kam Hon, who earned RM1.94 billion on paper as the world's largest nitrile glovemaker's shares surged thanks to higher demand for rubber gloves amid the spread of the pandemic.
YTD, Hartalega's shares have climbed 21% to close at RM6.62 last Friday, with a market capitalisation of RM22.39 billion.
Led by Kuok, Quek and Ananda, the 2020 Forbes Malaysia Richest List ranks Cambodia-based NagaCorp's Tan Sri Dr Chen Lip Keong as the fourth richest, followed by Teh, Lee, Lim, Koon, Kuan and Lau.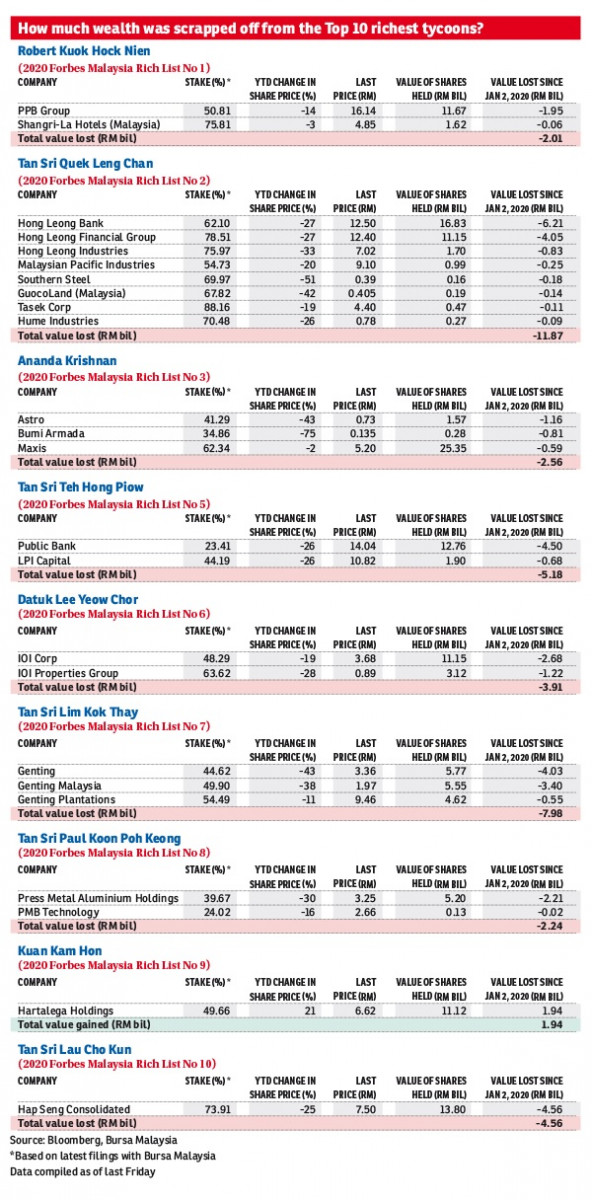 Click here to see commercial properties for sale in Kuala Lumpur.
This article first appeared in The Edge Financial Daily, on March 23, 2020.