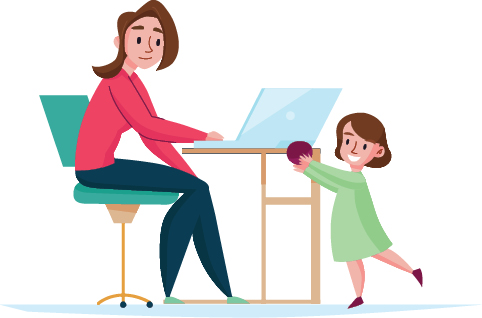 Many Malaysians have been working from home since the Movement Control Order period in the country began on March 18 and now extended to April 28. Even after the MCO, the work-from-home trend may well be the new normal for office workers.
Some rejoiced as "going to work" will now take just five minutes from the bed to the laptop, coupled with savings from commuting. There are also some who dread it, worried about their their urges to take a nap in between work or from binging on snacks all day.
Yes, working from home is challenging but that is an understatement when you have kids running around you asking you "why, why, why" or screaming their heads off when you are having a conference call with your bosses.
As a parent, your challenge would not be about overcoming the temptation to nap but getting your kids to nap so that you can get your work done!
Here are four tips for working parents to have a productive work session at home with kids. Hang in there dads and mums (as well as grandpas and grandmas).
1 Create a space for the kids near you
Sounds disastrous but they can do their colouring or read or watch a video while you are working. That way, they won't feel isolated from you while you can still keep an eye on them.
2 Remind them that you are at work, just not at the office
Tell them beforehand, lecture if you must and constantly remind them that you are working and may not be able to attend to them immediately. Stress that even though you are home, this is not a holiday and help them to understand what is going on. Kids are smarter than you think - they know when it's serious talk.
3 Make full use of nap time
The best time to capitalise on work which requires your full attention is when the kids are having a nap. It can be tempting to try to squeeze in some time to run some house chores especially if you see that big pile of laundry but try to maximise the time instead to work on that urgent proposal. If your children are not the best nappers, set a "20-minute quiet time" for them to rest and just have a lie-down. If they start fussing, try your best to not run to them immediately.
4 Create a schedule
Having a schedule allows you to plan for when is the best time to work and play. Set aside a time to play with your kids. By doing this, it also allows them to look forward to the allocated quality time with mum and dad.
The writer is a mum working from home
Stay calm. Stay at home. Keep updated on the latest news at www.EdgeProp.my #stayathome #flattenthecurve