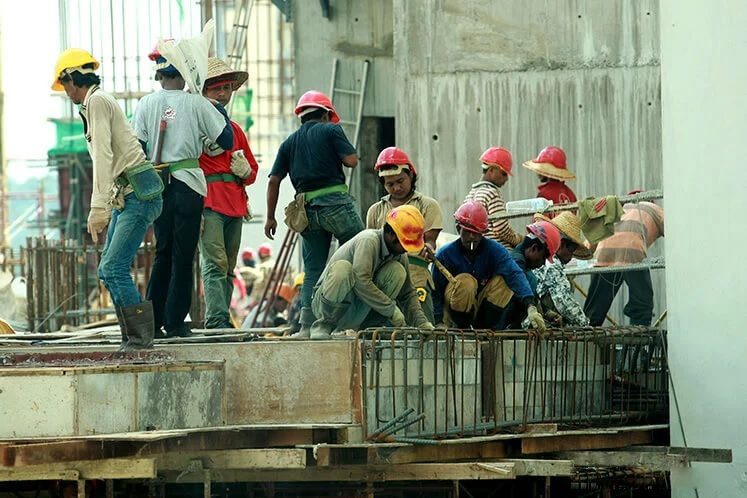 KUALA LUMPUR (May 9): Construction companies are eager to get back to work after seven weeks of inactivity but are uncertain as to how they will meet Putrajaya's requirement that the sector's estimated 1.3 million workers be tested for Covid-19, The Edge reported today.
Given the current testing capacity of around 20,000 tests a day, some estimate it will take six months to a year to complete examining all the workers.
"My question is, is it really a good idea to require all foreign, as well as local, workers at construction sites to be tested?" asks Datuk Seri Eric Kuan, group executive director of Fajarbaru Builder Group Bhd.
"The current backlog in testing capacity is already causing further delays in commencing construction work and this will result in an economic impact on the country as well," he says in response to The Edge's request for comments.
Losses for the sector are estimated at hundreds of millions of ringgit, owing to the shutdown of construction sites over the seven weeks up to May 4, when the Movement Control Order (MCO) was relaxed. The tab will continue to run if the companies are forced to wait out a further extended period before resuming operations.
To expedite the testing process, some companies have resorted to premium services, which means paying up to RM700 per worker instead of the RM250 to RM340 normally charged.
According to The Edge, workers theoretically can be tested for free at BP Healthcare outlets throughout the country. Employers, however, have all but discounted the option as unfeasible, however, because of the lack of testing facilities at these outlets and the overwhelming number of workers who have to be tested.
BP Healthcare is the appointed laboratory for Covid-19 testing under Pertubuhan Keselamatan Sosial's (Perkeso) Program Saringan Prihatin, which allows workers registered with the organisation to get tested for free.
Workers are required to set an appointment at any BP Healthcare outlet — but there is a catch.
As millions are reportedly trying to get an appointment, there are no available slots at all its outlets until May 21, according to the Doctor2U website. The website also says BP Healthcare is operating with limited viral transport media (VTM) and test kits.
Read the full report in this week's The Edge Malaysia
Stay safe. Keep updated on the latest news at www.EdgeProp.my
Click here to see residential properties for sale in Kuala Lumpur.