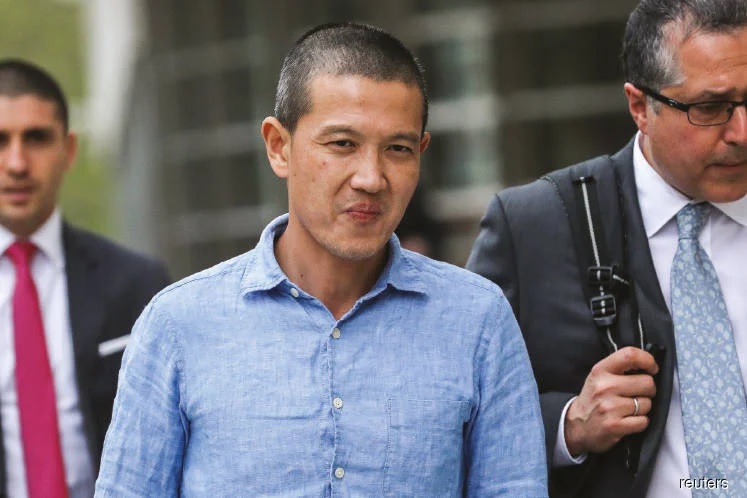 KUALA LUMPUR (May 19): Former Goldman Sachs Group Inc banker Roger Ng Chong Hwa, who was supposed to return to Malaysia in March in time for his criminal trial involving 1Malaysia Development Bhd (1MDB), is still in the United States as he is facing criminal charges there.
He is currently under temporary surrender to the US government after the US Department of Justice requested for his extradition in order to charge him over 1MDB-related offences there.
Ng is charged here with abetting the sale of 1Malaysia Development Bhd (1MDB) bonds totalling US$6.5 billion.
The Kuala Lumpur High Court was told by deputy public prosecutor (DPP) Zaki Asyraf Zubir that Ng was still in the US and that its Department of Justice (DoJ) had requested an extension of his extradition.
"Roger Ng is in the US, and I am not aware when he will be coming back," Zaki told Justice Mohamed Zaini Mazlan at Ng's case management today.
"The DoJ have asked for an extension (on his extradition), I am aware that the extension was given (from the Attorney-General's chambers) but I am not aware for how long. I don't know when the trial is there," he told the judge.
Justice Zaini then asked Ng's legal counsel Cains Tan whether he knew anything but Tan was none the wiser.
The judge then impressed upon the prosecutor that it was imperative that they find out when Ng would return as this case is to be tried with the Goldman Sachs case which is set to start in November.
Parties to the case agreed to set the start of the trial on Nov 9-13.
It will then continue the following year on Feb 15-26, March 8-18 and subsequently April 5-15.
"The dates are fixed and then he comes last minute and he might have less time to prepare. I am trying to impress that we need proper planning. The accused needs to be here so we can read the charges to him," Justice Zaini cautioned the prosecution.
With that, the judge set June 29 for case management to allow the DPP to update the court on Ng's return.
On Dec 19, 2018, Ng pleaded not guilty in the Sessions Court here to four counts of abetting Goldman Sachs over the sale of 1MDB bonds totalling US$6.5 billion by omitting material information and publishing untrue statements.
In the US, Ng faces criminal charges of conspiracy to violate the anti-bribery provisions of the Foreign Corrupt Practices Act, conspiracy to violate the internal accounting control provisions of the Foreign Corrupt Practices Act and conspiracy to commit money laundering before the US District Court, Eastern District of New York.
It was also reported in November last year that Ng and his family had agreed to surrender about S$40 million to the Singaporean authorities, who would then repatriate the funds to Malaysia.
Stay safe. Keep updated on the latest news at www.EdgeProp.my
Click here to see residential properties for sale in Kuala Lumpur.