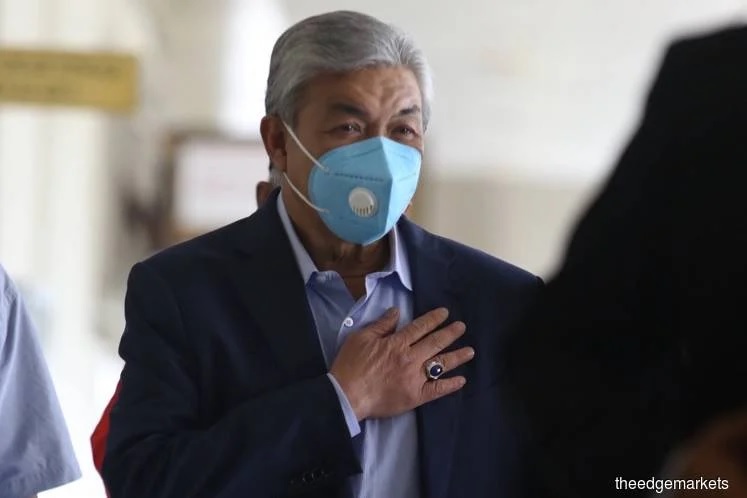 KUALA LUMPUR (June 17): A businessman said he was informed by Datuk Seri Dr Ahmad Zahid Hamidi that if he wished to donate to a tahfiz (religious school) run by the former deputy prime minister, he should issue the cheque in the name of law firm Lewis & Co.
Testifying in Zahid's corruption trial at the High Court yesterday, Mubarak Hussain Akhtar Husin said he wrote a cheque for RM2 million to Lewis & Co on Nov 25, 2016.
Mubarak, 44, is the owner of Seri Jaya Perkasa Sdn Bhd since 2002. The company had a contract with the home ministry relating to the deportation of illegal immigrants, under which it was paid RM20.5 million for every two years until October 2017.
The businessman said he has known Zahid since 2008, when they met at the Kampung Baru mosque with his brother.
"Since then, he (Zahid) has been friends with me," Mubarak said in reply to a question from Deputy Public Prosecutor (DPP) Mohd Harris Ong Mohd Jeffrey Ong.
Mubarak, who is the prosecution's 61st witness, said he had been to the tahfiz run by the Umno president twice, and admitted playing a role in finding some of its teachers.
"I gave the [RM2 million] contribution to the tahfiz school run by Datuk Seri [Dr] Ahmad Zahid Hamidi sincerely," the witness said, adding that he did not suspect anything wrong as he trusted Zahid.
The tahfiz, as revealed by Zahid's lawyers, is SM Imtiaz Ulul Albab, in Masjid Tanah, Melaka.
Zahid, 67, is on trial for 47 charges — 12 for criminal breach of trust, eight for corruption and 27 money laundering — involving tens of millions of ringgit of funds belonging to Yayasan Akalbudi, a charitable foundation he set up.
During cross-examination by Zahid's counsel Datuk Ahmad Zaidi Zainal, Mubarak said the contribution he made had nothing to do with his company's contract with the home ministry.
The witness agreed with Ahmad Zaidi that when he bought Seri Jaya Perkasa in 2002, the company had already secured the contract to deport illegal immigrants since 2001, with a renewal every two years until 2017.
Ahmad Zaidi: This means that you gave the cheque of RM2 million in 2016 before you knew the contract might expire in 2017 and there was a possibility it would not be renewed?
Mubarak: Yes.
Ahmad Zaidi: Who was the home minister in 2015? Was it Hishammuddin (Datuk Seri Hishammuddin Hussein)?
Mubarak: Yes.
Replying to DPP Ahmad Shazalee Abdul Khairi during re-examination, Mubarak said he did not claim a tax relief from the Inland Revenue Board for the donation he made in 2016 as he had forgotten about it.
Other witnesses who testified for the prosecution included bank officers Wong Lee Chin, Lisa Ng and Yong Jyi Kae.
Others were KG Rajan Gunaretnam, Datuk Khatijah Sulaiman, and Ong Weng Fatt, all of whom testified that they had issued cheques to Lewis & Co.
The trial before Justice Collin Lawrence Sequerah continues today.
Stay safe. Keep updated on the latest news at www.EdgeProp.my
Click here to see residential properties for sale in Petaling Jaya, Selangor.