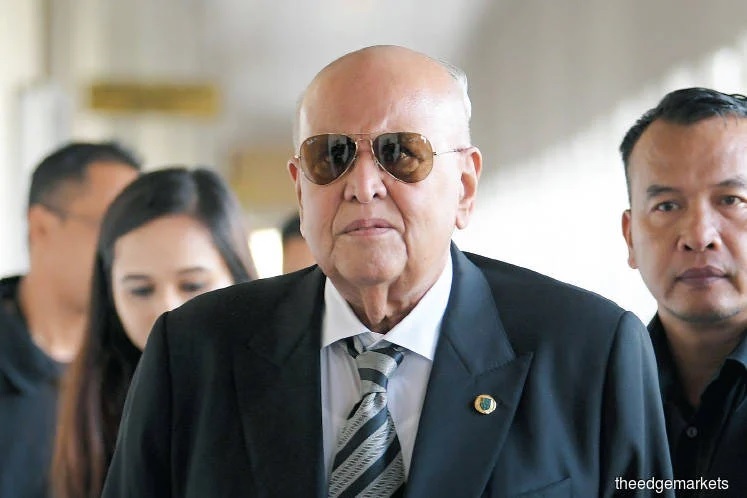 KUALA LUMPUR (July 7): Senior Deputy Public Prosecutor (DPP) Datuk Seri Gopal Sri Ram (pictured) said he had never been found guilty of any prosecutorial misconduct, and that all trials he handled as a representative of the prosecution had led to evidence which was relevant and admissible.
Sri Ram said this in an affidavit in reply to Tan Sri Mohamed Apandi Ali's affidavit, in which the former attorney-general claimed that the senior DPP, as the lead prosecutor in Datuk Seri Najib Razak's 1Malaysia Development Bhd (1MDB) cases, had a "clear mission of bias" against the former premier.
Mohamed Apandi affirmed the affidavit on June 12 in support of Najib's application to remove Sri Ram, a former Federal Court judge, from prosecuting the ex-prime minister in the 1MDB audit tampering trial.
Najib, through his lead counsel Tan Sri Muhammad Shafee Abdullah, sought to include Mohamed Apandi's affidavit in his application to challenge Sri Ram's appointment as the lead prosecutor in the ex-prime minister's criminal cases.
Prior to that, Mohamed Apandi alleged in a social-media post that Sri Ram was sent to see him in January 2018 by former premier Tun Dr Mahathir Mohamad to persuade him to arrest Najib.
Sri Ram said, in his affidavit, that Mohamed Apandi was appointed the attorney-general and acting upon the advice of the accused — Najib — who was the then prime minister, and therefore Mohamed Apandi naturally displayed a bias in favour of the accused.
"This was made apparent at the press conference held on Jan 26, 2016, where he (Mohamed Apandi) purported to clear the accused, Najib, of all criminal misconduct, including his criminality in what has now come to be known as the SRC case," he said, referring to the SRC International Sdn Bhd case.
Sri Ram also denied that he had taken instructions from political figures, and said he conducts prosecution under the instruction of the public prosecutor.
"I deny that I am a political appointee. I have advised and acted for members of various political parties both in government and in opposition. I do not belong to any political party.
"I deny that I have displayed bad faith. My duty as a counsel for the prosecution is to lead evidence to show that a crime was committed and that it was the accused who committed it.
"It is not part of my function to adjudge the guilt or innocence of the accused, Najib. At the end of the day, it is for the honourable court to determine whether the prosecution has proved the charges against the accused, Najib, beyond reasonable doubt," he said.
Sri Ram is leading the prosecution team in the 1MDB audit tampering trial, in which Najib, along with former 1MDB chief executive officer Arul Kanda Kandasamy, are jointly accused of tampering with the auditor-general's final audit report on the sovereign wealth fund.
Stay safe. Keep updated on the latest news at www.EdgeProp.my