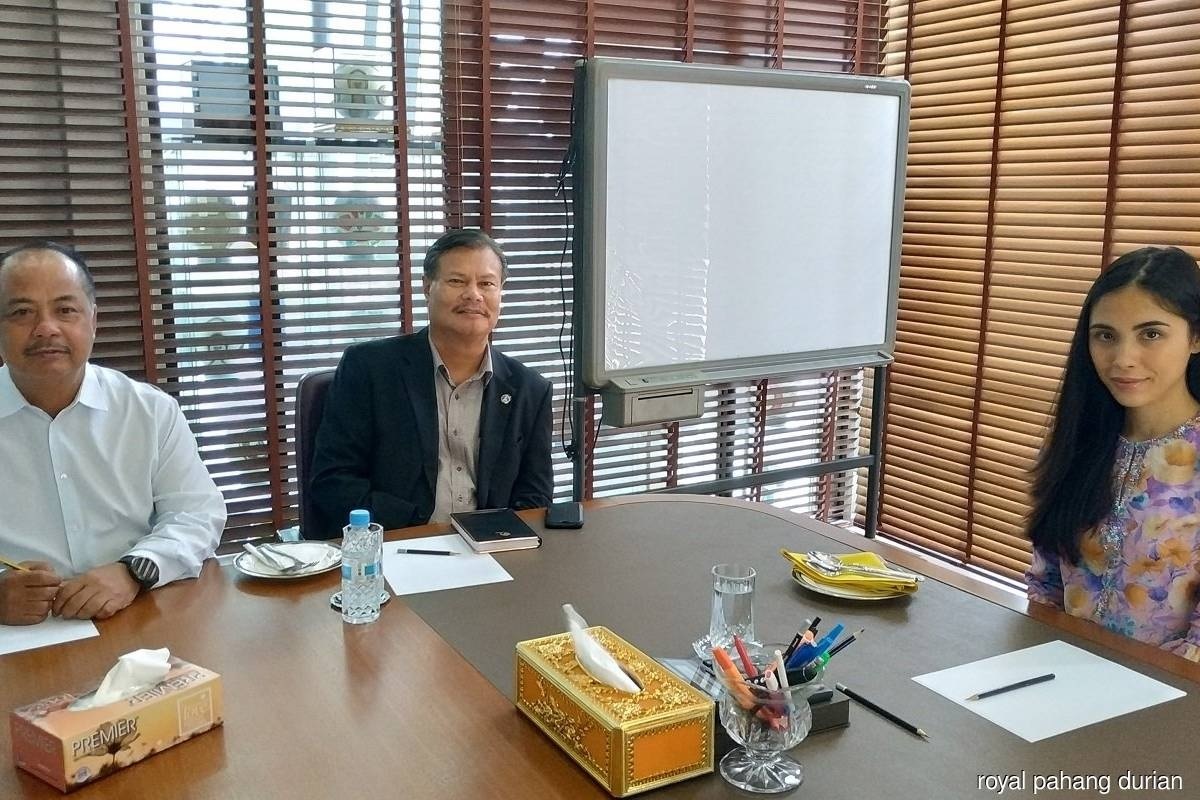 KUALA LUMPUR (July 12): The Royal Pahang Durian Group (RPD) and its partner, Perbadanan Kemajuan Pertanian Negeri Pahang (PKPP), have come out with a mutually beneficial solution for all illegal farmers that are currently occupying its land in Raub, following Pahang's proposed land legalisation scheme on July 9.
Last Thursday, Pahang Chief Minister Wan Rosdy Wan Ismail said in a statement that under the latest land scheme, existing farmers will be allowed to continue to farm on the said land, subject to terms and conditions, instead of being evicted.
In the latest development, RPD and PKPP have given existing farmers occupying its Raub land until Aug 9, 2020 to come forward and accept the proposal or face enforcement as a result of their illegal occupation.
Essentially, the solution entails mainly the following:
Farmers who accept the scheme will be granted sub-leases or sub-land use rights to their existing farms at a 10 plus 10 plus 10 years tenure with a subsequent extension of 30 years subject to State Authorities' approval
In return, the farmers must sell all of their durians to the designated trading company called Royal Pahang Durian Export Sdn Bhd (RPD Export) at pre-determined prices
With legitimate status, the farmers are now able, with the assistance of the trading company, to obtain Malaysian Good Agricultural Practice (MyGAP) certification for their farms, ensuring strict compliance to farming quality standards and good farming practices, which is a pre-requisite requirement for export.
In addition, the parties said that to ensure orderliness and completeness to the supply chain operations in these areas, RPD Export will appoint an associate company named Perniagaan Anak-Anak Raub Sdn Bhd (PAR) that includes local Bumiputera entrepreneurs, to undertake durian collection, sorting and grading activities jointly with local collectors in Raub.
It was stated that PAR is allowed to enter into a 50:50 joint venture arrangement with 10 selected large, local and experienced durians collectors to undertake the tasks subject to the approval of RPD Export.
The parties added that RPD Export intends to allocate up to 30% of the total collected whole fruits from the illegal farms to be sold to these durian collectors.
Locations for the collection centres will be identified and procured in collaboration with the local Raub district council.
On June 24, the Pahang state government had awarded Royal Pahang Durian Resources PKPP Sdn Bhd, the SPV between RPD and PKPP, the lease and land use rights for 5,357 acres of land in the district of Raub for a period of 30 plus 30 years.
Both RPD and PKPP said the tract of lands had been illegally occupied by local farmers planting predominantly durian fruit trees, and are doing so against the law.
Stay safe. Keep updated on the latest news at www.EdgeProp.my