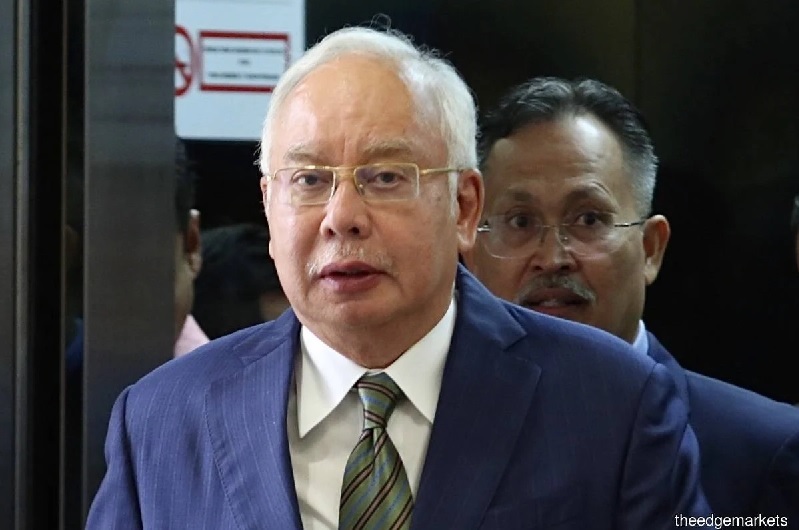 KUALA LUMPUR (July 28): Former Prime Minister Datuk Seri Najib Abdul Razak said that he is ready to face whatever may come at the SRC International Sdn Bhd trial verdict today.
Taking to Facebook last night, Najib said whether he is found innocent or guilty by the High Court, it does not stop here.
"If I am found not guilty, surely the public prosecutors will appeal the decision at the Federal court. Inversely, if the High court's decision does not go in my favour, I will bring this case to the court of appeal for a fairer judgment before three judges," he said.
"I won't give up. Yes, after this we will go to the appellate court. I'm ready," he added.
"I want justice. I want to clean my name," he said.
Najib's verdict will be given by Judge Nazlan Mohd Ghazali who has presided over this case for two years.
The Oxford University educated Judge will mete out his judgment at approximately 10am.
Najib's lawyer and defence council Tan Sri Shafee Abdullah and appointed prosecutor Datuk V. Sithambaram will be present for the judgment.
Nazlan will be making his judgment based on 2,000 pages of written submissions from both sides, together with five days worth of oral submissions.
A total of 57 prosecution witnesses and 19 defence witnesses have been called to testify, including Najib himself.
The former premier and ex-finance minister was initially charged in July 2018.
Najib has been charged with abuse of power with regards to approving RM4 billion of loans from Retirement Fund Inc (KWAP) to SRC between Aug 17, 2011 and Feb 8, 2012.
The former Umno president also faces three criminal breach of trust charges involving RM42 million of SRC funds when he served as the prime minister, finance minister and adviser emeritus of SRC, who was entrusted with the RM4 billion KWAP loan. He is alleged to have committed the offences between Dec 24, 2014 and Feb 10, 2015.
He has also been charged with money laundering involving the deposit of RM42 million of SRC funds into two AmIslamic Bank accounts which he owns, between Dec 26, 2014 and Feb 10, 2015.
Among high profile witnesses who had taken the stand during trial were former second finance minister Datuk Seri Ahmad Husni Hanadzlah who came for the prosecution, and former minister in the Prime Minister's Department Datuk Seri Jamil Khir Baharom.
Other notable names include: former Tabung Haji CEO and MD Tan Sri Ismee Ismail who was formerly SRC's chairman, and former finance ministry secretary-generals Tan Sri Wan Abdul Aziz Wan Abdullah and Tan Sri Mohd Irwan Serigar Abdullah.
Stay safe. Keep updated on the latest news at www.EdgeProp.my