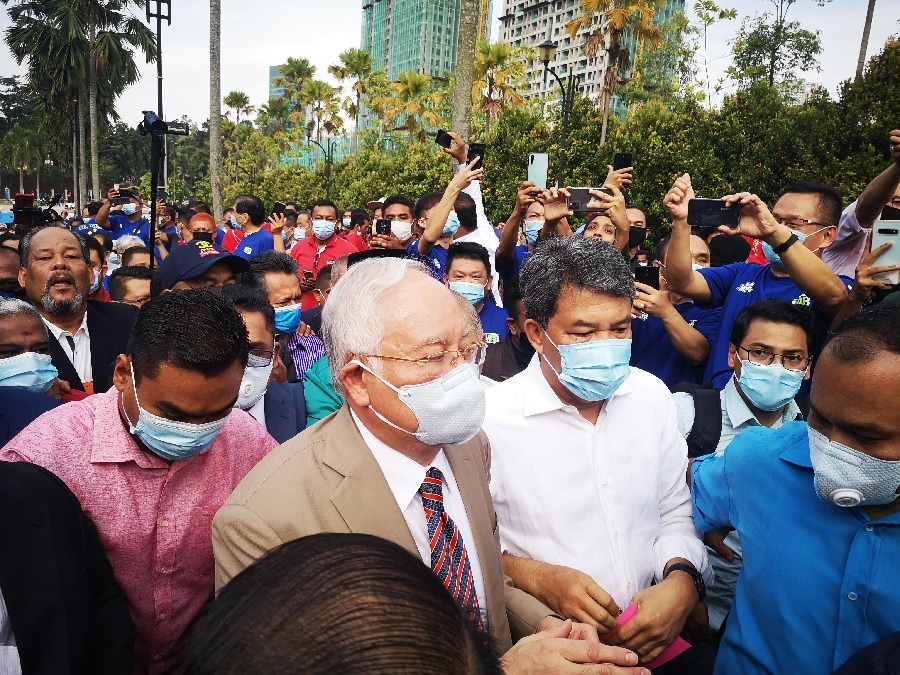 KUALA LUMPUR (July 28): Former prime minister Datuk Seri Najib Razak has arrived in the Kuala Lumpur High Court here at around 9.30am this morning, to hear the verdict of his first 1MDB-linked trial, pertaining to the RM42 million in the state fund's subsidiary SRC International Sdn Bhd.
The verdict for this case will be delivered by High Court judge Justice Nazlan Mohd Ghazali, an Oxford University graduate, who has presided over the case for the past two years.
Clad in a light brown suit, Najib was welcomed by some 300 supporters chanting "Hidup Bossku" as he walked into the court complex.
The supporters were seen arriving at the court area since 6am this morning, in 20 buses. Heavy presence of police were also here to control the crowd.
Najib usually drives into the court lobby to be dropped off, but had chosen to walk in with his faithful supporters today.
Among notable politicians seen at the court today to be in solidarity of the former prime minister include Umno president Datuk Seri Zahid Hamidi, Umno deputy president Datuk Seri Mohamad Hassan, Umno secretary-general Datuk Seri Ahmad Maslan, Pasir Salak MP Datuk Seri Tajuddin Abdul Rahman, former Pahang Menteri Besar Datuk Seri Adnan Yaakob, and Umno Youth Chief Datuk Dr Asyraf Wajdi.
Sources say that a special VIP room has been set up for ministers and MPs to witness today's proceedings.
Najib's sons Norashman Najib and Mohd Nizar Najib, who is also the Pekan Umno Youth Chief, were seen in the courtroom.
In this trial, Najib is charged with one count of abuse of power, three counts of criminal breach of trust, and three counts of money laundering.
Stay safe. Keep updated on the latest news at www.EdgeProp.my