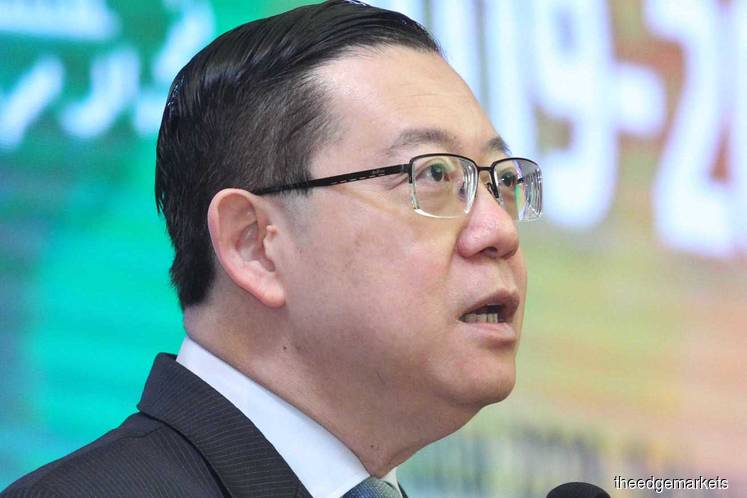 KUALA LUMPUR (Oct 12): The Sessions Court here has today fixed Oct 28, 2020 for case mention in former finance minister Lim Guan Eng's Penang undersea tunnel project corruption trial, during which two amended charges will be read to him.
Lim, who is also Penang's former chief minister, was not present today at the Sessions Court here as he needed to attend proceedings at the Penang State Legislative Assembly, where he is Air Putih assemblyman.
Lim, who is also DAP secretary-general, has obtained an exemption from attending today's Sessions Court proceedings. As a result, Justice Azura Alwi fixed Oct 28, 2020 as another mention date.
Deputy public prosecutor Wan Shaharuddin Wan Laden appeared for the prosecution while Lim was represented by his lawyer Gobind Singh Deo.
Wan Shaharuddin said the prosecution would like to amend two other charges against Lim. In response to the prosecution's request, Justice Azura said the amended charges will be read to Lim when he is present in court on Oct 28.
Lim is facing several charges including one involving his wife Betty Chew.
News reports on Sept 9 said Lim had on that day claimed that the timing of two new charges of dishonest misappropriation of property against him proves that the prosecution is "politically-motivated", noting that filing of the charges at the Butterworth Sessions Court on Sept 11 came a day before nomination day for the Sabah state election on Sept 12.
It was reported on Sept 9 that Lim faces the two charges under Section 403 of the Penal Code.
Prior to the two new charges, Lim was charged three times in August 2020.
It was reported that two of Lim's criminal charges involved the undersea tunnel project while the other is related to Chew.
It was reported that Lim claimed trial at the Sessions Court here in August 2020 for one charge of soliciting a 10% cut of profit from the undersea tunnel project from Consortium Zenith Construction Sdn Bhd senior director Datuk Zarul Ahmad Mohd Zulkifli.
It was reported that Lim allegedly asked for the bribe at The Gardens Hotel & Residences within Mid Valley City here in 2011.
It was reported that Lim was also charged at the Butterworth Sessions Court in Penang for abusing his position as a public officer to assist Zarul's company to be appointed to undertake the construction of main roads and the undersea tunnel, reportedly worth RM6.341 billion, to obtain a RM3.3 million bribe.
According to the report, Lim was alleged to have committed the crime between January 2011 and August 2017 at the Komtar tower in Penang while he was chief minister of Penang.
Lim also faces another unrelated charge for abuse of power in relation to a bribe which was alleged to have been received by his wife Chew.
It was reported that Lim was charged for abusing his post as a public officer during his tenure as Penang chief minister and Penang Development Corp's tender committee chairman to ensure that Magnificent Emblem Sdn Bhd was given an invitation for the proposed workers' village project in Batu Kawan worth RM11.61 million
It was reported that Chew is alleged to have received RM372,009 from Excel Property Management & Consultancy Sdn Bhd in relation to the project.
Get the latest news @ www.EdgeProp.my