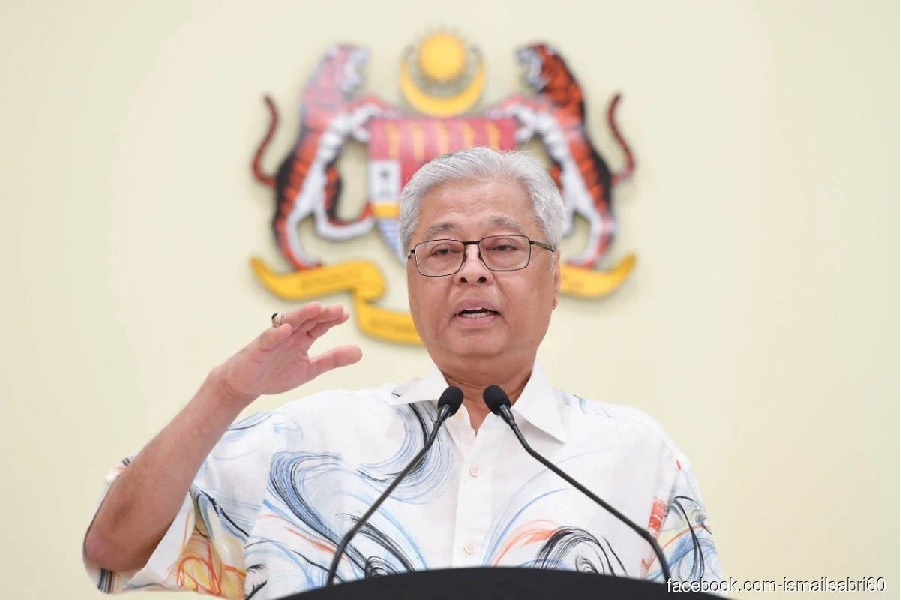 KUALA LUMPUR (Oct 22): The work-from-home (WFH) directive, which has been enforced starting today in areas under Conditional Movement Control Order (CMCO), is to generally reduce physical interactions and the movement of people in high-risk areas, explained Senior Minister (Security Cluster) Datuk Seri Ismail Sabri Yaakob (pictured) in his daily media briefing today.
Ismail was responding to a question raised by the media as to why the WFH directive is imposed only on managers and supervisors while other economic activities and public areas are still allowed to open.
"Our idea is to reduce movement. Imagine, the one million people that are affected by the WFH directive will not go to the office, so they will not interact with each other.
"So when we reduce this possibility (of being infected among the one million people), it may be successful in breaking the chain of COVID-19 infection because fewer people can interact with each other," he said.
Ismail acknowledged that the economic sectors are allowed to remain open as the Government needs to take into account people's livelihood while curbing the spread of the deadly COVID-19 virus, for instance, those involved in small businesses and restaurants.
"We want to reduce the number of people going out. Yes that's right, there are night markets and shopping malls that are open, so it is still up to us as individuals whether we want to use that freedom without considering (the risk on) our health or not," Ismail said.
"So some can WFH, but some cannot because it is necessary for them to work in the field. We can't force everyone to WFH, although our goal is to reduce movement. This would help to some extent," the Minister added.
Ismail announced on Tuesday, that the National Security Council (NSC) has agreed to impose WFH orders for managerial- and supervisory-level employees in areas placed under the CMCO — namely Putrajaya, Selangor, Kuala Lumpur, Sabah and Labuan, starting today until the CMCO is lifted.
The measure has caused public confusion in the past two days.
Yesterday, the Ministry of International Trade and Industry (MITI) announced the guidelines for managers and supervisors to abide by the directive.
MITI clarified that up to 10% of employees in these positions would be allowed to work in the office from 10am to 2pm, three days a week. The Ministry also stipulated that they must be involved in accounting, finance, administration, law, planning and information and communications technology.
On the enforcement of company's authorisation letters to allow employees to go to the respective offices, Ismail said that the Government does not intend to impose any strict actions against defiant employers.
"I hope the employers themselves understand why they need to issue the authorisation letters to employees. Because the employees will not be allowed to cross districts without the letters. And the companies themselves will bear the losses.
"So I hope the Government does not have to take any firm action on this matter," he explained.
Get the latest news @ www.EdgeProp.my